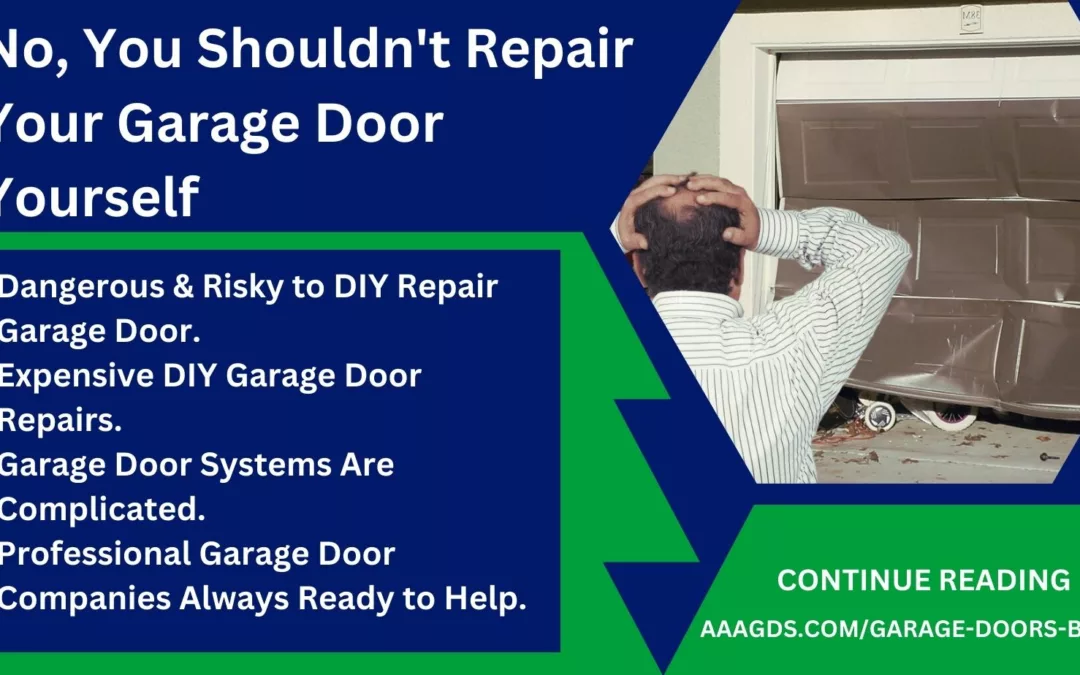 Many Ask if they should repair their garage door themself. The shortest answer to this question is " No, You shouldn't repair your garage door yourself " because it could be dangerous, expensive, and complicated. In addition, such repairs will likely void your garage door warranty. but in this topic, let's dive deeper and explain why you shouldn't fix your garage door yourself.?
Why You Shouldn't Fix Your Garage Door Yourself?
There are plenty of reasons to not attempt to repair your garage door yourself.
1- Dangerous & Risky to DIY Repair Garage Door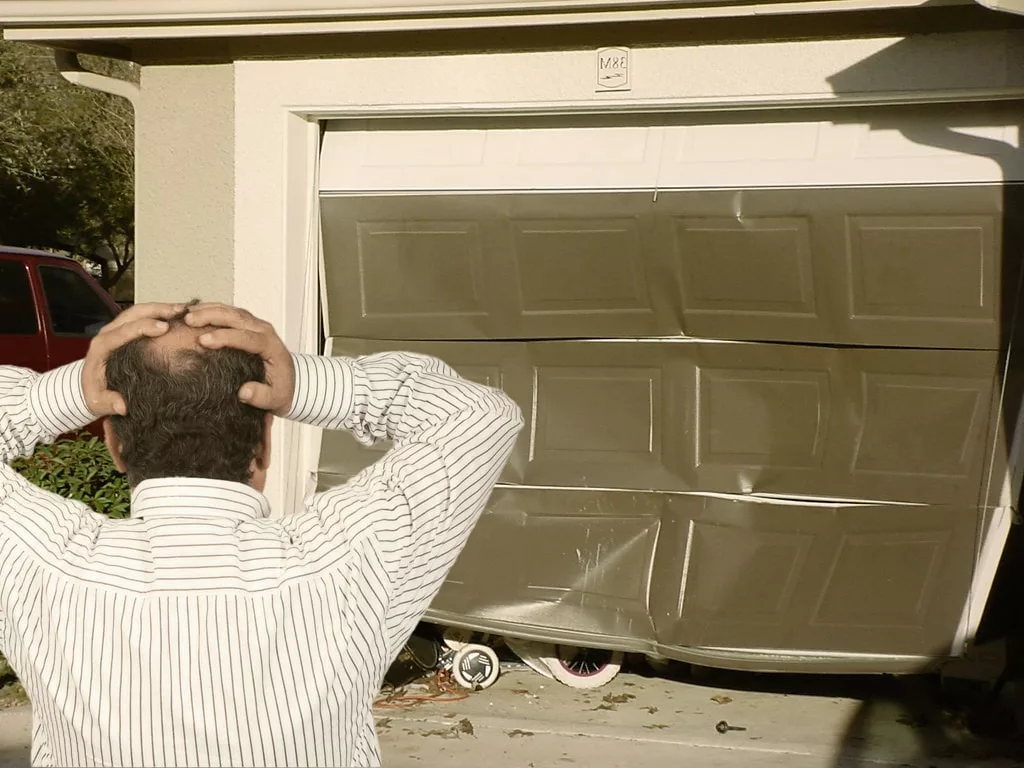 Garage doors are one of the most dangerous parts of a household due to their enormous weight and sluggishness. Garage doors are responsible for several dozen deaths each year. Most of the victims of these deaths are young children. According to the U.S. Consumer Product Safety Commission, about 30,000 people are injured by garage doors each year. If you repair your garage door yourself, you put yourself at risk for injury or even death.
Remember that one of the most critical parts in every garage door are springs because it's at high tension so attempting to replace your springs without experience or knowledge is hard thing to do.
2- Expensive DIY Garage Door Repairs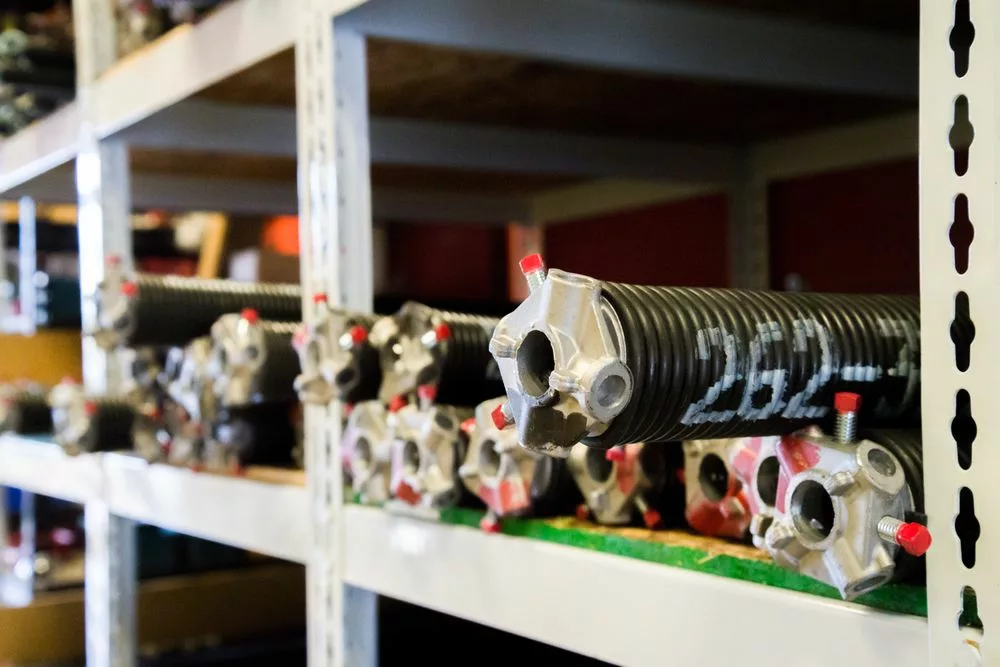 If you attempt to repair your garage door without the necessary knowledge, experience and tools, you might inadvertently make mistakes and the original problems get worse. This result in more extensive damage and costlier repairs. In most cases, the cost of hiring a professional from the outset can save you money and prevent further damage to your garage door.
Did you know that you can save a lot with the discounts & specials that most garage door companies offer? Miami or Broward homeowners If you are interested in our latest offers on our services and products call us at 305-702-0113
3- Garage Door Systems Are Complicated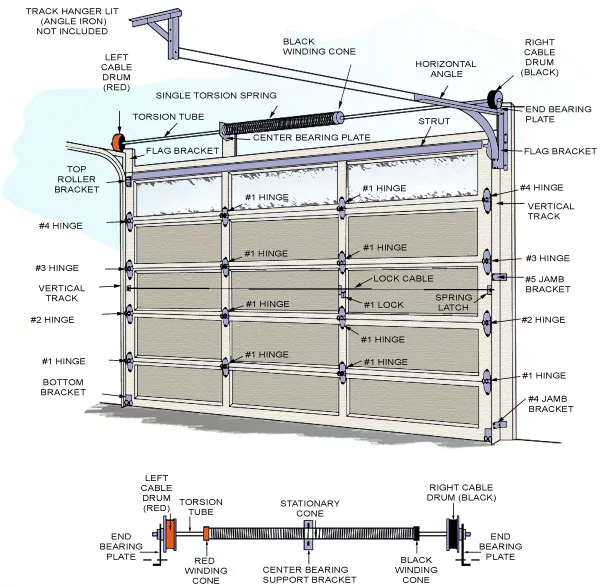 There are many helpful topics that will tell you how to repair your garage door or even identify the signs of the problem but not to always count on these how-to blogs or videos because the required repairs of the garage door could be different from one to another and even if the problem is the same there is a specific technical & mechanical requirement should be considered. Professional garage door experts are trained to assure your safety and the functionality of your garage door.
Please remember to take these garage door repair topics as an educational reference to help you understand the dangers and avoid mistakes.
4- Your DIY Repair Will Void Your Garage Door Warranty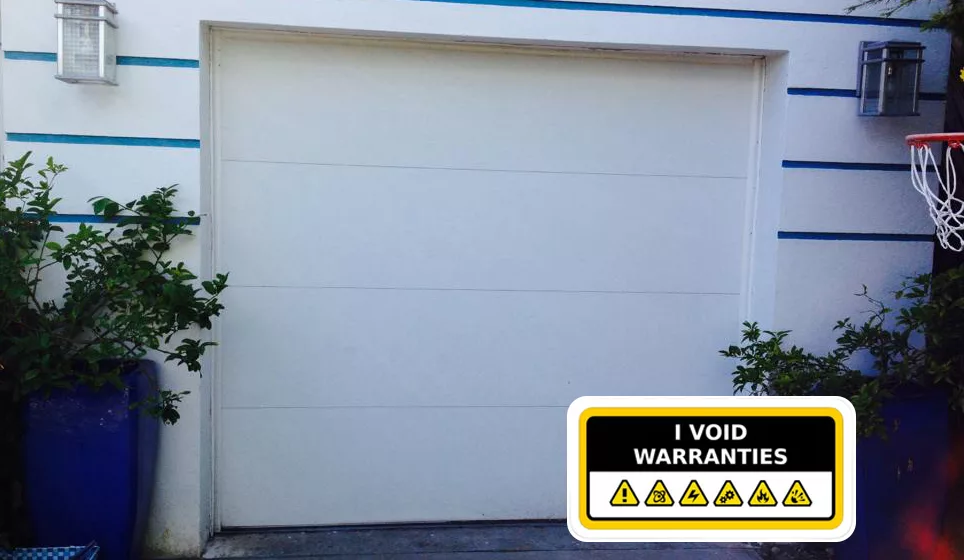 It's not uncommon for garage door manufacturers to include warranty clauses that specify the conditions under which warranties may be voided. One common condition is performing DIY repairs or modifications that are not approved or recommended by the manufacturer.
For instance, Clopay manufacture often specifies in their warranty documentation that warranty is not covered damages related to or resulting from: subsequent alterations, improper attachment of the electric opener, misalignment of the opener photo-eye, operation beyond rated capacity, improper use, or abuse of the Covered Installation by any person other than Dealer.
What should you do if you repair your garage door yourself, but it doesn't work?
If you attempt a DIY installation or repair that goes against the manufacturer's recommendations and found that defect that was apparent or ascertainable at the time the Installation was completed, it's highly recommended to get contact with your local dealer to promptly reported. This is because unauthorized modifications or repairs can potentially compromise the functionality and safety of the garage door system and that's why manufacturers typically recommend that repairs or installation be conducted by authorized dealers.
This is to ensure that the work is performed according to the manufacturer's specifications and standards.
5- Professional Garage Door Companies Always Ready to Help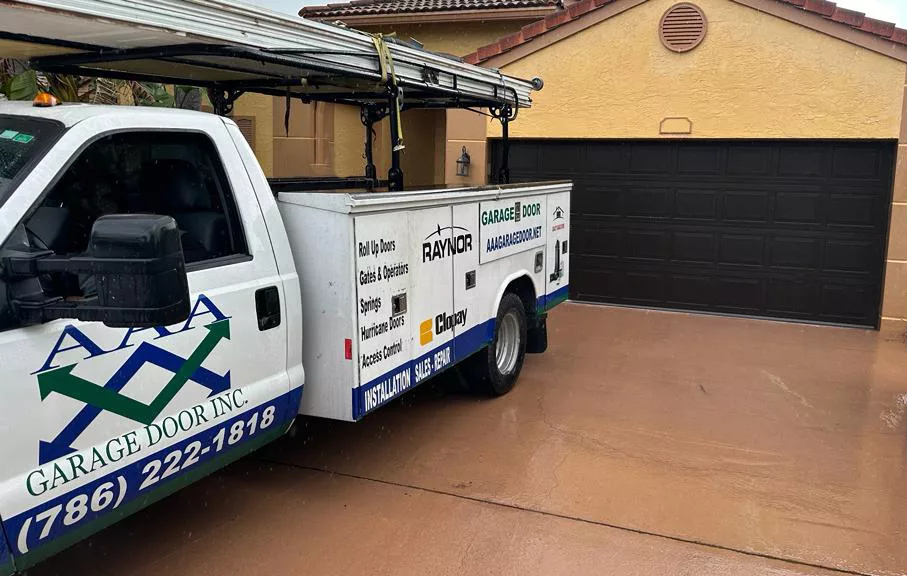 If you are seeking for answer for your concerns or worries don't hesitate to call your local garage door company helping you is one of the most important factors to determine if this garage door company is trustworthy of your work or not.
That's what we always tell our customers: "Call us if you have any questions or concerns" after we have done a job. You also need to remember that professional garage door repair companies will always find solutions to your garage door problems, that's the essence of the difference between doing it yourself and hiring an expert.
Garage Door Repairs Suitable for DIYers
Garage door repairs can be suitable for DIYers in some cases, but it's essential to consider the complexity of the issue and your own level of skill and experience. Here are some common garage door issues that are suitable for a do-it-yourself (DIY) approach:
Routine Maintenance:
Replacing Weather Stripping:

DIY: Yes
Replacing weather stripping is a relatively simple task that can improve the energy efficiency of your garage.

Adjusting Garage Door Opener Settings:

DIY: Yes
Many garage door openers have settings for force and travel limits, which you can adjust according to the manufacturer's instructions.

Tightening Loose Hardware:

DIY: Yes
Regularly check for loose nuts and bolts on the door and track and tighten them as needed. This may help with the door noises.

Fixing Misaligned Tracks:

DIY: Yes, if minor
If the tracks are slightly misaligned because of dirt or debris, you may be able to clean the track from any obstructs. However, major misalignments require professional assistance.

Diagnosing and Repairing Electrical Issues with the Opener or keypad:

DIY: Yes, for minor issues
If the problem is a simple electrical issue, such as a tripped breaker, a disconnected wire, rest keypad code, or replacing keypad batteries, you may be able to address it. However, for more complex problems such as broken chain, belt, worn sprockets or gear it's advisable to consult a professional.

Misaligned Garage Door Sensors:


DIY: Yes
If your garage door sensors are misaligned, causing the door to reverse unnecessarily, you can often fix this by adjusting the sensors. Ensure they are pointing directly at each other and are clean from any obstructions. Refer to your garage door opener's manual for specific instructions on sensor alignment or read our garage door safety sensors installation guide where we are also explaining how to adjust garage door sensors and testing them.