If you are searching for new trends in garage doors surely you are looking to elevate your home's exterior with a new garage door replacement or planning for your new beautiful home construction plan. Starting with the focal points like a garage door is a smart idea. The garage door trends are all about blending style, colors, and materials to create a statement that resonates with your home's architecture and your personal taste.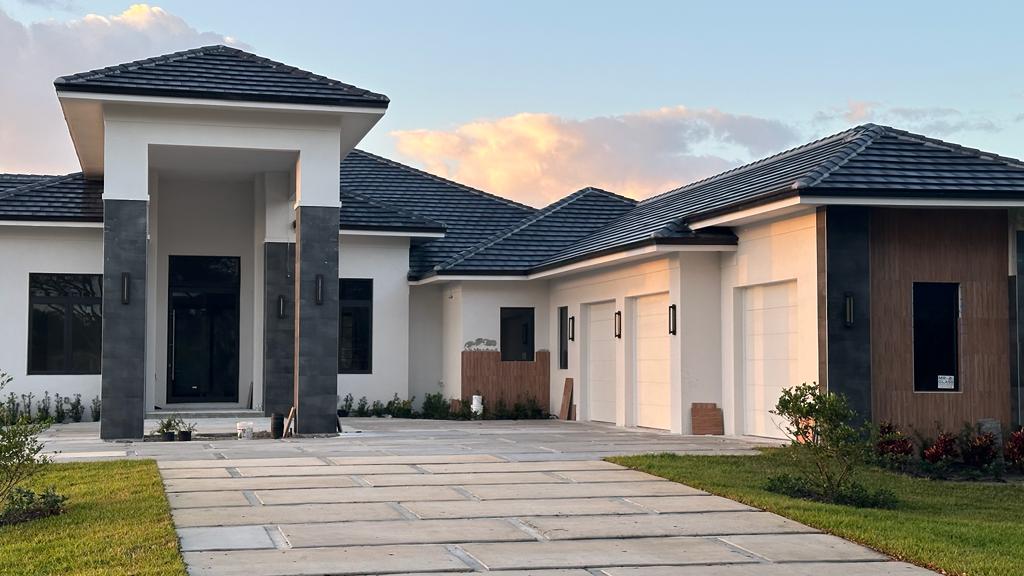 Garage Door Trend Timeline
Let's first explore the timeline of the most crucial trends that occurred during the history of the garage door industry. to jump straight to each trending garage door Click Here.
1970: large shift in the materials used for garage doors manufacturers started to use aluminum, steel, and fiberglass. most garage doors were made of wood.
1980: Steel garage doors were the most popular option.
2000: Old became new again. Clopay Introduced the Reserve® Collection of beautiful, hand-crafted, wood carriage house doors. Garage doors have come a long way. They match your home's design, they are safer, offer great functionality, and are a staple in home design. Rustic and vintage designs became very popular with homeowners and they still do to this day.
2005: Full View Modern garage doors become more popular. Starting with Clopay introduced the Avante collection.
2008: Carriage House roll-up garage doors become the most popular garage door style in the USA.
2009: Clopay Launched the Ultra-Grain finish to simulate the look of a stained wood door while providing lasting quality. The Ultra-Grain finish is available in many popular Clopay door collections, including Canyon Ridge® Modern Steel™ Gallery® Bridgeport™ Steel Classic™ Steel.
2013: Raynor Followed the full-view doors trend by introducing the commercial full-view door AlumaView® AV300
2016: 2016 was a big year for change with the introduction of Raynor's Aspen Series garage doors including the AP200LV LuxeVue with extra-large, deluxe windows for a high-end look. Clopay Introduced the Modern Steel Collection.
Garage Door Styles
Garage door styles are so diverse nowadays, However, if we want to summarize them all in a bunch of categories, we can say that there are 8 different and the most popular styles.
Wooden garage doors
Wood-like garage doors
Modern garage doors
Carriage House Garage Doors
Solid Garage Doors
Full-View Garage Doors
Side Window Garage Doors
---
New Trends In Garage Doors
As a professional garage door company, here we have compiled a guide to the trending garage doors based on our experience and our customers' preferences to help you choose the perfect garage door style that fits your vision and enhances your curb appeal.
AAA Garage Door Is your local garage door authorized dealer Serving Miami-Dade & Broward Counties since 2009. Helping you in choosing the garage door style that fits your vision is our priority and seamless installation experience is our mission. Request your free quote now.!
1. Trending Wooden Garage Doors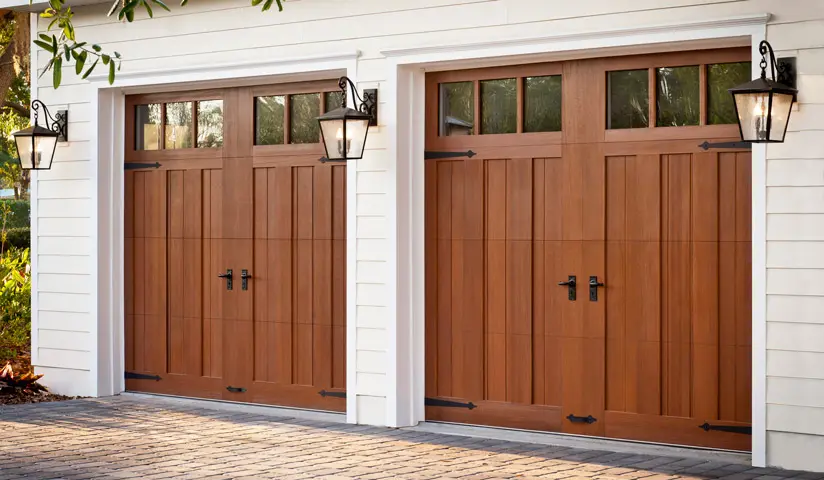 Wooden garage doors are making a strong comeback. Embracing the beauty of wood, stained finishes showcase the wood grain's innate charm. This trend seamlessly blends with both classic and modern home designs, offering a timeless yet contemporary look. For a modern touch, opt for clean lines with horizontal or vertical beams in cedar or mahogany. Carriage-style doors are also gaining popularity, providing the illusion of outward-swinging doors while functioning as modern overhead doors. Matching your porch columns or trim to your wood garage door creates visual cohesion and adds warmth to your home. Not only does wood enhance your home's aesthetics, but it can also increase your property's perceived value, especially if you opt for premium woods like redwood.
Clopay Classic Wood
The Clopay Classic collection is one of the most popular & affordable wood garage doors in Florida because it's a very durable redwood construction and has the highest R-value compared to models with the same specifications from other brands and price ranges. We installed a +80 Clopay classic garage door in Miami-dade which was the most installed garage door.
1-3/8″ heavy-duty stile and rail and dowel pin construction.
Handcrafted short or long raised panels in Redwood, Cedar, Hemlock (stain grade), or MDF (paint grade).
Handcrafted wood decorative windows, available in six designs.
Crafted from the finest wood species, harvested from sustainable and naturally fallen forestry.
1-year construction warranty & 1-year paint warranty.
Clopay Classic
2. Trending Wood-Like Garage Doors
Achieve a sophisticated and lasting esthetic for your home with Wood-Like garage doors, which offer a high-end wood look without the hassle of maintenance.
These garage doors feature a durable steel base and cladding made from eco-friendly composite and naturally stained wood materials painting the overlay layer with a variety of traditional wood colors like Dark cedar, Dark walnut, Light Oak, and Redwood. This ensures resistance to moisture, mold, and mildew, providing the elegance of naturally stained wood without the need for constant upkeep.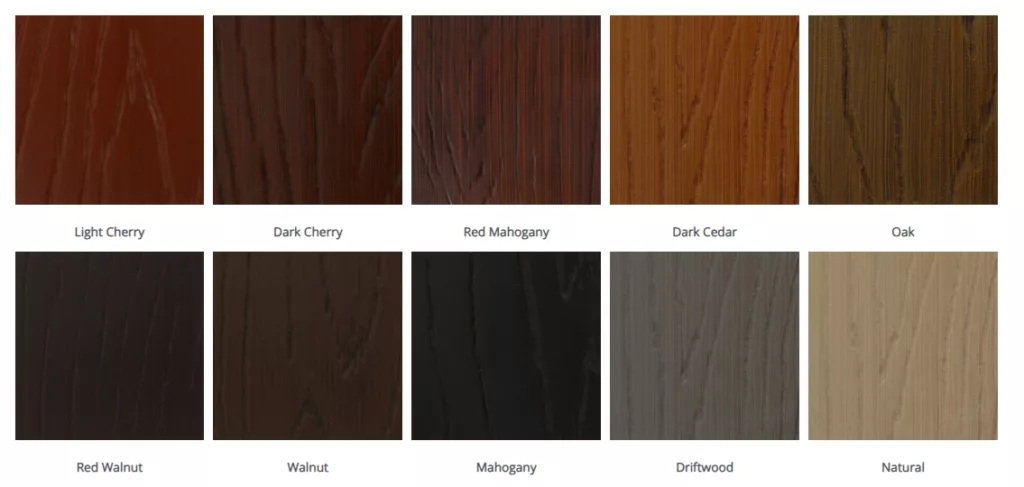 Raynor Eden Coast
The Raynor Eden Coast is a high-end garage door constructed of 5 layers (Steel, Insulation, Steel, Cladding, and Overlay). All layers are constructed to ensure longevity and resilience against the elements. You will be impressed and owe by how many panels design option for this collection because it's offers 32-panel design options for single or two-car doors, 11 window configurations, and 32 decorative hardware options.
32-panel design options for single or two-car doors
Construction: 5-Layer (Steel, Insulation, Steel, Cladding, Overlay)
Material: Hot-Dipped Galvanized Steel Sections and 26-gauge Composite Overlays
Insulation: NeuFoam Polyurethane
Calculated R-Value: 18.3
Warranty: Windows 10 years, Overlays 10 years, Stain Finish 5 years, Windload Doors 3 years
Raynor Eden Coast
3. Trending modern garage door
The Contemporary-style garage door trend is all about simplicity and muted colors. It's perfect for homeowners seeking a straightforward, minimalistic, and modern look. Materials like steel and aluminum are popular choices for achieving this aesthetic. Consider incorporating vertical windows to break up space and let in light. If you prefer a minimalist style, explore flush-mount designs that blend seamlessly with the surrounding walls. Contemporary doors can also feature subtle textures and color options, like metal gel stains for added depth and personality.
Canyon Ridge Modern Garage Door
Modern-style homes need modern-style garage doors that's how you will make your home authentics are matched and one of the best examples is Canyon Ridge Modern Collection manufactured by Clopay. This collection has so many potentials of how modern garage doors should be, From the windows configuration ( Side windows – Both sides – all windows – long windows – long both sides windows ) To the durable 4-layer construction.
4-layer construction including durable, composite, steel, and Intellicore® insulation.
8 Panel design options.
2″ Intellicore® polyurethane insulation with a thermal break.
R-Value ranging from 6.3 to 20.4.
WINDCODE® door reinforcement product available for high wind load applications.
Plank Design: Faux-wood doors with intellicore® polyurethane insulation. 20.4 R-value.
Metal Inlay design: Faux-wood doors with intellicore® polyurethane insulation. 18.4 R-value.
Full View design: Faux-wood doors with intellicore® polyurethane insulation. 6.3 R-value.
Clopay Canyon Ridge Modern
4. Trending Carriage Garage Doors
A Nod to Nostalgia The carriage-style garage doors is all about capturing a warm and vintage charm that complements a variety of home styles.
Typically available in wood or composite materials, these doors work well with cabin-style homes and even French country-inspired residences. Add character with crossbuck panels, metal detailing, decorative nails, or studs. Consider incorporating windows to introduce natural light and reduce the door's heaviness.
Farmhouse-style garage doors can be customized to suit your design preferences, making them a versatile choice.
Clopay Coachman Garage Door
Coachman collection give you the beauty carriage appearance and also the convenience of a modern overhead garage doors. these carriage house doors look like wood with 4-layer construction and has a R-values from 6.5 to 18.4. Many panels and windows options to achieve desired look.
15 Panel design options and 16 Window sections Design.
Insulation options include 2″ Intellicore® polyurethane, 2″ polystyrene or 1-3/8″ polystyrene insulation. The R-values of these garage doors range from 6.5 to 18.4.
The steel skins of these doors are protected by the use of a tough, layered coating system, which includes a hot-dipped galvanized layer and baked-on primer and top coat.
Clopay Coachman
---
RockCreeke Carriage House Residential Garage Door
RockCreeke is the perfect balance between beauty and quality that lasts. RockCreeke is a garage door that offers the classic styling and wood-like garage door appearance. It is made of a high-quality insulated steel door that is overlayed with a highly engineered, long-lasting vinyl capstock material, which duplicates the appearance of classic wood. We could say this garage door collection could be perfect for the wood-like doors, but you can't resist their carriage house style and the authenticity.
Raynor's ColorWave post paint providing you with almost endless choices to match your carriage home's style with unsurpassed curb appeal.
Raynor Rockcreeke
5. Trending Solid Garage Doors
Bold and Beautiful The flush garage door is a popular style for modern architectural home style, offering a sophisticated appearance. Whether your home features fresh white siding or rustic materials like wood or stone.
White or black painting to your solid garage door can create contrast and instantly boost curb appeal. Modernize your home by pairing the trim with the same color as your garage door for a cohesive look.
The matte finish offers a soft contemporary appearance, while gloss adds a touch of sleekness. Matching your front door to your black garage door creates balance and consistency.
Amarr Classica Flush
Amarr Classica
---
Clopay Modern Steel
Clopay Classic
6. Trending Full-View Garage Doors
Is your garage a place of peace of mind and a personal gym? A full-view garage door offers you the transparency and elegance of a modern and stylish garage door while you enjoy the sunrise and the beautiful view in front of your home.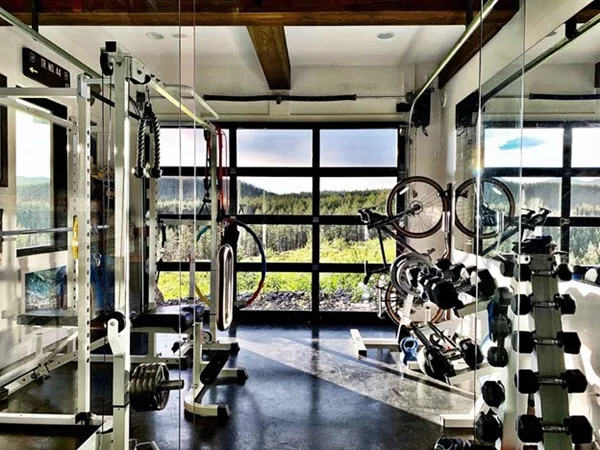 Full-view garage doors, featuring large glass panels framed in aluminum, provide a modern aesthetic that doubles as a window to your property. Choose from various glass styles and frame colors to customize your door's appearance. Narrow, arched, square, or tinted windows allow for creativity and personalization. Floating glass doors, with invisible frames, add elegance to your home's entry point.
Clopay Avante Collection
Clopay Avante
---
Amarr Horizon Garage Doors
Amarr Horizon
7. Trending Side Window Garage Doors
An Artful Approach Windows are a versatile way to update your garage door's appearance.
Most homeowners who opt for a garage door with a side window want to turn their garage into an authentic workshop for wood or leather crafts.
The side window garage door creates an asymmetrical look that goes well with a modern exterior and moderately increases the amount of natural light in your garage.
Consider long, horizontal windows to elongate the door's appearance or shorter windows with grilles for added intricacy.
Different window placements, such as along the top portion or vertically down one side, offer various design possibilities. Match your window choices to your home's architectural style for a cohesive look.
Clopay Modern Steel
Clopay Modern
Conclusion
In conclusion, garage doors are no longer just functional; they're a key element of your home's overall design.
Embrace these trends in style, colors, and materials to give your home a fresh and appealing look. Whether you prefer the timeless beauty of wood, the modern elegance of glass, or the simplicity of an industrial design, there's a garage door trend to suit your taste and enhance your home's curb appeal.
We are sorry that this post was not useful for you!
Let us improve this post!
Tell us how we can improve this post?