Garage door openers lifespan is 10 to 15 years and garage doors have about 25 to 30 years so with the help of your local garage door company choosing the best garage door opener type is important for your new garage door project. In this article, you will learn everything you need to know about garage door openers including what types they are, how they operate, and hopefully, that will help you to choose the right garage door opener type for your needs. Let's get started.
Chain Or Belt Openers: Understand The Difference
What Are Garage Door Openers
Garage door openers work with the help of the stored tension of the garage door springs to lift the garage door and operate as a mastermind of your garage door to make your garage door a smart device that you can control through your garage door opener accessories,  openers apps, or any other smart home integration like Alexa Or Google Assistance. so basically openers are the brain of any garage door and garage door springs are the muscles of any garage door so choosing the right garage door spring is not less important than choosing the right garage door opener.
Garage Door Opener Types
There are three types of garage door openers belt, chain, and jack shaft. but the most popular types are the belt and chain.
How Chain and Belt Drive Openers Work
When the garage door technician installs the garage door opener whether chain or belt drive you will find him assembling a lot of parts to install your garage door opener successfully. all these components are important but in general, the opener function concept is the same but the parts are different. Propulsion comes via rotating the sprocket as usual. The pulling tension required is picked up by the belt or chain drive system and the energy created is transferred to the idler pulley.
Chain Drive Openers
Chain openers are openers that mainly work with a chain system including a metal chain, chain sprocket, and Idler Pulley to open your garage door.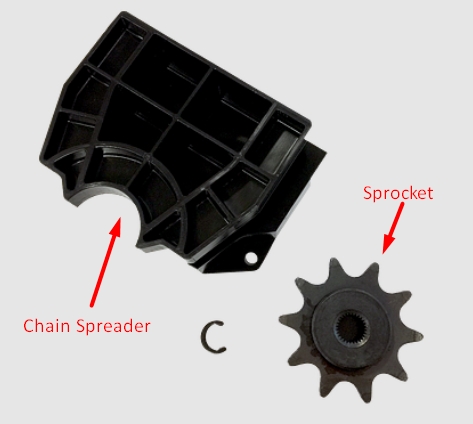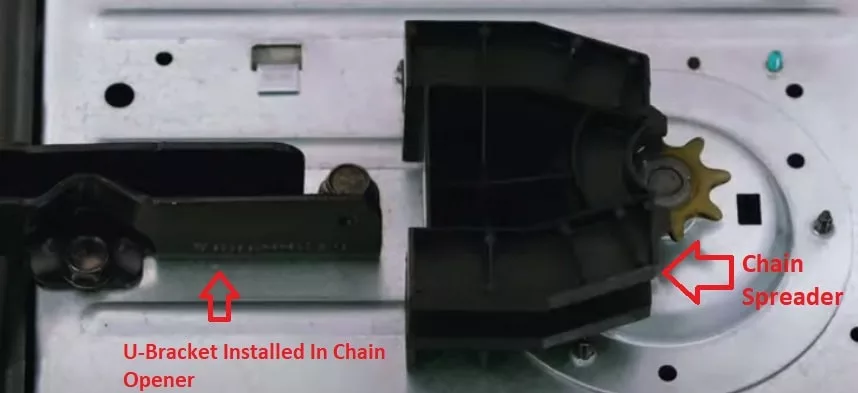 Belt Drive Openers
On the other hand the the belt drive opener uses a belt system including a Rubber belt, Belt Sprocket, and Idler Pulley. the belt drive garage door openers are a replacement for the traditional chain drive system. A rubber belt made of strong rubber and steel-reinforced.
Find out more about how the chain and belt drive openers work in our topic on how to install a garage door opener. In this article, the individual parts are explained in detail and you will receive good instructions for installation, just as our technician does on the garage door.
Chain Or Belt Openers: DC Or AC Motor
Chain or belt openers are available with DC and AC motors. but most of the best garage door openers are provided with DC motors because they provide super quiet and smooth operation. You can check out our guide for DC & AC Garage Door Openers to understand the main difference between them.
We encourage most of our Homeowner's clients to upgrade to a DC Opener because the DC Openers will provide you with low maintenance, optimal performance, and long-run savings in energy bills due to the lower internal resistance, reduced power losses, and improved voltage regulation.
Chain Or Belt Openers: Price
Chain Openers: Typically the openers and all the future replacement parts will be less expensive than belt-driven openers due to being constructed from inexpensive steel.
Belt Openers: Generally pricier due to the materials used in construction.
The opener belt replacement part is also pricier than the chain replacement part. If you living in Miami-Dade or Broward counties you can Call Us for the latest prices.
Chain Or Belt Openers: Noise Level
Chain Openers: Tends to be noisier due to the metal-on-metal operation, causing vibrations and rattling during operation.
Belt Openers: Known for being super quiet due to the rubber belt construction especially if the opener has a DC motor, resulting in smoother and quieter door operation. One of the quietest residential garage door openers is Liftmaster 87504-267, This opener has an Ultra-quiet DC motor and strong belt drive system ensuring comfortable living spaces near the garage.
Please review this video of the homeowner demonstrating the sound difference between the Chain Opener and the Belt Opener side by side.
Chain Or Belt Openers: Maintenance
Chain Openers: Requires more regular maintenance due to its metal components. It may need lubrication and occasional adjustments to its chain to ensure smooth operation.
Belt Openers: Requires less maintenance due to the materials used, but periodic checks and cleaning are still recommended for optimal performance.
Chain Or Belt Openers: Parts Lifespan
Chain Openers: In general, chain openers are prone to wear due to the constant proportion of metal components, so regular maintenance is crucial for them, but in return, you have high availability and cheaper replacement of parts than with the belt opener. You can find an estimate for the lifespan of the individual parts below
Gear and sprocket: With proper maintenance 8 – 10 years
Chains: With proper maintenance 10 – 15 years
Logic Board: Depends on the opener model but in general 20 – 25 Years
Belt Openers: Belt drive openers are known for their durability because the lack of moving parts means the opener experiences wear slowly.
Gear and sprocket: With proper maintenance 10 – 15 years
Chains: With proper maintenance 15 – 20 years
Logic Board: Depends on the opener model but in general 20 – 25 Years
Chain Or Belt Openers: Pros + Cons
Chain Openers:
Pros: Typically more affordable. Known for their durability and strength.
Cons: Can be noisier during operation. Requires more frequent maintenance due to metal-on-metal contact.
Belt Openers:
Pros: Operate more quietly, making them ideal for homes with adjacent living spaces. Tend to have a longer lifespan due to their construction.
Cons: Generally more expensive. May not be as strong as chain openers.
Chain Or Belt: Which Garage Door Opener Is Best
The best garage door opener between chain and belt largely depends on your specific needs and preferences:
Choose a Chain Opener if:
Cost is a significant factor.
You have a detached garage or the noise level isn't a major concern.
You prioritize durability and strength.
Choose a Belt Opener if:
Noise level is a concern, especially if the garage is attached to or near living spaces.
You prefer a longer-lasting and low-maintenance option and are willing to invest a bit more.
Chain Or Belt: Wall Mount Opener Is A Good Alternative



If you want to maximize overhead space for garage storage shelves to store your tools, Chain or belt drive openers are not a good choice, so investing in a wall mount opener is a great alternative to revamp your garage. The wall mount opener's design can be advantageous, as it doesn't require the use of a long hanging rail. Not all garage doors are compatible with wall-mount openers, so you might need to ensure your door is suitable for this type of opener.
Live in Miami-Dade or Broward Counties? why not give us a call for a free inspection and let you know the best choices you can have?
Ultimately, the choice between a chain or belt or even a wall-mount garage door opener depends on your priorities regarding noise, budget, and the level of maintenance you're willing to undertake. Both types have their advantages, so selecting the best one for you will depend on weighing these factors against your specific needs Taking advice from a professional garage door company is always important.
AAA Garage Door Inc. Find the perfect garage door opener for your needs
We are a full garage door service company and openers shop serving Miami-Dade and Broward counties since 2009. Whether you're ready to buy a new opener or need help choosing the right opener for your garage door, AAA Garage Door Inc. is an authorized Liftmaster dealer in Miami, so you can rest assured that your purchase and installation will go smoothly. Call Us Now At 305-702-0113.
4.9 out of 5 stars (based on 299 reviews)
We are sorry that this post was not useful for you!
Let us improve this post!
Tell us how we can improve this post?