Best Overall Opener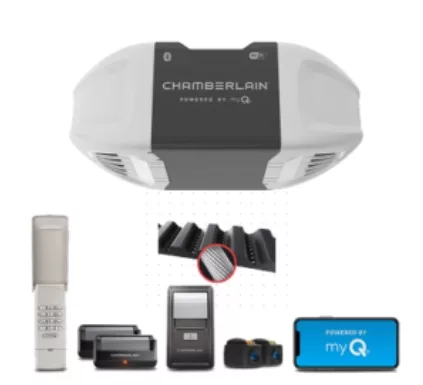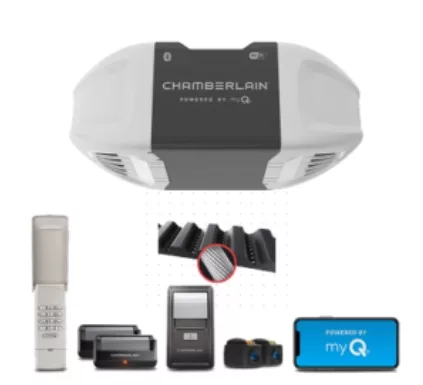 CHAMBERLAIN B2405
Best Overall
Feature
myQ App Connectivity
start/stop smooth operation.
Amazon Key In-Garage Delivery
Security+ 2.0 technology
Most popular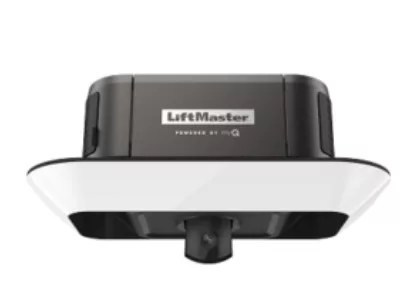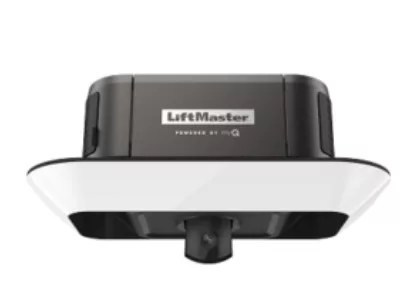 LiftMaster-87504
Best Smart
Opener
Feature
HD Built-in Camera
Battery Backup
Motion-detection lighting
Soft start/stop smooth operation
Work With Amazon Key
myQ App Connectivity
Most popular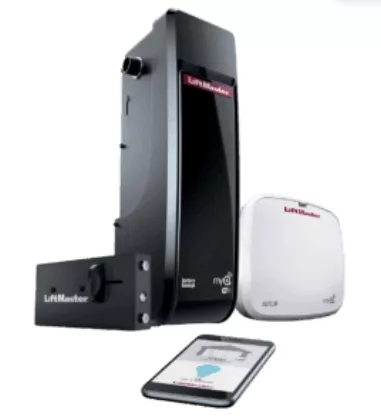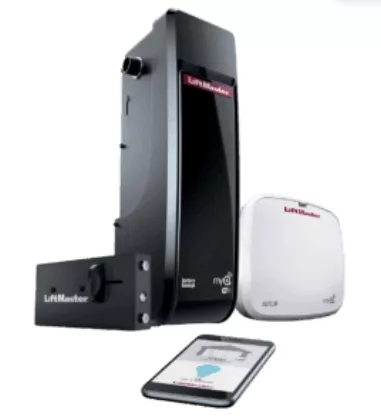 LiftMaster 8500W
Best Wall Mount Opener
Feature
Wall Mounted Design
Automatic Garage Door Lock
Battery Backup
Amazon Key In-Garage Delivery
Soft start/stop motor
myQ App Connectivity
Most popular
Chamberlain
B2202
Best For Budget
Feature
Soft start/stop smooth operation
myQ App Connectivity
Amazon Key In-Garage Delivery
We are sorry that this post was not useful for you!
Let us improve this post!
Tell us how we can improve this post?
We use garage doors more than ever it become our main entry, working place, and even our personal gym due to their convenience and location.
According to Door and Access Systems, 71% of homeowners in the USA use their garage door opener to enter their home daily, which makes the average times that garage door goes up and down around 1,500 times a year. This makes the manufacturers of garage door openers invent new and innovative ways in order to add more Convenience, Durability, and also Security features during your high usage of your garage door, and this was done by introducing modern technology such as Rolling Code Technology Which named as Security+ 2.0 From LiftMaster Manufacture, intellicode security from Genie Manufacture and Installing devices such as 180Degree surveillance cameras, Safety Sensors, and Smart Garage kits.
All these Convenience & security features in order to make your garage more technology protected and safer at all times in a world full of security challenges. In this post, we will put for you the best garage door openers manufactured by top brands LiftMaster & Chamberlain that gives you the latest technologies & convenience features for your garage, We will also mention a short conclusion on customers reviews and our customer feedback as a Full Service Garage doors and Openers Shop since 2009, serving people of Miami-Dade & Broward Counties.
Benefits of Upgrading Your Garage Door Opener
Upgrading your garage door opener is a great way to add convenience and security to your home. With new Wifi garage door openers, you can easily open and close your garage door with the press of a button. You can also enjoy features like remote access, which allows you to open and close the garage door from anywhere with a smartphone, and advanced security features, which help keep your home safe and secure.

Safety Sensors to protect your family

One of the main reasons is Safety Sensors that work to prevent your garage door from closing while one of your family members or anyone is injured or harmed by accidentally stopping under your garage door while it closing.

Motion detection light sensor is so convenient for every homeowner that comes home late while everywhere around your garage is dark and needs to park your car or grab something from your garage quickly.

Another great benefit of upgrading your garage door opener is energy efficiency. Many of the newer models are designed to be energy efficient, which can help you save money on your energy bills.

With advancements in technology. many of the newer opener models are quieter than ever before. So you can enjoy the convenience of a garage door opener without the noise.
Types of Garage Door Openers
There are three main types of garage door openers:
Chain drive openers are the most common, and are the most affordable option, They are also great options for heavier doors.
Belt drive openersare quieter and more energy efficient than chain drive openers, but are more expensive.
Jackshaft openers: Uses a DC Motor which means the noise level difference is remarkable. Jackshaft mounts on the wall beside the door and uses pulleys and cables to open the door. They are quiet, convenient, low maintenance, security, and ease of installation. However, jackshaft types are less common because they are more expensive than other garage door openers.
Direct openers: Use a motor directly attached to the garage door by way of a J-arm with the stationary chain to move the garage door, they are known for their quietest operation longest lifespan, and least maintenance requirements but it don't have a backup battery like other types.
Considerations When Buying a New Garage Door Opener
When purchasing a garage door opener, it's important to consider the following:
Determine the opener type
you'll want to determine the type of opener you need. Do you need a chain drive, belt drive, jackshaft, or direct drive opener?
You have to know that the standard height of a residential garage door is 7 feet and most garage door opener work with that height. If you have a garage door that is 8 or 9 feet tall it requires an extension kit so that your garage door opener will be able to handle the taller door.
Heavy doors are durable but it requires more powerful openers to be capable of lifting the door weight, so you need to know your garage door weight before deciding to buy your new opener. In general Wood, doors are the heaviest, and Fiberglass, and aluminum are lightweight.
you'll want to consider features like remote access, security features, and energy efficiency.
DC and AC are two different types of garage door opener motors. DC (direct current) motors are known for their quiet operation and the smooth start and stop movements. They are more energy-efficient but do not have longer lifespans compared to AC (alternating current) motors. DC motors also tend to be more expensive initially but can save money in the long run due to their efficiency. On the other hand, AC motors are typically less expensive and can be found in many standard garage door opener models. They tend to be a little louder and have a more abrupt start and stop, but are still reliable, affordable, and efficient in most cases. Ultimately, the choice between a DC or AC motor will depend on your specific needs, such as budget, noise level, and performance requirements.
Determine your budget and make sure you're getting the best value for your money.
We encourage you to check out our comprehensive article if you're interested in learning more with a complete guide on buying a new garage door opener. In this article, you will find in-depth information about the different types of garage door openers, their features, and factors to consider when choosing the best opener for your needs.
Best Garage Door Openers
Now that you know the different types of garage door openers available, it's time to take a look at the best Opener models.
Best Overall Chamberlain B2405
Chamberlain B2405 is a Smart myQ Smartphone Controlled Ultra-Quiet Belt opener. It is a budget-friendly option with a 1/2 HP motor that provides powerful and reliable performance. We choose this opener as the best overall because of its ability to have all-in-one homeowner's basic needs and more, from its powerful motor that could handle lifting up to 350lbs garage door, therefore, it is a reasonably priced garage door opener and suitable for all residential steel garage doors. including all the other Smart, Wifi Connectivity and security features. Chamberlain B2405 is the most popular opener among all the Chamberlain openers with more than 4000 Ratings and 4.7 out of 5 stars on amazon.
Chamberlain B2405 Customer Reviews
Based on available customer reviews on Amazon, the Chamberlain B2405 opener is generally well-received, with users praising its easy installation, reliable performance, and convenient features such as reliability, smart features, and Reasonable price. Some customers have also been unpleased with the product, because of not having a backup battery.
Chamberlain B2405 Pros
Smart Features including voice control
Smartphone monitor & control myQ App
start/stop smooth operation
Amazon Key In-Garage Delivery
Security
Security+ 2.0 technology
Safety Sensors
Horsepower: 1/2Hp
Chamberlain B2405 Cons
No Battery Backup
AC Motor
Chamberlain B2405 Comes With
Motion-Detecting Wall Control
Wireless keypad
Safety sensor kit
Wall control panel
Best Smart Garage Door Opener With Camera LiftMaster 87504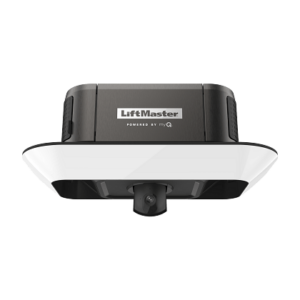 4.6 out of 5 stars 847 ratings
This Belt drive opener is one of the most convenient openers and top-of-the-line on the market. It features a quiet DC powerful motor and a variety of security features. With integrated wifi and myQ App, you can control, and monitor your garage anytime and anywhere. Additionally, it comes with HD Built-In Camera and 2-way audio communication.
LiftMaster 87504 Customer Reviews
87504 is available through the Authorized LiftMaster Dealers which makes the review search is a bit low but according to CNET Review, They found the Opener is overall exceptionally convenient with its Built-In Camera streaming with 1080p live video, 360-degree LED Lighting, durability, delightfully quiet and easy to install.
LiftMaster 87504 Reviews Based on LiftMaster Authorized Dealer Customers
Most of the customers were satisfied with the opener, With a 95% satisfaction rate Out Of 60 Customers (Buy & Installation).
Most Positive Reviews: LiftMaster 87504 is the most convenient opener, reliable, stylish, and provides the HP Needed for most residential garage doors.
Most Negative Reviews: it's more expensive than other models of the same belt drive openers.
LiftMaster 87504 Pros
HD Built-in Camera
2-way Audio Communication
Battery Backup
Ultra-Quiet DC Motor
light ring 2,000 lumens of long-lasting LED light
Work With Amazon Key
myQ App Connectivity
Soft start/stop smooth operation
Motion-detection lighting
Security & Safety
Rolling Code: Yes | Security + 2.0
Safety Sensors: Yes
Horsepower: 3/4HP
LiftMaster 87504 Cons
Not budget friendly compared with other smart openers
LiftMaster 87504 Comes With
Battery Backup 485lm
880LMW Smart Control Panal
893Max 3button Remote control
877LM Wireless Keyless Entry System
LiftMaster 87504 Warranty
Motor & Belt Warranty: Lifetime
Parts Warranty: 5 Year
Interesting in buying LiftMaster 87504 Opener? Aaa Garage Door INC Is LiftMaster authorized dealer In Miami, Fl. We also provide professional installation for your new garage door opener. We've got you covered, Call us now for any further information at 305-702-0113.
Best Wall Mount Opener LiftMaster 8500W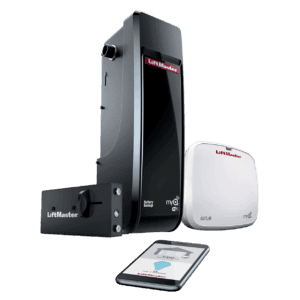 The LiftMaster 8500 – 8500W Elite Series is a wall-mounted design opener that frees up ceiling space, making it a good option for homes with low ceilings or limited headroom. 8500W opener is powered by a DC motor that provides ultra-quiet operation and includes a battery backup system that allows the door to be opened during power outages, unlike the 8500 Opener which doesn't comes with a backup battery. Other features include built-in Wi-Fi for remote access and control via a MyQ app, and the ability to integrate with home automation systems such as Amazon Alexa and Google Assistant. additionally to all the safety and security features. The 8500W is capable to handle a garage door up to 850 lbs.
LiftMaster 8500W Customer Reviews
LiftMaster 8500W Achieved positive customer ratings of 4.6 out of 5 stars with 454 reviews On Amazon at the time the article was published. The short conclusion of these reviews was most of the customers were happy with the level of quietness and ease of handling and installation, Most of the negative reviews were caused by the buying experience from sellers on Amazon, as some customers did not find the desired after-sales services. So we always recommend that you find your Local LiftMaster Authorized Dealer to provide you with the best buying experience and else install your opener with professional and trained experts. Also worth mentioning is that other customers who were looking for an opener replacement complained about the special installation requirements.
8500W Opener Reviews Based on LiftMaster Authorized Dealer Customers
As a garage door services company and LiftMaster authorized dealer, we found that most of the customers were satisfied with the opener, With a satisfaction rate of 95% Out Of 80 Customers (Buy & Installation).
Most Positive Reviews: 8500w is quieter and less violent than the overhead styles additionally to all the smart features & stylish & modern look.
Most Negative Reviews: 8500w is a bit more expensive than the other same like models of direct drive openers.
LiftMaster 8500w Pros
Wall Mounted Design
Automatic Garage Door Lock
Built-in Wi-Fi
Battery Backup
Soft start/stop motor
Motion-activated LED Light
Timer to Close
Amazon Key In-Garage Delivery
Security & Safety
Rolling Code: Yes | Security + 2.0
Safety Sensors: Yes
Horsepower: 3/4 HP
LiftMaster 8500w cons
Not work for everyone looking for an opener replacement because of size/space requirements.
LiftMaster 8500W Warranty
5 years on Parts
Lifetime motor part warranty
LiftMaster 8500w Comes With
841LM Automatic Garage door lock
485LM Backup Battery
827LM myQ Remote Led Light
Best For Budget Chamberlain B2202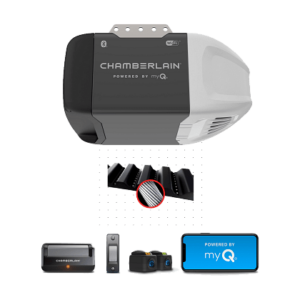 This belt drive opener is the most reliable and affordable opener on the market With an ultra-quiet AC Motor. It also has safety sensors, rolling code technology, and a variety of convenient smart features. The Chamberlain B2202 also has smartphone compatibility, allowing you to control your garage door from anywhere using the myQ app.
Chamberlain B2202 Pros
Soft start/stop smooth operation
myQ App Connectivity
Built-In Wi-Fi
Amazon Key In-Garage Delivery
Security & Safety
Rolling Code: Yes | Security + 2.0
Safety Sensors: Yes
Horsepower: 1/2 hp
Chamberlain B2202 Cons
No Backup Battery
Doesn't Support Wireless Keypads
AC Motor
Chamberlain B2202 Warranty
6 years for motor
5-year for belt
1-year for parts and accessories
Chamberlain B2202 Comes With
1-button remotes
Push Button Door Control
Safety Sensors
It's important to know that having a newer and modern garage door opener can make your life much easier. With the press of a button from anywhere, you can open or close your garage door and keep your garage monitored 24/7. But not all garage door openers are created equal. With advances in technology, there have been significant breakthroughs in the field, and today there is a wide range of garage door openers to choose from. In this article, we've taken a look at the benefits of upgrading your garage door opener, different types of garage door openers available, and reviews of the best garage door openers on the market. We hope this article has been helpful in helping you find the best garage door opener for your needs. So what are you waiting for? buy your best opener for your garage and give your home the convenience and security it deserves.
Choose AAA Garage door inc For your New garage door opener purchase and installation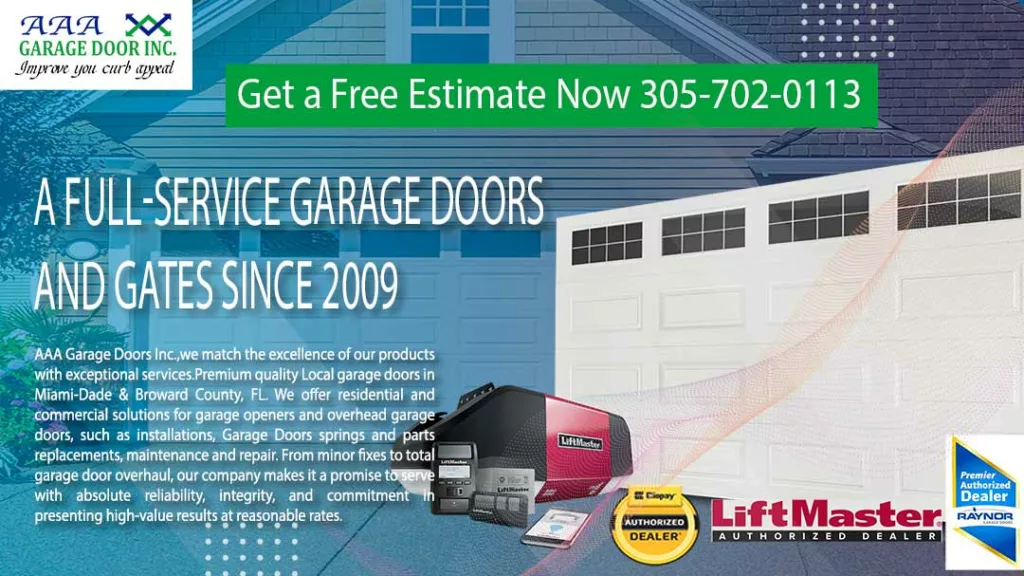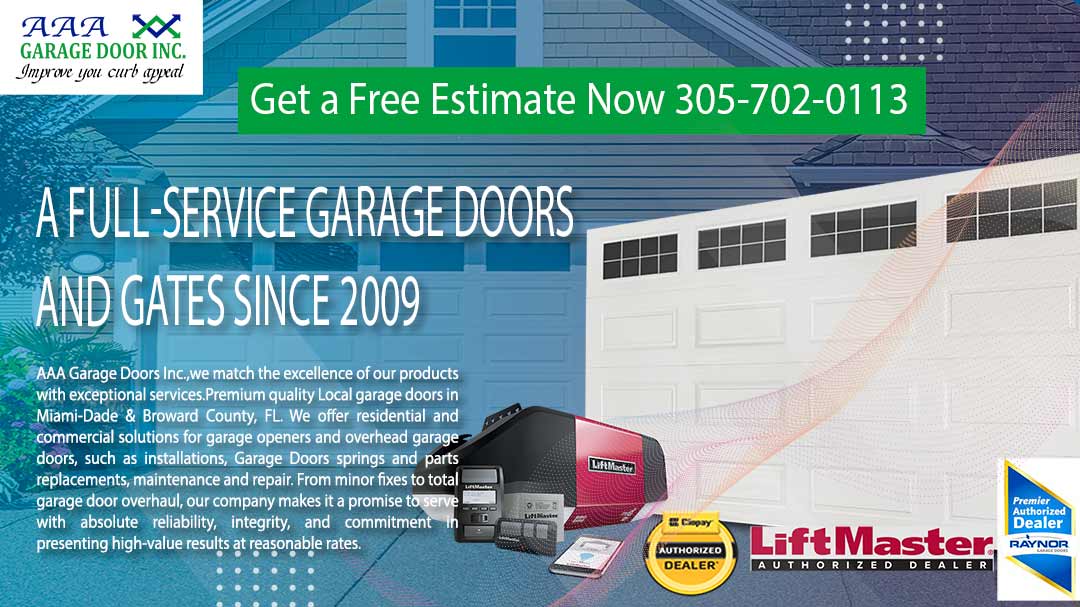 We are sorry that this post was not useful for you!
Let us improve this post!
Tell us how we can improve this post?