The process of buying a new garage door opener can seem overwhelming and intimidating due to the sheer number of options available. At AAA Garage door, we want to make the search for the perfect garage door opener easier for you. From basic openers to smart openers, comparing horsepower, sound, features, and most importantly security options, we can help you sift through the choices and find the one that's just right for your need. hopefully, this guide will help you find the best opener for your garage. Let's first explore the different types of garage door openers and what is the difference between them.
Types Of garage door openers
Chain Driven Openers
A chain opener is considered one of the most reliable types of openers, as it basically depends mechanically on a chain that pulls the garage door to the top, and this reduces the occurrence of damage inside the motor of the opener, in addition to that the chain opener is more affordable than other garage door openers. A chain opener is the oldest type of garage door opener, so one of its drawbacks is that it is noisy and causes noise as a result of the friction of its metal parts. So if you are looking to open your garage door quietly or if your garage door is above a bedroom, Chain Driven Openers will not be a suitable opener for your garage door.
Belt Driven Openers
Unlike the chain opener, the belt opener is quieter, but has a shorter life span, because it depends inside it on a belt made of rubber that has metal wires running through it. So over time, this belt loses its durability and the rubber starts to wear out. finally, belt openers are not an affordable choice if you looking at costs.
However, this does not mean to forget it is characterized by its ease of installation, maintenance needs, and calmness during operation. This makes Belt Driven Opener the ideal choice when it comes to comfort and convenience.
Direct Drive Openers
The direct drive opener is not much different from the belt opener, and this is because it also depends on a belt made of rubber that works to raise the garage door, but the direct drive opener differs in the way it is hung instead of in the ceiling of the garage, It is on the wall next to the garage door. The direct drive opener is also characterized by being quiet during operation and practical because it works by moving one gear, which reduces damage to the internal parts and thus reduces the required maintenance. The cons to The Direct Drive Openers are that its limited availability and is more expensive than other types of garage door openers.
AAA Garage Door INC Is Your Authorized Dealer Company Near You
Lost between the different types and want to ask an Authorized Dealer company that offers garage door openers from top brands like LiftMaster about what would be the best opener for your garage door.?
AAA Garage Door INC Is here for you we are serving Miami Dade & Broward Counties since 2009. Making us your local garage door company is our priority, and Improve Your Curb Appeal is our Slogan. Call Us Now for a consultation about your garage door opener at 305-702-0113.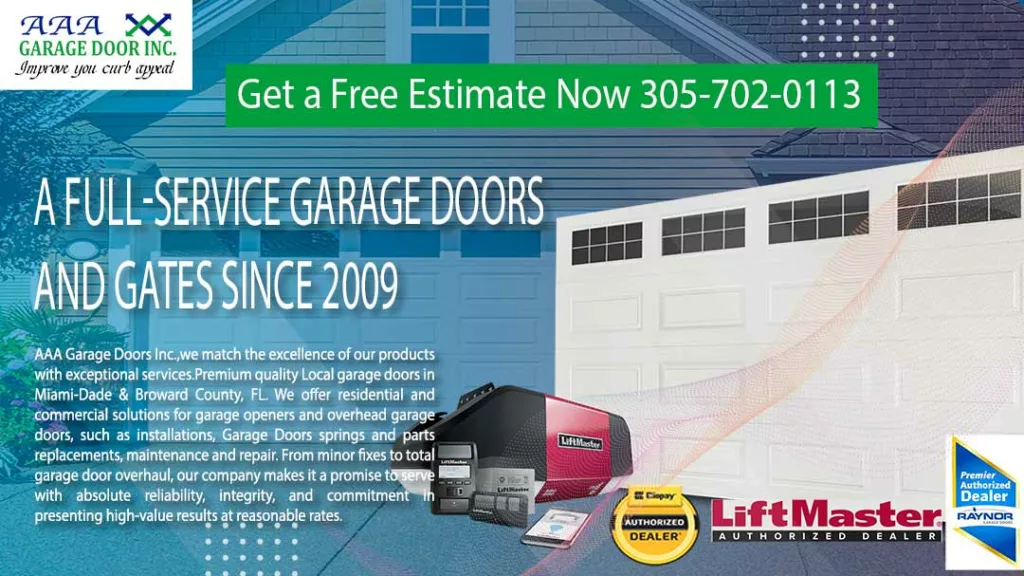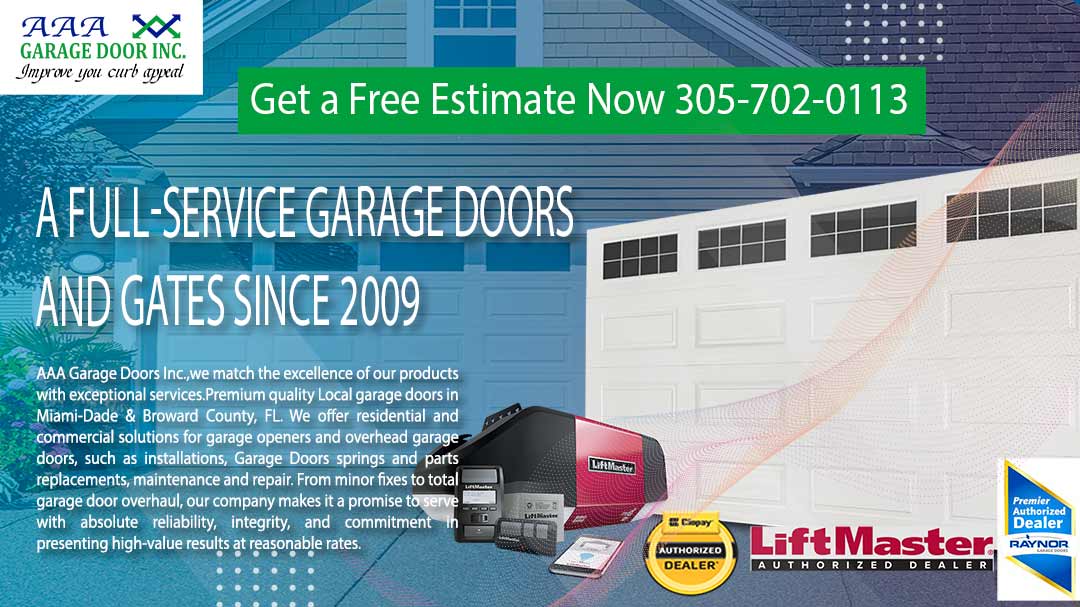 Garage Door Opener Features
After we understand the different types, we need to look deeply at all the features that are common between Openers brands.
There are several features that are common between different opener brands.
Security Light: Most openers have a built-in light that illuminates the garage door when it is dark outside or when you operate the system.
Auto-Close: Many openers also have a timer that can be programmed to automatically close the door after a certain period of time.
Keypads: Other common features include a keypad for entering a code to open the door and a remote control that can be used to open the door from a distance. Read our list of the Best keypad for your opener.
Built-In Wifi: There are many reasons why built-in WiFi is an important feature of your garage door opener. one, it can be extremely convenient, allowing you to open and close your garage door without ever having to get up from your comfortable spot on the couch. Additionally, it can be a great security measure, allowing you to keep an eye on who is coming and going from your home at all times. Finally, if you have a smart home setup, adding a garage door opener with built-in WiFi can help to make your home even more efficient and automated.
Smart Device Compatibility: Smart feature is important for every homeowner it makes everything easier so having smart features in your garage door opener like operating and monitoring your garage through your smartphone or Compatibility with other opener accessories like Smart Camera.
Opener Backup Battery: Most garage door openers have a backup battery to help you in a power outage.
Motion-sensor security lights.
Garage Door Opener Horsepower
There are a few things to consider when purchasing a garage door opener. One of the most important is the horsepower of the unit. The higher the horsepower, the more powerful the opener will be. This is important if you have a heavy garage door or if you live in an area with high winds. A higher horsepower unit will be able to open and close your door more easily and will be less likely to be damaged by wind or heavy use. Every garage door service companies have to first examine the garage door in terms of length, width, and weight in order to know the appropriate garage door opener for it. Garage door openers range between 1/2 horsepower to 1-1/2 horsepower for residential models. Read the topic Choose the best garage door for your home To know more about garage door types.
Safety and Security
Your garage door must have all the safety features in order to protect yourself from burglaries and also from some mistakes that can occur while using the garage door. In modern openers, there are many important safety and protection features, Such as:
Safety Sensor: it's one of the major safety features that help you not get injured when mistakenly your garage door goes down by installing a sensor that hit infrared beams while the door goes down and if it any object passes through the LED beam of light and automatically reverses the closing garage door.
Rolling-Code: It's a security technology to prevent hacker attacks and ensure no other unauthorized remote control opens your garage.
Garage door openers brands and comparison between them
There are many different brands of garage door openers on the market, but not all of them are created equal. Some are more reliable than others, and some offer features that make them more convenient to use. When you're looking for a new garage door opener, it's important to consider what features are most important to you and to compare different brands to see which one offers the best combination of features and value.
Some of the most popular garage door opener brands include Chamberlain, Genie, and LiftMaster.
LiftMaster
LiftMaster is the most popular garage door openers company in the US, They have the most high-quality garage door openers and Over 4,000 Dealers and installers nationwide. LiftMaster Introduces a lot of important technologies like Photo Eye Safety Sensors and it's used to detect if something or someone is on the door closing path and it's useful To protect you or your family members. Another Good technology is Security+ 2.0 Which is important to protect your garage door from being hacked by code hackers. LiftMaster RailSystem is what makes LiftMaster One of the most powerful openers in the market because it counts on the T-rail system which is capable of lifting heavier garage doors with the same horsepower as other openers.
Based on Customer's Ratings
4.1 out of 5 stars +190 LiftMaster Offical Website Ratings
4.6 out of 5 stars +900 Amazon Ratings
This rating is from the time the article was created and is not updated
Opener Type
Direct Drive ( Wall-Mount )
Horsepower
LiftMaster 8500 Opener Has a 1/2-horsepower motor that lifts residential doors of all sizes, even tall doors that other openers can't lift, as long as they have torsion springs.
Features
Wall mount design frees up ceiling space in your garage, and reduces noise and vibration.
Add myQ® smartphone control.
Features a DC motor for ultra-quiet operation.
Automatic Garage Door Lock deadbolts your door after closing.
Safety and Security
Secure Code
Confidently know that every click sends a secure code to the garage door opener.
Safety Sensors
Protect people and vehicles with safety sensors that stop the door from closing on obstructions.
Chamberlain
Chamberlain is known for its reliable products, and its garage door openers are no exception for every homeowner that wants the best value compared to price. Chamberlain is the parent company of Liftmaster, and this means that you will find the same quality of products and the smart properties that characterize it, what distinguishes Chamberlain is the diversity of its products because it wants to target all groups of people and aimed at do-it-yourselfers. From the mechanical perspective, Chamberlain is different then LiftMaster in the Rail System as we previous mention LiftMaster has the T-Rail Systems, and Chamberlain openers have a multi-piece system which is ideal for standard garage doors or garage doors that are not daily used.
Best Chamberlain Opener Model Is Chamberlain B4643T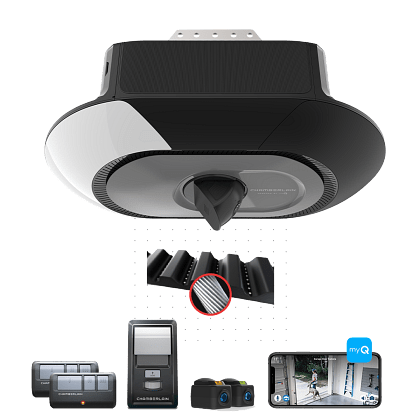 Based on Customer's Ratings
4.6 out of 5 stars +100 Official Chamberlain Website Opener Ratings
4.6 out of 5 stars +700 Amazon Ratings
This rating is from the time the article was created and is not updated
Opener Type
Belt Drive
Horsepower
Lifting Force 3/4HP
Features
Integrated 140-degree wide-angle security camera capture HD-Quality Video. You can connect your garage door opener to the myQ app to monitor the camera from anywhere at any time.
2-Way Audio
LED Lights
Battery backup
Amazon Key In-Garage Delivery
Safety and Security
Safety Sensors
Genie Garage Door Openers
Genie garage door openers are known for their ease of use, and durability. According to Statista, Genie is one of the top 4 most used garage door openers in the U.S. sometimes you just need a garage door opener to get the job done and focus on durability Genie Openers are a great example of that they have a lot of openers choices with the most affordable prices in the market, Genie Opener else has all the Security & Smart Features you could need.
Best Genie Opener Model Is Chain Drive 500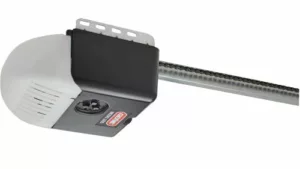 4.5 out of 5 stars +750 amazon ratings
This rating is from the time the article was created and is not updated
Opener Type
Chain Drive
Horsepower
1/2 HP
Features
T Beam system Helps you from an accident of crossing the door while closing by opening the door back.
Technologies
Intellicore Security Technology
Dual Frequency Technology
GenieSense Monitoring & Diagnostic Technology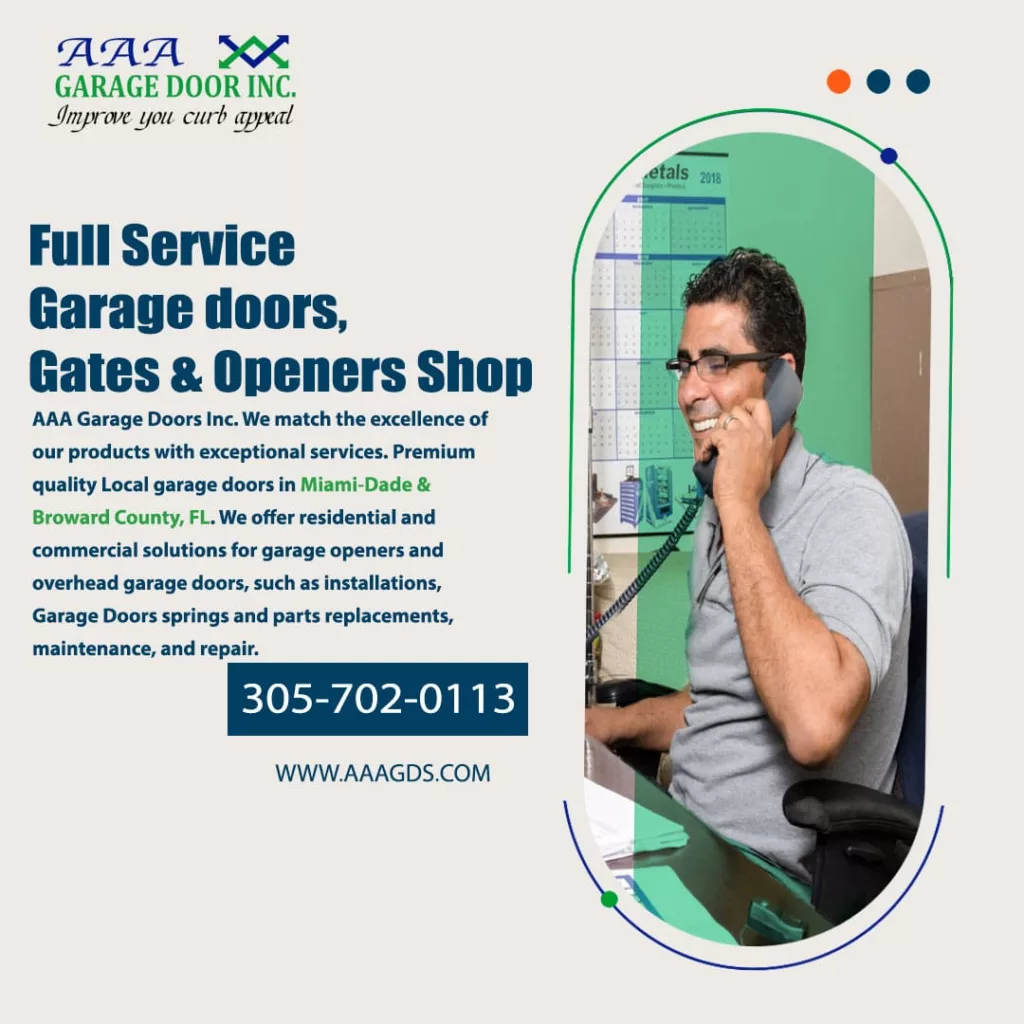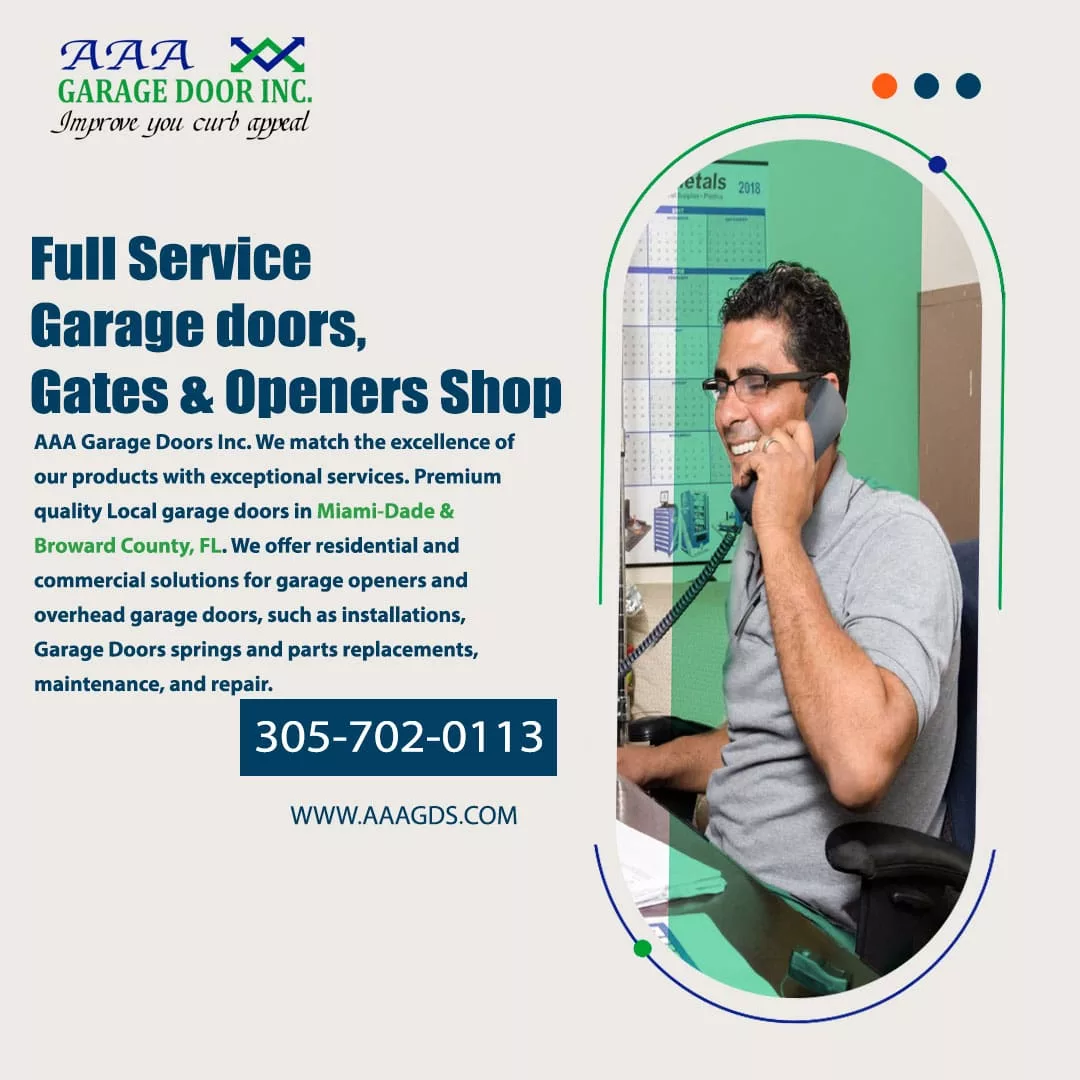 We are sorry that this post was not useful for you!
Let us improve this post!
Tell us how we can improve this post?