A garage door can be a constant point of frustration for homeowners. From installation to maintenance, there is a lot to consider. If you are planning to install a new garage door then you need to be prepared for what you are about to experience. In this blog, we are taking you through the different things you need to consider before buying a new garage door and getting you one that will last for years to come.
Know garage door Styles
The first thing you have to know is the most common style types of garage doors. if you are looking for a residential garage door you surely heard about the Carriage garage door.
Carriage garage door
Carriage garage doors are the ones that look like they belong in a carriage house. They have a classic, old-fashioned look to them that can add charm and curb appeal to your home. They come in a variety of styles and can be made from wood, steel, or fiberglass but mainly wood.
Carriage garage door pros & cons
There are a few things to consider when deciding if a carriage garage door is a right choice for your home.
The first is aesthetics. Carriage garage doors have a unique look that can add curb appeal to your home. However, they may not be the best choice if you're trying to achieve a certain style for your home like modern-style homes for example.
The second thing to consider is functionality. Carriage garage doors can be more difficult to open and close than other types of garage doors, YES Carriage garage doors require low maintenance due to their low mechanical parts which will provide you a long lifespan but if you're looking for something that's easy to use, you may want to consider another option.
Finally, carriage garage doors can be more expensive than other garage doors, in fact, they are the most expensive residential garage door so if you're on a budget, you may want to consider another option.
Carriage garage door average price
Carriage house garage door typical cost: $1000 – $6,200
Sectional garage door
The sectional garage door is one of the most popular in the U.S. Sectional garage doors are a great option for homeowners in terms of Reliability & Cost.
There are many advantages & disadvantages to using a sectional garage door.
Advantages
If you considering getting a sectional garage door you should be thinking about its biggest feature which is no doors opening mechanism which is rising and lowering panels that work in vertical tracks that curves at the top of your garage roofline.
This ability to have multiple panels saves a lot of space in your garage door storage and else provides a high level of security.
The sectional garage door is cost-effective: one of the reasons that homeowners use sectional garage doors is it's the most economical option available.
Disadvantages
One of the downsides of sectional garage doors is that they need high maintenance due to their high mechanical parts.
In addition, installation can be complicated if you're not experienced in this type of work. you may need a professional because once your garage door is installed by a professional you are unlikely to run into problems in the future. You can Call our professionals to learn more about Installing a new garage door.

Choose The right garage door Opener
After you know the most common garage door types now it's a good time to know What are the Different Types of Garage Door Openers and else know the technologies it holds. this kind of information is the most important part because it will make your life way easier and provide you with safety and security which is the most important aspect for every homeowner.
Carriage garage door Openers
Automatic carriage door openers are categorized into two categories. The first style, which is more common in North America, has two units that be installed directly above each door on the wall. These work by extending or retracting a jointed arm to open and close the door. Because this style of opener takes so little electricity, several brands run on solar power.
The second type has a single overhead track along which a small box is connected to a pair of rods that push or pull the doors open or closed. This style is more common in Europe.
Sectional garage door openers
Sectional garage door openers are a type of garage door opener that is used to open and close garage doors. They are often used in commercial buildings and homes where large doors are required.
What is the best opener type for sectional Garage Doors?
The most common types of sectional garage door openers are belt-driven and chain-driven openers. Belt-driven sectional garage door openers use a belt instead of a chain to move the trolley that opens the door. The belt is usually rubber or polyurethane, but can also be made of metal.
LiftMaster belt drive garage door openers, are ultra-strong and virtually silent, making them ideal for homes with attached garages.

Chain-driven sectional garage door openers use a chain to drive the trolley that opens the door.
Reliable and powerful, LiftMaster chain drive garage door openers are built to handle heavy and frequently used doors with ease, day in and day out.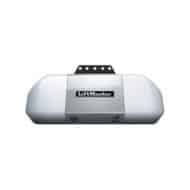 Best Models
8587w ||| 8360w
Chain garage door openers Vs Belt Garage door openers
Chain garage door openers require less maintenance than Belt openers but if you compared the chain version and the belt version in terms of sound noise you will find that the belt-driven garage door opener has a tremendous difference in noise reduction more than the chain version.
How to Choose the Best Garage Door for Your Home
Choosing a garage door can be a daunting task, but it doesn't have to be. The following steps will help you make the best decision for your home.
The first step is to consider what type of garage door you want. as we mention earlier the most common garage door types are Carriage & Sectional Garage doors. these bullet points will help you as a checklist to decide which type is right for your home
Garage door design
Selecting the right type for garage door requires you to design your own garage door always use Manufacturers' Websites to choose a Door design
Materials
Decide what materials you want your new garage door made out of. Garage doors come in many different materials including steel, aluminum, and wood.

Steel & aluminum
There are a few things to consider when choosing between a steel or aluminum garage door. Steel doors are more durable and require less maintenance, but they are also more expensive. Aluminum doors are less expensive but not as durable and will require more maintenance.
Wood
There are a few things to consider when thinking about getting a wood garage door:
The first is the cost. Wood doors can be expensive, especially if you want a high-quality door.
The second is maintenance. Wood doors require more care than other types of doors, such as steel doors. You will need to regularly paint or stain the door to protect it from the elements.
The third is appearance. Wood doors can give your home a more traditional look which is something perfect for classic and Carriage homes.
Which is the Garage Door material best option for you?
If you are looking for a durable door that will not require much maintenance, then a steel door is the way to go.
If you are looking for a less expensive option that will require more maintenance, then an aluminum door is the best option.
if you mainly look for something looks perfectly good and fits with your Carriage home then wood is a plus.
Isulated or Non Isulated
Insulating the garage door is a very important factor in determining the budget that your garage door will cost, so you must choose well if you want it to be insulated and know the advantages of these layers of insulation In a short and useful way, Insulated your garage door will have a great impact on maintaining the temperatures of your home and thus save you the electricity bill. In addition, it is a very good factor for protection from theft and burglary, and thus puts your house in its best image, and many Collections of insulated garage doors can suit your budget, there are also garage doors that come with layers of insulation.
Safety
There are many different garage door opener safety options available on the market today. Some of the most popular options include sensors that will automatically reverse the door if something is in the way for people that have kids, and timer-based systems that will automatically close the door after a certain amount of time has passed. There are also remote control systems that allow you to open and close the door from a distance, and keypad entry systems that require a code to be entered to open the door.
No matter what your particular needs are, there is likely a garage door opener safety option that will suit your needs all you have to do if look for the options that you really need and find the right opener for your needs.
Budget
Finally, you will need to decide on a budget. Garage doors can vary significantly in price, so it is important to set a budget before beginning your search. By keeping these factors in mind, you will be able to find the perfect garage door for your home.
If you're thinking about upgrading your garage door, you'll need to think about the cost of the new door as well as the cost of installation. Depending on the size and style of the door, budget for anywhere from $500 to $2000 for the door itself. Installation costs will vary depending on the door and the complexity of the installation, but budget for at least $200 for installation. We had a full blog that talks about how much a new garage door costs.
Tips for your new garage door
Now you have reached the point where you somehow choose your garage door idea and maybe we are the ones who will be doing it for you. but what about extra tips to maintain your garage door and keep it always in good condition just like new? We did a topic about how to maintain your garage door, I recommend you to read it besides these 5 more tips.
1. Regularly clean your garage door with a mild soap and water solution.
2. Inspect your garage door regularly for any signs of wear and tear, and make sure to repair or replace any damaged parts as soon as possible.
3. Apply a fresh coat of paint to your garage door every few years to keep it looking its best.
4. If your garage door has windows, make sure to clean them regularly as well to keep them looking clear and bright.
5. Lastly, always make sure to keep your garage door opener in good working condition so that your door always operates smoothly.
Resident of Miami-Dade Or Broward County, Get a free estimate now at 305-702-0113.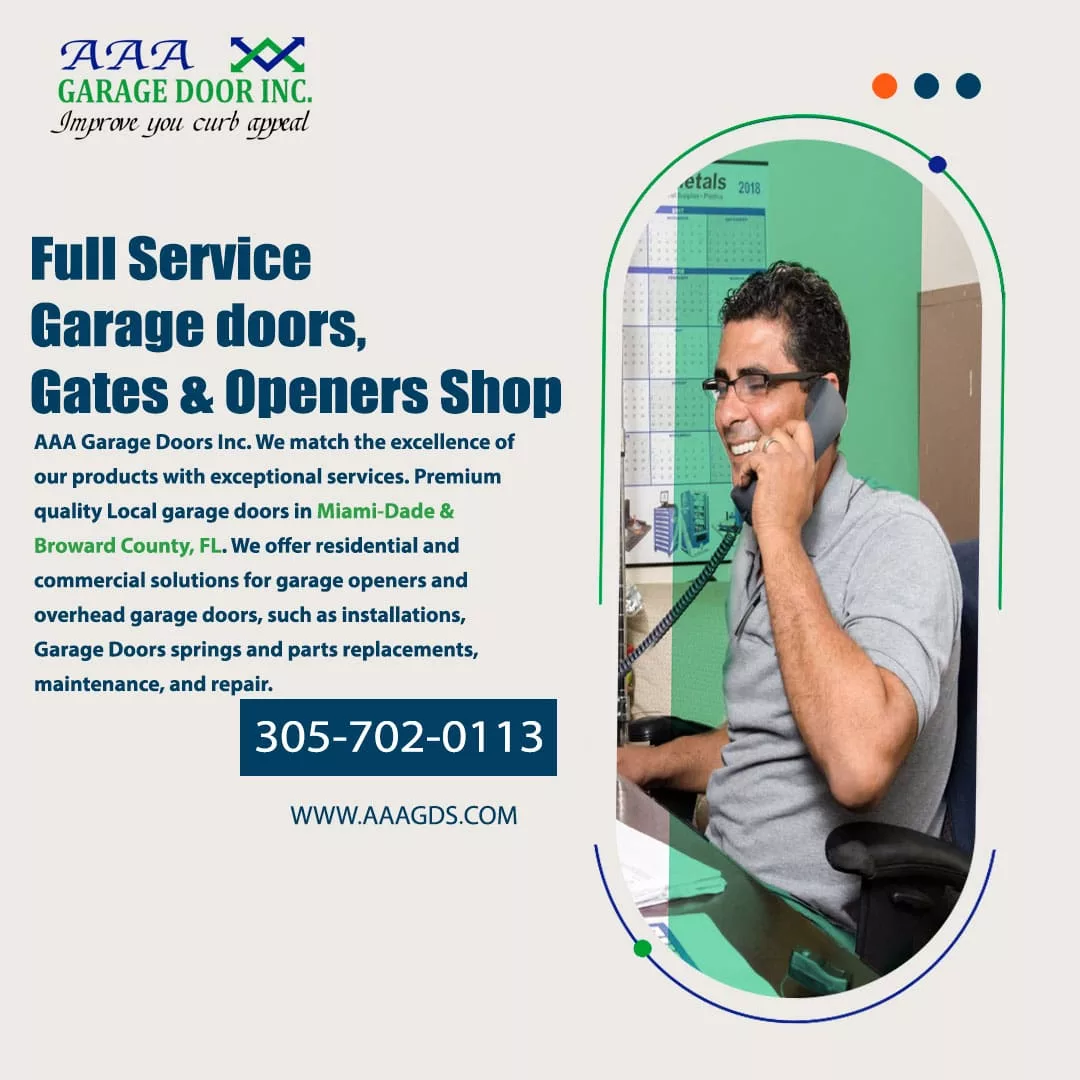 We are sorry that this post was not useful for you!
Let us improve this post!
Tell us how we can improve this post?