Service Areas In

Miami-Dade County
Full Garage Door Services In Miami-Dade County | Repair & Installing New Garage door
Aaa garage door Inc. is your local garage door company that have all the solutions for your residential and commerical garage door. With our experts and highly professionals we will make your curb appear precisely as it should be.
AAA GARAGE DOOR INC.
Your Local Certified Dealer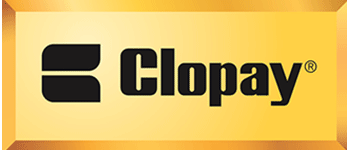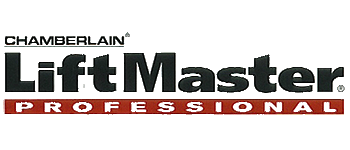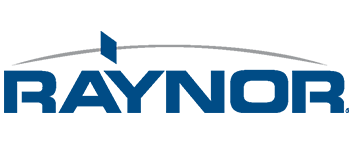 Service areas in Miami-Dade County
Since 2009
Years Of Expertise Makes us one of the Best-In-Class Services
Miami-Dade Approved Doors
All Doors Meet Miami-Dade Wind Code!
All Major Brands Serviced
Garage Door Opener Repair
We Are A Full Service Garage doors, gates and Openers Shop
AAA Garage Doors Inc. We match the excellence of our products with exceptional services. Premium quality Local garage doors in Miami-Dade County, FL. We offer residential and commercial solutions for garage openers and overhead garage doors, such as installations, Garage Doors springs and parts replacements, maintenance, and repair. From minor fixes to total garage door overhauls, our company makes it a promise to serve with absolute reliability, integrity, and commitment to presenting high-value results at reasonable rates.
Garage door Residential Installation & Repair Services
There are many companies that offer residential garage door installation services. However, it is important to choose a company that is experienced and reputable. Additionally, you should make sure that the company offers a warranty on their work. at AAA garage doors company we have 12 years of experience installing all types of garage doors, and we can help you choose the perfect door for your home. We kept on making Miami-Dade County people safe and secure through their hard times like Emergency Repair, Hurricane & storms, preparing your garage doors for a long time abandoned and installing braces to prepare for powerful Hurricanes.
We offer a variety of installation services to meet your needs and budget, and we're always available to answer any questions you may have. Contact us today to schedule a free consultation.
We give you a free estimate and we let you know about our experience in the field.
Installing a garage door can be a big job, so you want to make sure it is done right. Choosing a reputable company like ours with experience is the best way to ensure this. Getting your free estimates is also a good idea, so you can find the best price.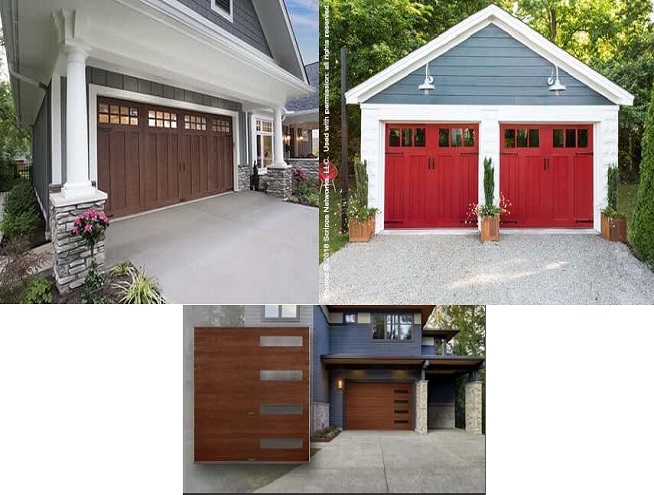 Clopaydoor CANYON RIDGE® COLLECTION
CANYON RIDGE® COLLECTION ULTRA-GRAIN® SERIES
CANYON RIDGE® COLLECTION LIMITED EDITION SERIES
insulated carriage house garage doors with faux wood overlays.
CANYON RIDGE® COLLECTION LIMITED EDITION SERIES
Beautiful and unique, Canyon Ridge® Limited Edition Series carriage house doors are constructed with an energy-efficient, Intellicore® insulated steel base and finished with faux wood composite cladding and overlays. The appearance is that of authentic swing-out doors but with the convenience of modern, upward operation.
Canyon Ridge® Modern garage doors combine the beautiful look of wood with contemporary design. Streamline the look of a traditional home or add a sophisticated touch to a modern or mid-century style exterior with these durable faux wood modern doors.
More Details
The Clopay Canyon Ridge Collection is a line of garage doors that is known for its unique, handcrafted design and high-quality construction. This collection as you can see features garage doors with a faux wood look that are made from a composite material that is durable, low-maintenance, and resistant to weather and wear. The collection are available in a variety of series that have different styles, colors, and finishes to suit different tastes and preferences. Customers generally praise the Canyon Ridge Collection for its attractive design and high-quality construction. Overall, the Canyon Ridge Collection is a popular choice for homeowners looking for a stylish and durable garage door carriage doors.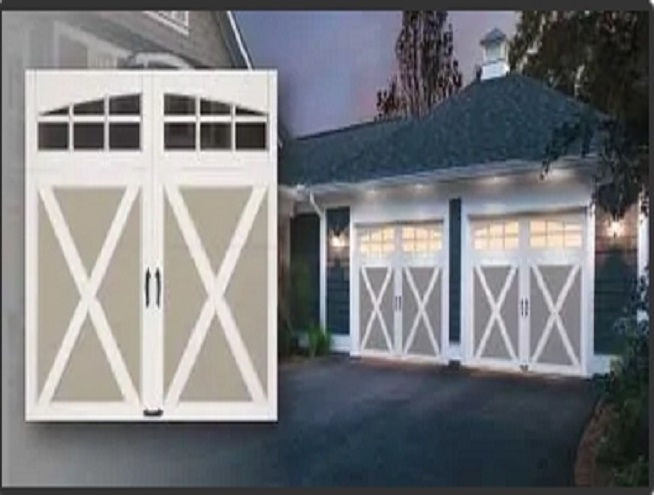 Authentic looking insulated steel and composite carriage house garage doors. The perfect blend of beauty and practicality, these carriage house doors look like wood, but they are actually crafted of multiple layers of durable, low-maintenance steel and insulation topped with a woodgrain textured composite overlay.
Clopay avante collection garage doors that is known for its modern, contemporary design and high-quality construction. This collection features garage doors with a full-view, aluminum and glass design that is both stylish and functional.
When you're looking for carriage house garage doors with the durability of steel, choose the Gallery® steel doors by Clopay®. Whether your vision for your home's exterior is elegant, sleek, unique, or somewhere in between, the versatile design of the Gallery® can provide just the look you need to rejuvenate your home's exterior.
Clopay's® CLASSIC™ collection provides the traditional raised-panel style garage door in a wide range of construction and design options, allowing you to take the time-tested, classic garage door look and make it your own.
Modern Steel™ garage doors are available with a wide variety of options to suit your taste and your home's appearance. Whether your home is mid-century modern, contemporary, or somewhere in between, these beautiful and durable steel-panel garage doors will add curb appeal to your home's exterior.
Commercial Installation Services
Miami-Dade Commercial Garage Doors & Overhead Doors.
Our veteran technicians lead the field in experience, and efficiency and always choose the highest quality solutions for each location. Nothing is more important than the safety & reliability of the equipment we service.
We Service Sectional and Rolling storage doors, service doors, service fire doors, rolling grilles, light-duty and heavy-duty sheet doors, certified windload sheet doors, and insulated and non-insulated sectional doors.
Clopay commercial Garage Door  are constructed using the finest raw materials, produced by the hands of skilled craftsmen, customized with computer-aided precision, and delivered both on time and with care. Our entire line of Industrial overhead doors, such as our line of insulated garage doors, was specially engineered for extra durability to afford years of dependable operation — even in the toughest industrial environments.
Regardless of your application, AAA Garage door's can recommend, supply and professionally install a door that meets your needs at a price that fits your budget.
We've listed the most common doors we sell below.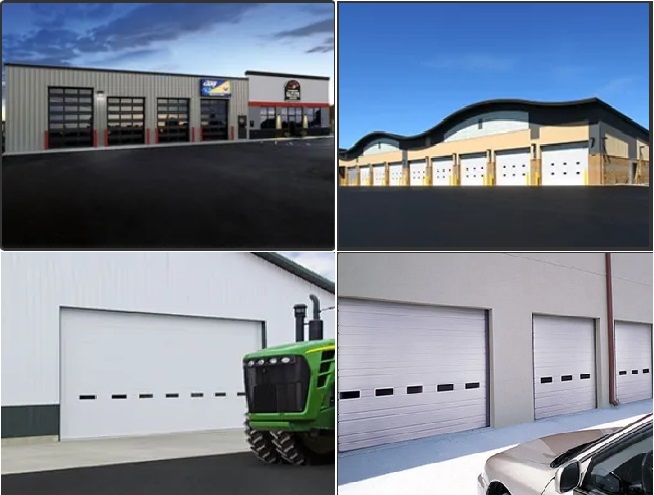 thousands of combinations to meet every need
The perfect choice for architectural applications that require open visibility, natural light and a modern, industrial design.
Climate control, reliability, durability– our premier, thermally broken, polyurethane insulated steel garage doors have it all, providing excellent temperature control, energy efficiency and long-lasting service.
These high quality, polystyrene insulated steel sectional doors provide energy efficiency and reliable service under demanding conditions, making them ideal for use in municipal buildings, warehouses and shipping dock applications, or wherever value and energy efficiency is needed.
Industrial Series doors feature a variety of standard ribbed, flush and embossed patterns such as stucco and woodgrain. Available in a wide selection of gauges for pro-grade durability, this series is a great choice for high-traffic applications including warehouses, distribution centers and loading docks.
More Details
Overhead sectional doors are ideal for a wide variety of applications, including industrial and commercial settings. These doors are designed to provide superior performance and durability, as well as a high level of security. Featuring a variety of optional features and a wide range of sizes, overhead sectional doors can be customized to meet the specific needs of any application.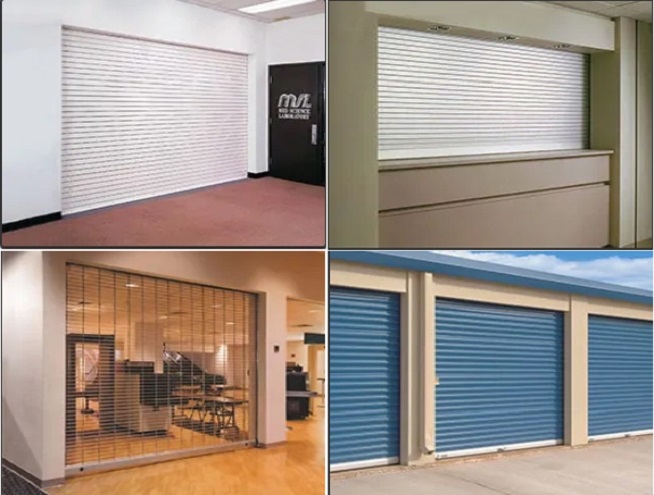 ROLLING COMMERCIAL STEEL DOORS
Providing security, temperature control, or noise reduction.
Serving the industry with an array of curtain materials (prefinished galvanized steel in gauges from 24 to 18, stainless, or aluminum), slat profiles, and colors, Clopay's service doors can accommodate most openings and building requirements.
Clopay counter shutters (doors) are ideal for concession areas, cafeterias, pharmacies, cashiers, parts and tool storage areas where resistance to flame spread or smoke penetration is not required.
Coiling aluminum or steel grilles to secure areas requiring visual access and air circulation.
More Details
Rolling commercial steel doors are a type of door often used in commercial and industrial settings. They are made of steel and typically roll up or down to open and close. Rolling commercial steel doors can be used for a variety of purposes, such as providing security, temperature control, or noise reduction.
Miami-Dade Commercial Garage Doors & Overhead Doors
Miami-Dade Residential Garage Door Repairs & Services
We're one of the companies in Miami-Dade County that offers a 100% satisfaction guarantee, so you can be sure that we'll do the job right.
If your garage door isn't working properly, we can help. We offer a wide range of garage door repair services, and we're always here to help. We're committed to providing the best possible service to our customers, and we guarantee your satisfaction.
We pride ourselves on providing top-quality garage door repair services.
We are proud to offer the most advanced openers on the market today
We offer residential and commercial solutions for garage openers and overhead garage doors, such as installations, Garage Doors springs and parts replacements, maintenance and repair. From minor fixes to total garage door overhaul
15 Years Of Expertise (Qualified Experts)
First, you want to make sure the company you're considering has a good amount of experience. The last thing you want is for your garage door to be installed by someone who doesn't know what they're doing. A good way to gauge a company's experience is to ask how long they've been in business. So we are proud that we been in field of Garage Doors Services For over 12 Years.
More than 1500 Job done (Service On Your Schedule)
Second, you'll want to make sure the company has a good reputation. You can do this by see the company work history more works jobs means good reputation and trust which is a good sign. Did you know We finished more than 1500 Job in Miami-Dade County with 99% Satisfaction rate Combined In
4.8 Out of 5 +99 Google Reviews
4.9 Out Of 5 +30 Yelp Reviews
4.7 Out Of 5 +270 GuildQuality Reviews
All this reflect our clients trust and company good reputation.
Most affordable in market (Special Offers)
Finally, you'll want to make sure the company is reasonably priced. You don't want to overpay for your garage door, but you also don't want to go with the cheapest option. Get a few quotes from different companies and compare them. We Guarantee for you the most reasonably prices in market Get a free estimate now
Clients Reviews
Miami-Dade County
4.9 out of 5 stars (based on 239 reviews)
Customer In Miami, FL
I'm not one who usually writes a review but I've been thoroughly impressed with AAA Garage Door company. From my first phone call to Tammy to get a quote to replace my garage to having face to face contact with the owner to address any questions or concerns. Their price was not only the cheapest quote I received but their work including submitting documents to my association to pull permits and follow up by the owner to ensure that I was satisfied with the final product spoke volumes about this company. I highly recommend AAA Garage Door for your garage door repairs or replacements.
Customer In Miami, FL
Tammer did an excellent job servicing our garage door. He completed the job promptly on time and was extremely professional I would definitely use Tammer and Aaa again.
Very pleased with the entire process.
Customer In Miami, FL
AAA Garage Door Inc showed up early, quickly and professionally replaced the springs for our garage door the same day less than 2 hours to placing the call. I will use them for any garage door needs in the future and highly suggest this business
Customer In Miami, FL
We needed an emergency garage repair. Setting an appointment was automated and very easy. Exceptional customer service, our technician had to get a piece custom fabricated and repaired our garage door the same day. Now our garage door is super quiet and works like a charm. Thank you, will use again and highly recommend for all garage door/gate repairs.
Response from AAA Garage Doors Inc.
Thanks a bunch as we strive to secure and make sure our clients garage doors are safe for their loved one
Customer In Miami, FL
I called AAA Quality garage door , they show up after one hour got my door fixed quickly and replace the garage door opener.definitely recommend!!
Response from AAA Garage Doors Inc.
We are so grateful for those kind words and we look forward to be your go to garage door company.
Customer In Miami, FL
Called AAA and they had someone nearby. Mike was very professional and the job done from initial call to complete within 1hour! Highly recommended! Thanks
Customer In Miami, FL
This is the second time we had him work on our garage for us and he has done amazing work both times. Highly recommend.
Response from AAA Garage Doors Inc.
Thanks Jacob for the kind words, your garage door would be good for a big while now
Customer In Miami, FL
We could not be more pleased with the level of work and professionalism! AAA Garage Door Inc. was our go-to for repairs in the past, so it was only fitting to install our new garage door through them. The work was very efficient and we are more than happy with the final result. This is a quality company. They are very thorough. If you have issues with your garage door or new a new one altogether, look no further! They are it!
Customer In Miami, FL
I highly recommend this company because the staff is excellent and the owner, Tony, is amazing. Super responsive at all times not only during the purchasing and installation process, but even afterwards with any question or situation. If you're thinking of replacing your door or have any issue with it / the motor, don't hesitate to contact this company. You won't regret it as you will be fully satisfied.
Customer In Miami, FL
I recently decided I needed a new garage door, so I looked in Miami-Dade County's "Best Picks" booklet for a recommendation. There I found the name of AAA Garage Door, which reportedly had been a "best pick" for several years. I called AAA Garage and several other companies to obtain estimates, and subsequently picked AAA Garage due to their excellent reputation and competitive pricing. Mike, the representative who came to give me an estimate, appeared very knowledgeable and honest. He did not take advantage of my lack of knowledge to oversell and quickly determined what I needed. I felt confident in accepting his recommendations because he obviously knew what he was talking about. Customer service at this company is very good; the appointment for the installation of my garage door was made in short order. On installation day, two technicians, Emmanuel and "Dominic" (a nickname) arrived to install my door. They were friendly, courteous and professional. They worked straight through without much of a break and had my door installed in about half a day. They, too, did an excellent job. I was very pleased with their work and they made sure I knew how to operate and lock the door. After the work was completed, I received a call from Tony, the owner of AAA Garage. He called to inquire how the job had gone and ask about any concerns I might have had. It was obvious from that conservation that he values good customer service and sets the high standard for his company. In summary, I don't do many reviews, but it is a pleasure to review this excellent, "five-star" company. I will call them again if need be, and I highly recommend them to anyone needing a new garage door or servicing/repairs of their existing garage door.
Customer In Princeton, Fl
Timely and professional with reasonable prices
Customer In Miami, FL
The service was very quick (same day I called). The next day they came back with the needed parts and fixed both garage doors. I would always recommend AAA Garage door. They are the best!
Customer In Miami, FL
AAA was great!! Very competitive pricing and experienced installers. Very informative regarding the future care of the door as well. I will certainly be referring this company to anyone needing a garage door replacement!!
Customer In Miami, FL
Arrived on time, was professional got the job done exactly as promised. Highly recommend AAA Garage Door to anyone needing garage door repair or new installation.
Response from AAA Garage Doors Inc.
Review Link: https://g.co/kgs/HjktQo
8040 NW 66th St. Miami, FL, 33166