Clopay Classic Garage Door
Miami Dade & Broward Garage Door Professional Installers
Clopay Classic Steel, Timeless Elegance & Ultimate Hurricane Protection
When it comes to choosing the perfect hurricane-rated garage door for your home, it's essential to consider both durability and functionality. A well-designed hurricane-rated garage door not only enhances your garage protection but also provides security and convenience for your home.
Among the wide range of options available, Clopay's Classic Collection stands out as a timeless choice that combines elegance and durability.
We'll delve into the features, benefits, and design options offered by the Clopay Classic Collection.
Design Your Garage Door
Quick Quote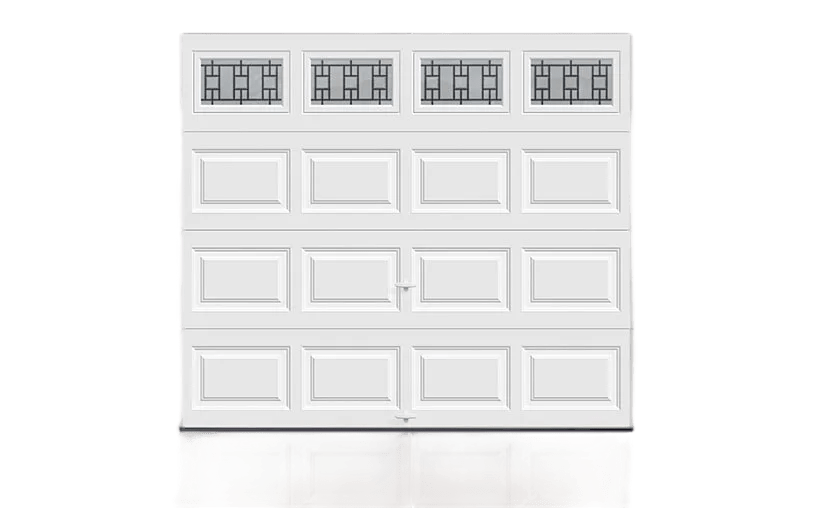 Classic Garage Door Installed By AAA Garage Door
Your Local Garage Door Company
AAA Garage Door Inc is your reputable Clopay authorized dealer garage door company that has been serving Miami Dade & Broward County for 15 years.
We have installed Clopay Classic Steel Garage Door for around 80 homeowners in the area.
Elevate the curb appeal of your home's exterior with Clopay Classic Steel Garage Doors. Contact Aaa Garage Door, your Clopay authorized dealer in Miami, to explore the wide variety of options available and find the perfect fit for your home.
Garage Door Installation
Most Protected Garage Door Against Hurricanes
Installed Classic Steel Garage Door
Based on our customer's reviews & survey we found that Classic Steel Garage door is their favorite choice for the below reasons.
Hurricane Impact Resistance
Florida homeowners face the risk of hurricanes and strong winds, so having a door that can withstand such conditions is crucial for their safety and home protection.
The door's strength and ability to withstand high winds make it a favorable choice for homeowners in Florida.
80% of our customers in Florida homeowners reviews highlight the hurricane impact resistance of the Clopay Classic garage door because of its 3-layer construction that provides strength 
Insulation for Energy Efficiency
Enhanced Security
Our Customers Reviews mention the added security provided by the Clopay Classic garage door. With its sturdy construction and high-quality materials, this door offers homeowners peace of mind by creating a secure envelope. It is specifically designed to withstand strong winds, meeting hurricane rating requirements. The door's strength and durability contribute to the overall security of the home and the protection of the occupants.
Positive Customer Experience
Our customers mention that the door meets or exceeds their expectations, emphasizing its quality and workmanship.

Classic Steel Garage Door Installed by AAA Garage Door Inc.
Get your FREE consultation
What to Expect
Design your garage door using our garage door configurator tool
After purchase, a licensed, local expert will come out to complete a site inspection and verify measurements
Once your door is built, an expert installer will deliver materials, install your garage door and properly clean up the job site

Clopay Authorized Dealer In Miami Dade & Broward Counties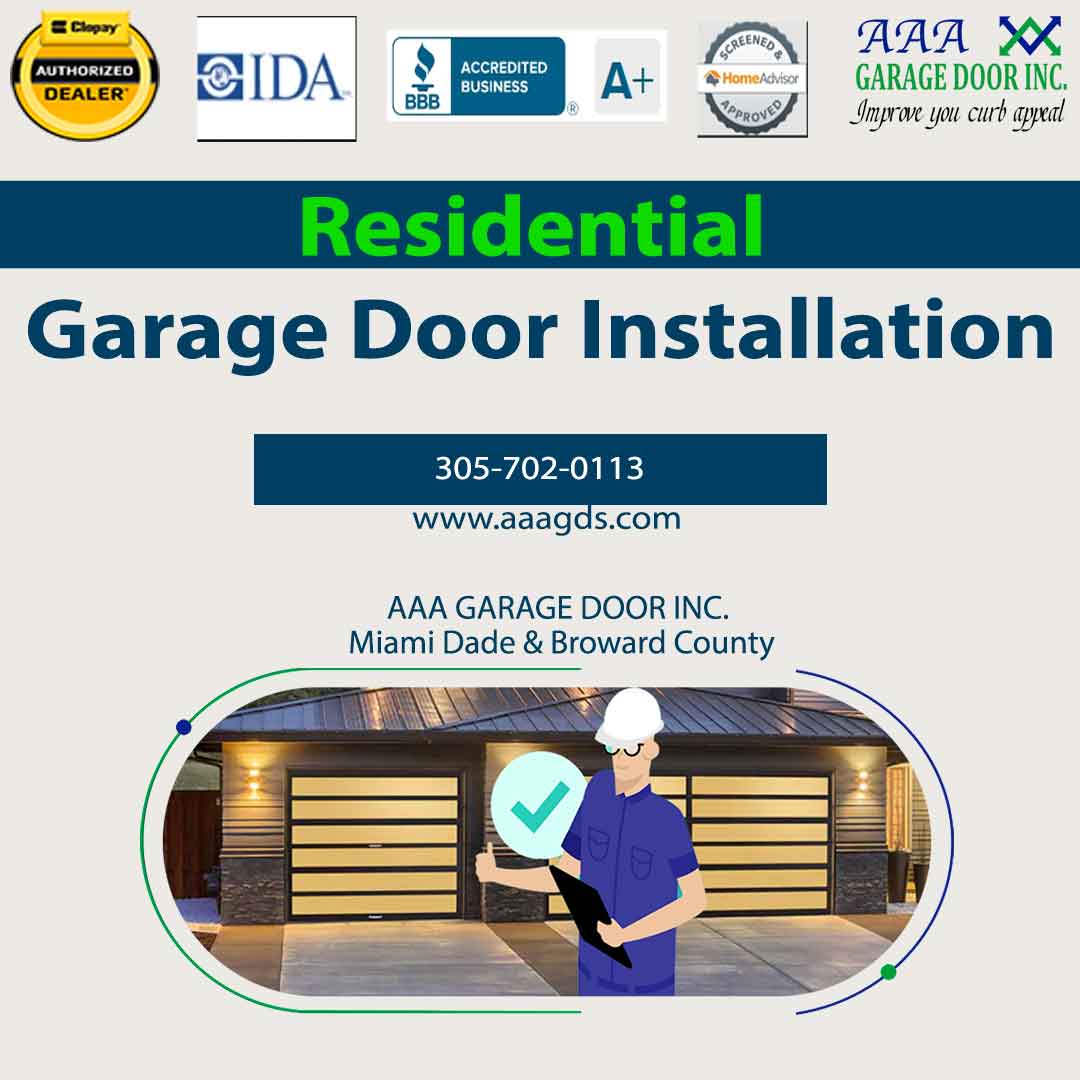 Garage Door Installation
AAA  Garage Door™  installs all types of residential and commercial garage doors and garage door openers devices including Gate operators from the leading garage door manufacturers.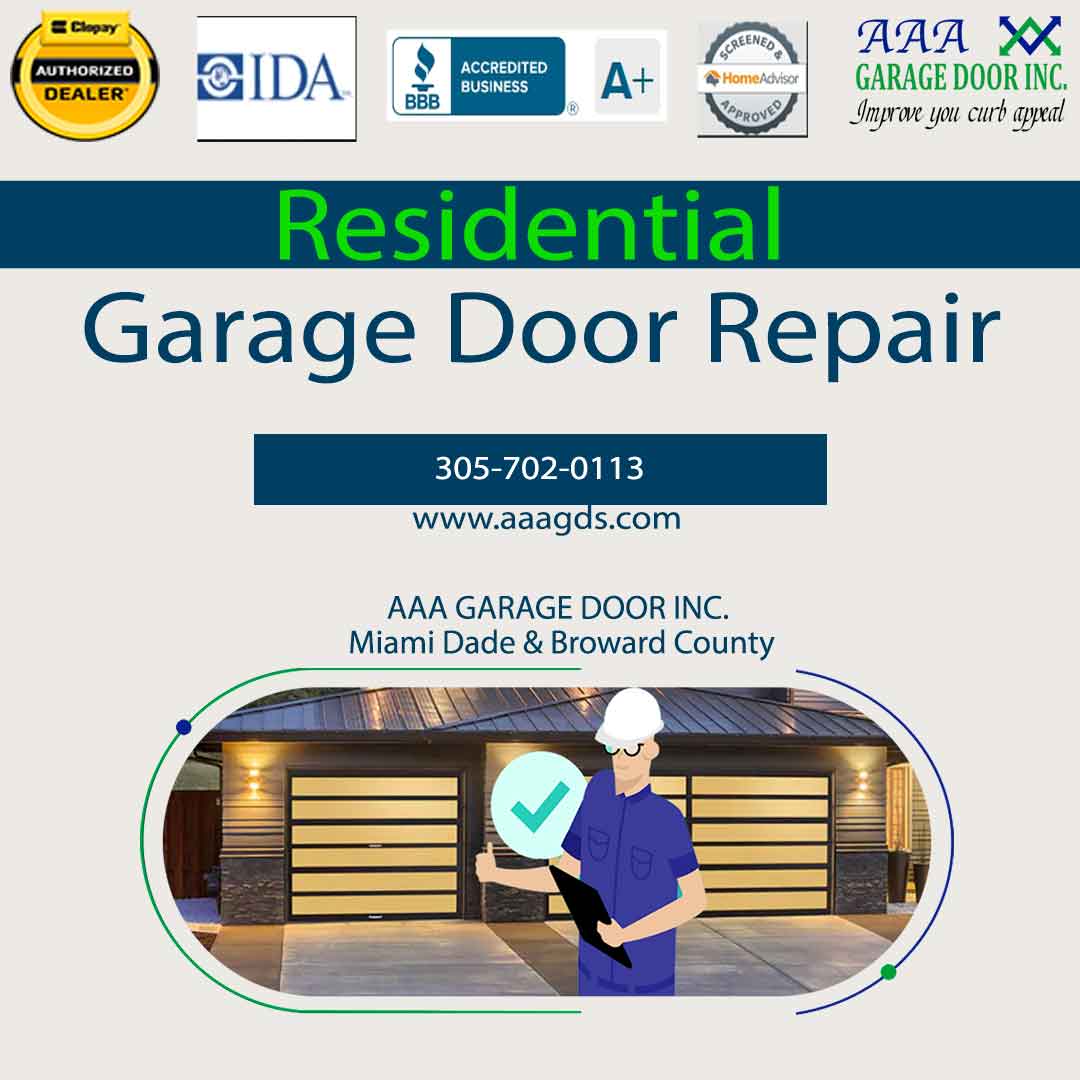 Garage Door Repair
There are a few things that could be causing your garage door to malfunction. It could be an issue with the opener, the springs, the tracks, or the sensors. Don't Worry our professionals garage door experts will be able to diagnose the problem and make the necessary repairs.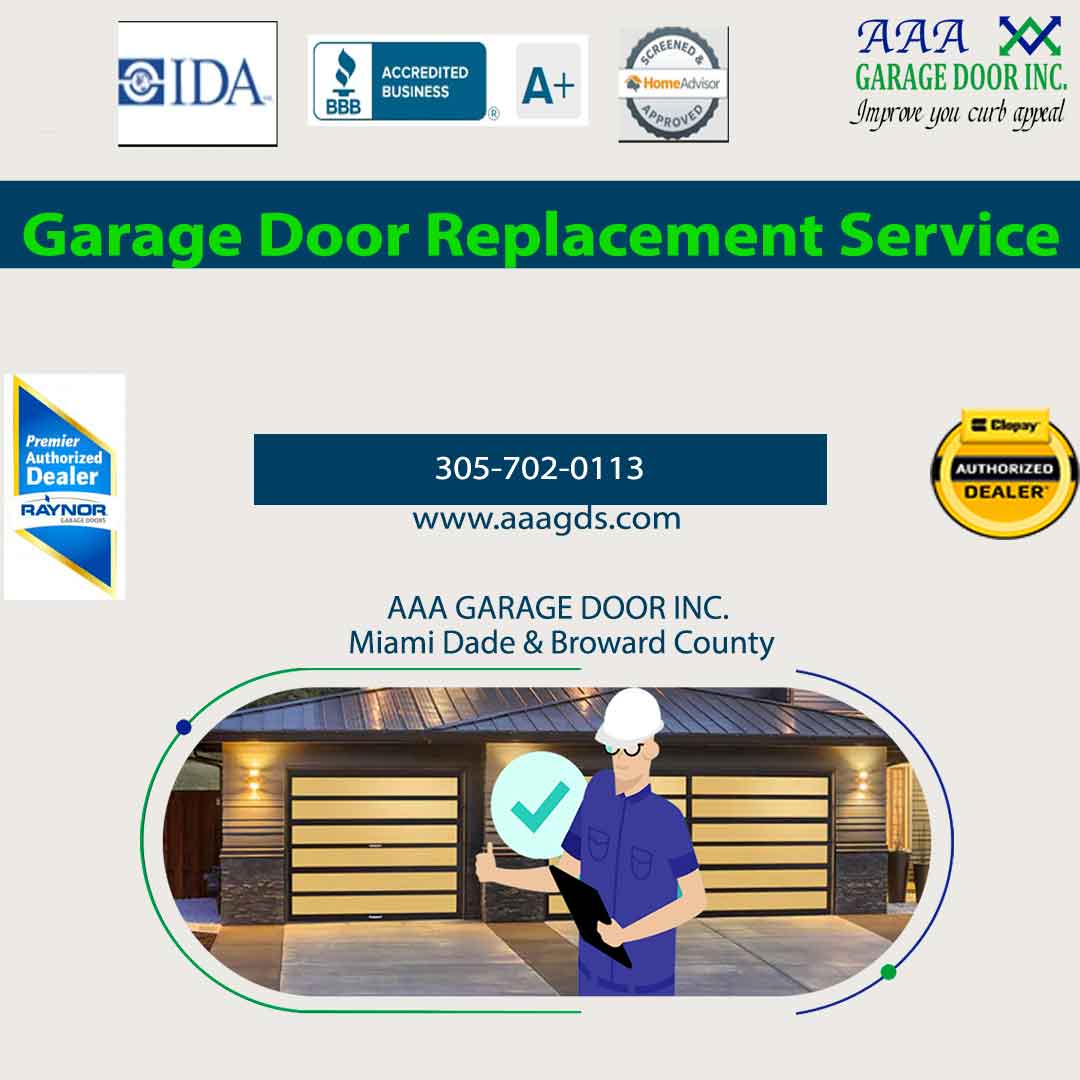 Garage Door Replacement
We Have wide range of garage door collections options that made for you needs ( Hurricane Impact Garage Door – Insulated Garage Door With the highest R-Value – Top & High End Carriage house & Modern Garage Doors)
Most Affordable
Aaa Garage Door INC. Have very wide range of the most affordable options
Satisfaction Guaranteed
Our intergrity, sturdy against any compromise of quality, or saftey regarding work preformed.
Free Consultation
Free on-site estimates for the opportunity to earn your business on all new garage doors.




4.9 out of 5 stars (based on 239 reviews)
Customer In Miami, FL
I'm not one who usually writes a review but I've been thoroughly impressed with AAA Garage Door company. From my first phone call to Tammy to get a quote to replace my garage to having face to face contact with the owner to address any questions or concerns. Their price was not only the cheapest quote I received but their work including submitting documents to my association to pull permits and follow up by the owner to ensure that I was satisfied with the final product spoke volumes about this company. I highly recommend AAA Garage Door for your garage door repairs or replacements.
Customer In Miami, FL
Tammer did an excellent job servicing our garage door. He completed the job promptly on time and was extremely professional I would definitely use Tammer and Aaa again.
Very pleased with the entire process.
Customer In Miami, FL
AAA Garage Door Inc showed up early, quickly and professionally replaced the springs for our garage door the same day less than 2 hours to placing the call. I will use them for any garage door needs in the future and highly suggest this business
Customer In Miami, FL
We needed an emergency garage repair. Setting an appointment was automated and very easy. Exceptional customer service, our technician had to get a piece custom fabricated and repaired our garage door the same day. Now our garage door is super quiet and works like a charm. Thank you, will use again and highly recommend for all garage door/gate repairs.
Response from AAA Garage Doors Inc.
Thanks a bunch as we strive to secure and make sure our clients garage doors are safe for their loved one
Specifications and Options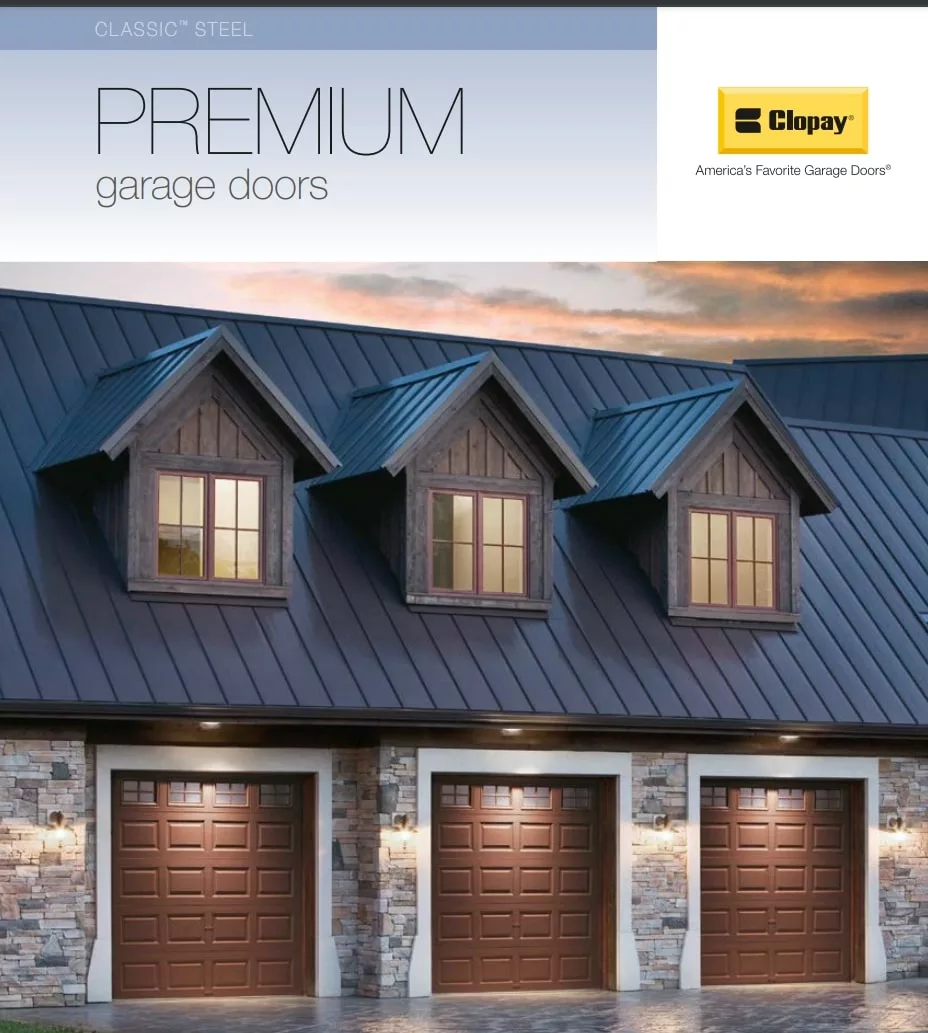 The Clopay Classic Garage Door is one of our highly regarded and popular options for residential garage doors in Florida with over 80 garage doors installed.
Most of our customers were satisfied because It offers durability, reliability, and a wide range of design options to suit various architectural styles, and upon all of that the affordability compared to the other models.
This overview will cover construction details, design options, environmental assurance, and recommended garage door openers.
Construction Overview: The Clopay Classic Garage Door is constructed using high-quality materials to ensure longevity and performance.
The door features a durable steel base with a 3-layer construction that provides strength, insulation, and noise reduction. The layers typically include a steel outer panel, insulation, and an inner layer.
Short and long panel steel garage doors.
Durable steel garage doors available in 3, 2 or 1-layer construction.
Insulation options include 2″ or 1-3/8″ Intellicore

®

 

polyurethane, 2″ or 1-3/8″ polystyrene or 1-5/16″ vinyl backed polystyrene insulation available. Insulated door R-values from 6.3 to 18.4.
The steel skins are protected by the use of a tough, layered coating system, which includes a hot-dipped galvanized layer and baked-on primer and top coat.
WINDCODE® door reinforcement product available for high wind load applications. (Click for details)
Value Garage Door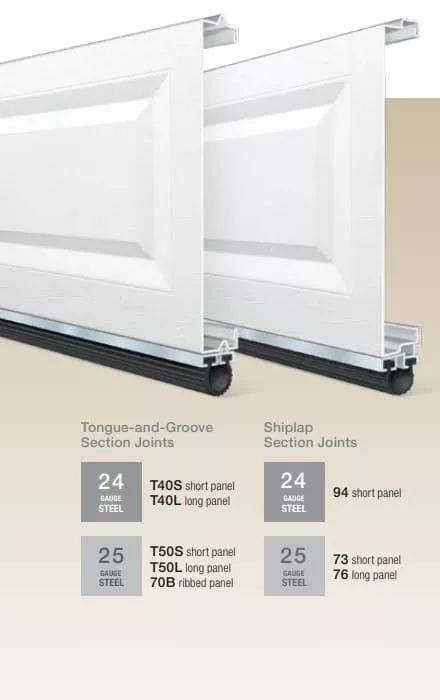 The panel is 1 layer construction using 24 or 25-gauge high-quality steel, with a durable 2-steel frame construction offering resistance to dents, dings, and elemental damage. This ensures your garage door maintains its pristine appearance, security, and durability at an affordable price.
Value Plus Garage Door
2-layer construction available in 24 or 25-gauge steel with 1-5/16″ polystyrene insulation R-Value of 6.3
The insulation layer in Value Plus plays a vital role in energy efficiency and temperature regulation. By minimizing heat transfer, the insulation helps to keep your garage cooler in the summer and warmer in the winter, reducing energy consumption and lowering utility costs.
Premium Garage Door
The Premium Garage Door is the highest construction material of 3-layer 2 for insulation.
The layers of the Clopay Premium Classic Steel Garage Door adds strength and durability, ensuring the door retains its shape and structural integrity over time.
Design Overview: The Clopay Classic Garage Door offers an extensive selection of design options to complement any home style.
The door is available in Long & Short raised panels designs.
Additionally, you can choose from a range of window options including decorative, architectural, and double-top window sections and decorative hardware.
14 factory paint finishes including Standard White, Mocha Brown, and Ultra-Grain® Classic Cherry Finish to customize the door's appearance and enhance your home's curb appeal.
Environmental Assurance: Clopay is committed to sustainability and environmental responsibility. The Classic Garage Door is constructed using eco-friendly materials, and it is designed to provide energy efficiency through its insulation properties. By minimizing heat transfer, the door helps to maintain comfortable temperatures inside the garage and reduce energy consumption. This environmentally conscious design contributes to energy savings and promotes a greener lifestyle.
Recommended Garage Door Opener: To ensure optimal performance and compatibility, Clopay recommends using LiftMaster garage door openers with the Classic Garage Door. LiftMaster is a reputable brand known for its reliability, security features, and smooth operation. These openers are available in various models, including belt drive, chain drive, and screw drive options, catering to different noise preferences and budget considerations.
Multi-Layered Design
What sets the Clopay Classic Steel Garage Door apart is its multi-layered design. Each layer serves a specific purpose, combining to enhance insulation, reduce noise, and provide an aesthetically pleasing appearance.
Value
Style
Traditional Short: Complements homes with traditional styling. Models T40S, T50S, 94 and 73.

Traditional Long: Ideal for ranch-style homes. Models T40L, T50L and 76.
Ribbed: Good option for transitional-style homes or utility structures. Model 70B.
Value Plus
Style
Traditional Short
Complements homes with traditional styling. Models T42S, T52S, 94V and 1500

Traditional Long
Ideal for ranch-style homes. Models T42L, T52L and 76V.
Premium
Style
Elegant Short
Complements homes with traditional styling. Models 9200, 9130, 4300 and 4050.
Elegant Long
Ideal for Florida ranch-style homes. Models 9203, 9133, 4310 and 4053.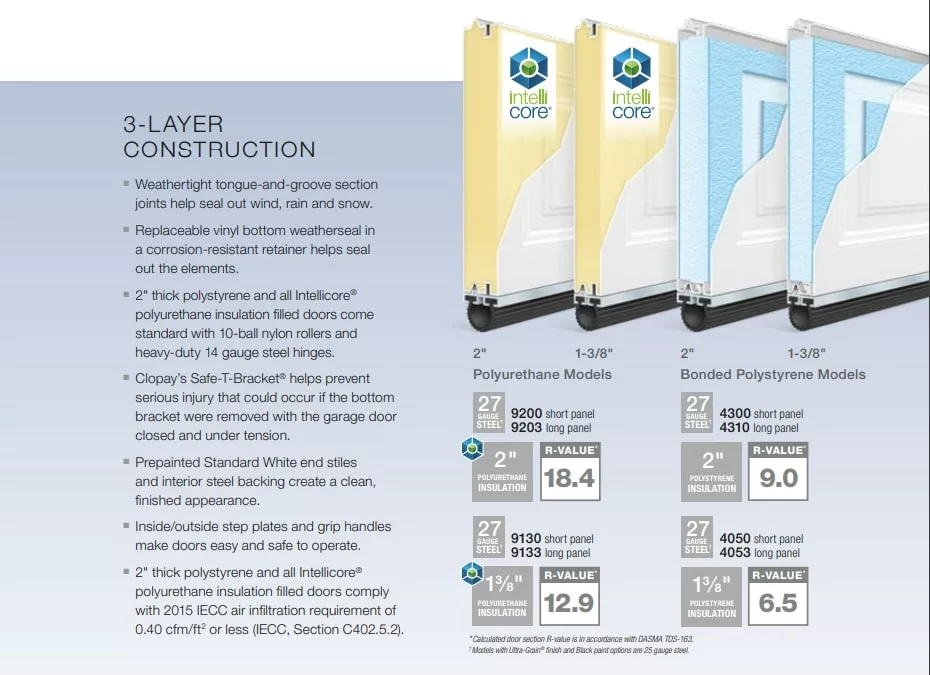 CONSTRUCTION: The construction of the Clopay Classic Steel Garage Door ensures durability, performance, and security.
Key features of the construction include:
Hurricane Impact Rated: Clopay classic garage doors are Impact-rated garage doors specially designed and constructed to withstand the powerful forces generated by hurricanes and severe storms. These doors are built to provide enhanced protection for your garage and are APPROVED By Florida & Miami-Dade County. Learn More On the Clopay WINDCODE® RATING or simply CALL US At 305-702-0113
Rust-Prevention: Steel skins are protected through
a tough, layered coating system,
including a hot-dipped galvanized
layer, a protective metal oxide
pretreatment and a baked-on
primer and top coat.
Hardware: High-quality and durable hardware, including tracks, rollers, springs, and hinges, for smooth and reliable operation.
Insulation Options: Advanced insulation choices, such as Intellicore technology, for improved energy efficiency and noise reduction. R-Value From 6.3 to 18.4.
Safety Features: Built-in safety features, including pinch-resistant panels and tamper-resistant brackets, to protect users from accidents.
Clopay Classic garage doors offer a range of insulation options to enhance energy efficiency and provide thermal comfort. The insulation options available for the Modern garage door collection include:
3-Layer Insulation:

2″ Polyurethane: This insulation option provides excellent thermal efficiency with an R-value of 12.9 to 18.4, helping to reduce heat transfer and increase energy savings.
2-Layer Bonded Polystyrene: 2″ Bonded Polystyrene: This insulation option provides insulation performance with an R-value of 6.5 to 9.0, offering moderate thermal efficiency and noise reduction benefits.

2-Layer Insulation:

1-5/16″ Polyurethane: This insulation option offers good insulation properties with an R-value of 6.3, providing moderate thermal efficiency.

1-Layer Non-Insulated:

1-5/16″ Polystyrene Non-Insulated: This option does not include insulation, offering minimal thermal efficiency.
It's important to note that higher R-values indicate better insulation performance, with increased resistance to heat flow.

Tremendous!
We love these doors. We transformed our exterior, and that's what people notice the most. These particular doors were more in our price range than the other lines, and they are great!
Replaced my old door about a year ago with the Clopay.
WOW – The new door was insulated and finished on both sides. The insulation surely helps to keep the garage cooler throughout the hot Florida summer and with the bracing I had installed at the same time, creates a secure envelope for winds up to 170 MPH! The talk around the neighborhood is that "in case of a Hurricane, everyone is going to come and chain themselves to the door!
Honestly, the installers were professional and knew exactly what they were doing. Without any hesitation I would 1) strongly recommend this door for the great workmanship and strength and 2) for the added security that it gives my home and family.
Job well done!

Outstanding Hurricane Impact Garage Door
I live in Florida and decided to upgrade my garage door to hurricane impact
on 4/27/16. The Clopay Classic Collection garage door is elegant and there
has been no damage from two hurricanes. During Hurricane Irma the
garage door is solid as a brick wall and did not move during 100+ mph
winds.

Awesome door, awesome price!
Living in Florida, I was elated to be able to purchase an inexpensive door that exceeded the hurricane rating for my area. It is light weight, sturdy and economical. Could not be happier!
Your Best Local Garage Door Services Company
Improve your curb appeal