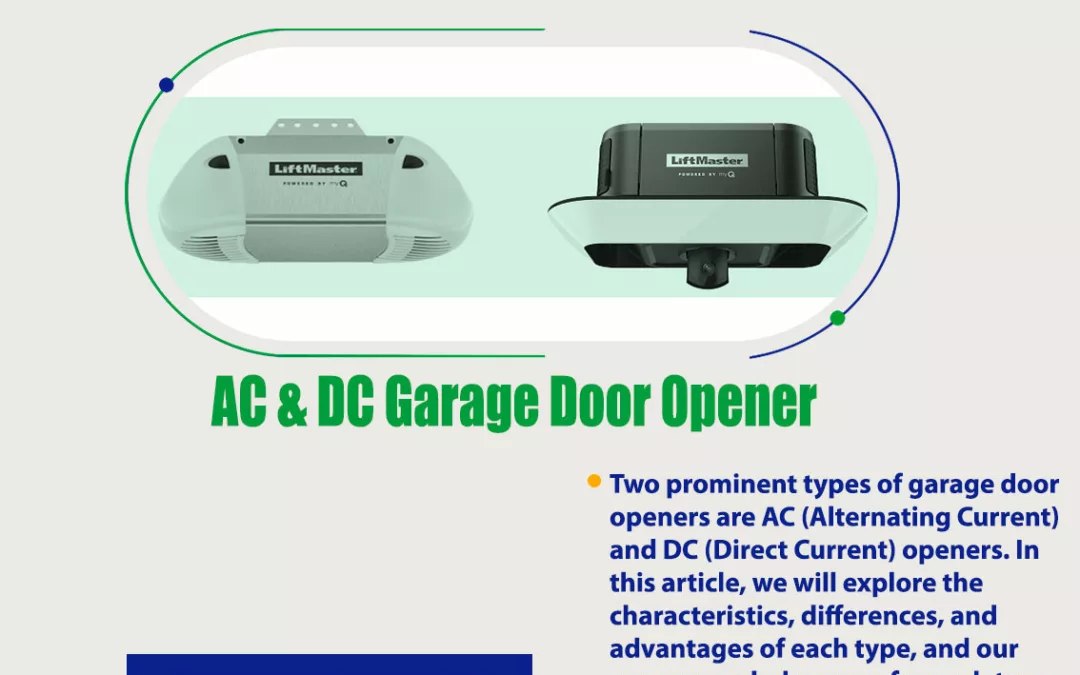 Garage door openers have come a long way from manual operation to automated systems that provide convenience, security, and efficiency. Two prominent types of garage door openers are AC (Alternating Current) and DC (Direct Current) openers. In this article, we will explore the characteristics, differences, and advantages of each type, and our recommended opener for each type, helping you make an informed decision for your garage door opener needs.
What Are DC Openers?
DC garage door openers operate using direct current. They are known for their energy efficiency, quieter operation, and smooth start and stop functions.
DC Garage Door Openers Advantages
DC motors have shafts, bearings, gears, and a gearbox in a small, lightweight chassis with a Circle Board that allows variable speed capabilities, enabling them to adjust the force required to operate the door based on size and weight. This helps in the smooth opening and closing of the garage door. DC Openers primarily work with a belt drive mechanism which makes them super quiet in operation and smooth, unlike the chain drive system.
Belt Drive Quiet Operation
Best For Residential Needs
Soft Start/Close Feature
Battery Backup
Energy-Efficient
Wall Mount Openers Designs

Our Recommended DC Openers
LiftMaster 84505R DC Opener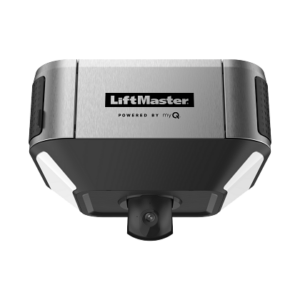 Contact Us For This Product
The inclusion of a built-in camera in the opener offers the valuable addition of video and two-way audio communication capabilities within the myQ® app. This feature empowers users to exert comprehensive control, establish security measures, and maintain vigilant monitoring of their garage space, all conveniently accessible through the myQ app at any given time and from any location.
Enhancing both functionality and safety, the integrated LED lighting effectively illuminates your garage areas, boasting an impressive 1500 lumens of light output.
Complementing these features, the garage door opener employs an ultra-quiet DC motor and a robust belt drive mechanism, ensuring a harmonious coexistence with living spaces adjoining the garage.
Furthermore, the compatibility with Amazon Key introduces a new level of convenience and security by facilitating In-Garage Delivery of Amazon packages, with the added benefit of real-time monitoring of these deliveries.
The myQ app further solidifies its utility with the inclusion of myQ Diagnostics, a feature that provides real-time insights into the health of the opener through the Health Report function. In the event of issues or malfunctions, the app promptly alerts users with error codes and notifications, allowing them to seek professional assistance for services when necessary. This opener technology not only brings innovation to garage management but also ensures the seamless integration of smart technology into everyday life.
LiftMaster 8500W DC Opener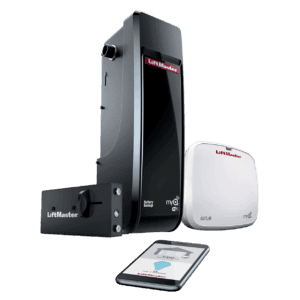 What Are AC Openers?
An AC (Alternating Current) garage door opener operates through a motor that receives a power voltage of 120V or 240V. When the opener is activated, the AC motor gets its power from the magnetic field generated through the coils wrapped around the output shaft drives a system of gears and pulleys to convert the electrical energy into mechanical motion. This motion is transferred to the garage door's lifting mechanism, which raises or lowers the door.
AC Openers are commonly used for powering most commercial operators, from light-duty operators to heavy-duty operators.
AC Garage Door Openers Advantages
AC motors usually have a fixed speed, so they start and stop abruptly. The motor's operation generates mechanical force to move the door, and while reliable, AC openers can be somewhat noisier compared to DC counterparts. They are known for their simplicity, sturdiness, and affordability, making them a traditional choice for some residential garage doors and a standard solution for commercial needs.
More Powerful Openers
Best For Commerical Solutions
Most Affordable Option
Higher Lift cycles
More Reliable

Our Recommended AC Openers
Liftmaster 83650-267 AC Opener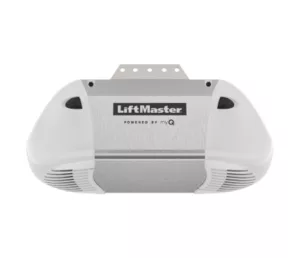 ½ HP AC Chain Drive Wi-Fi® Garage Door Opener with Integrated Bluetooth Technology.
Contact Us For This Product
Built-in Wi-Fi® allows for smartphone control with the myQ® app.
Industrial-strength chain drive.
Next-generation garage technology: improved Wi-Fi connectivity and enhanced memory to support new myQ features and solutions.
Integrated Bluetooth technology: reduces setup time and makes it even easier to connect to the myQ app, other myQ devices, and smart home technology solutions.
Works with Amazon Key: Enables convenient and secure In-Garage Delivery.
myQ Diagnostics in the myQ app provides real-time insights for your garage door via the Health Report. Receive alerts and error codes in the app if an issue arises and connect with a professional for services if needed.​
The Critical Difference Between AC & DC Garage Door Openers
The main difference between AC and DC garage door openers lies in their motor characteristics.AC motors have a fixed speed, which means they start and stop abruptly. This sudden motion can sometimes cause stress on the garage door and the opener system but it's ideal for commercial needs which need faster lift time regardless of the noise level
DC motors, on the other hand, offer variable speed control and quiet operation, allowing for smoother and more controlled movements. Additionally, DC motors are often equipped with soft start and stop features, which reduce strain on the system and prolong its lifespan.
Another significant difference is energy efficiency. DC motors are inherently more energy-efficient than AC motors.
They consume less power during operation, resulting in lower electricity bills over time. This energy efficiency is particularly notable during standby periods when the garage door opener is not actively in use.
Which Is The Best: AC or DC Opener?
The decision between an AC and DC garage door opener ultimately depends on your specific needs and priorities. Here are some considerations to help you make the right choice:
Residential Or Commercial
(Depend On Your Needs)
Your first priority should be getting the right opener for your home or business that's why consulting a garage door services company is the best way to make sure your investment is in the right place. Our company AAA Garage Door would be at your service in all garage door services whether residential or commercial serving Miami-Dade & Broward Counties for 15 years of expertise.
Noise Level
(DC Openers Wins)
If quiet operation is a priority, DC openers are the better choice due to their smooth start and stop functions and mainly work with a belt drive mechanism which is best for reducing the noise level.
Energy Efficiency
(DC Openers Wins)
DC openers are more energy-efficient, consuming less power during operation and standby. This can result in long-term cost savings.
Cost
(AC Openers Wins)
AC openers are often more affordable than DC openers, making them a budget-friendly option for some homeowners.
Power
(AC Openers Wins)
AC openers are often more powerful than DC openers and give the important factor of frequent operations which makes them suitable for commercial needs.
Maintenance Requirements
(AC Openers Wins)
AC openers need fewer maintenance requirements due to their build of durable components in their large chassis including the rotor and stator.
Conclusion
If you searching for which is the best AC or DC Opener There's no one-size-fits-all answer. Both types have their advantages, and the choice should be based on your preferences, budget, and specific requirements. If you prioritize energy efficiency, smooth operation, and advanced features, a DC opener might be the better choice. However, if you're looking for a more budget-friendly option and don't mind the potential for more noise, an AC opener could be suitable. Consider your needs and always remember to consult with our professionals before making a buying decision.