It is important to ensure your garage door safety for the protection of you and your family. One way to enhance the safety of your garage door is by installing safety reverse sensors. Safety sensors are a component of garage door systems, as they prevent the door from closing on a person, animal, or object. In this article, Learn the steps to install garage door safety sensors and keep your family and belongings secure. And FAQ for after & before installation to know even more.
Tools To Install Garage Door Safety Reverse Sensors
To get started, we'll tell you the basic tools you'll need for the installation process. Equipped with the right tools, you'll be ready to embark on this rewarding project. Then, we'll guide you through each step of the installation, providing clear instructions and valuable tips along the way.
Screwdriver
Drill
Measuring tape
Steps to Install Garage Door Safety Reverse Sensors
Now that you have gathered all the necessary tools, let's proceed with the installation process.
Choice the right garage door safety sensors
The first thing you need to do is to know that you can't get a different safety sensors brand than your opener and expect it to work because it's simply manufactured only to work on their brand garage door opener.
Living in Miami-Dade Or Broward Counties call us now at 305-702-0113. We are a Liftmaster Miami Authorized Dealer We match the excellence of our products with exceptional services (Repair – Installation – Replacement). Premium quality Local garage doors in Miami-Dade & Broward Counties, FL.
Unplug the Garage Door Opener
The first step is to unplug the garage door opener. you need to have no power running to the opener while you wiring the safety sensors.
Locate the Sensor Mounting Brackets
Locate the sensor mounting brackets that came with your Liftmaster & Chamberlain Safety Sensors kit. These brackets will be used to mount the sensors to the garage door track. Genie T-beam Sensors They have built-in brackets so you cant mount it on the door track.
Position the Mounting Brackets
Chamberlain opener's safety reverse sensors usually come with a hook to mount the brackets at the door track if so Hook the mounting brackets on each side of the garage door track, approximately 6 inches above the floor.
Attach the Brackets
Genie Opener Safety T-Beams sensors come with screws. Using a drill, attach the brackets to the wall beside each side of your garage door. Make sure that the brackets are firmly secured.
Attach the Sensors to the Brackets
Mount the reverse safety sensor using the wind nut & bolt. Ensure that the sensors are level and facing each other. A common practice our technicians do after measuring the 6 inches and mounting the brackets, we use a measuring tape to ensure that both brackets are at the same height.
Connect the Wires
Connect the wires from the safety sensors to the garage door opener. Follow the instructions that came in your opener manual to correctly connect the wires.
Wire safety sensors to a Chamberlain garage door opener
Genie Openers Manual
Test the Safety Sensors
Once you have connected the wires, plug in the garage door opener and test the safety sensors. put an object in front of the sensors to check if they detect the obstruction and reverse the door's motion. If the safety sensors are working correctly, the garage door will reverse its motion and hear a beeping sound. if your door didn't reverse or stopped from closing that means your safety sensors not working it will be a good idea if you check the alignment of your sensor or check the wiring.
Adjust the Sensors
If the safety sensors are not working correctly, adjust their position or angle until they are correctly detecting obstructions. if your safety sensors still not working then you should call your local Garage door company
---
Common questions about garage door safety sensors
How does a garage door safety sensor work?
Garage door safety sensors have what's called a photo-eye. The sensors use an infrared light beam, similar to your TV remote or your night vision camera. typically they are mounted no more than six inches off the ground. These two sensors indicated as a receiver with a green LED and a sender with an Amber or Red LED help create an invisible line across your garage door that detects when something is in the way.
Will any sensor work with any garage door opener?
No, not all garage door safety sensors will work with any garage door opener. While safety sensors generally operate on the same principle of detecting obstructions and signaling the opener to reverse the door's direction, compatibility between the sensors and the specific garage door opener is essential. For instance, if you have a LiftMaster opener, sensors from Genie will not work with it, and vice versa.
Each manufacturer designs their sensors to be compatible specifically with their own line of garage door openers. The wiring configurations, communication protocols, and overall compatibility may differ between brands, making it crucial to use sensors that are specifically designed for your particular garage door opener brand. But don't forget that Chamberlain Group Is a Parent company of LiftMaster which allows it to use there technology and components between them and that makes the LiftMaster & Chamberlain Safety Sensors compatible with each other openers.
Are Garage Door Safety Sensors Required?
Yes, garage door safety sensors are required by federal law in the United States. The U.S. Consumer Product Safety Commission (CPSC) specifically 16 CFR Part 1211 has implemented regulations to ensure the safety of residential garage door systems. According to the CPSC's guidelines, all newly manufactured or installed automatic garage door openers must be equipped with a functioning safety reversing mechanism, commonly known as safety sensors. It's important to note that complying with federal regulations by installing garage door safety sensors is not only a legal requirement but also a responsible and proactive step in ensuring the safety of your household. By investing in this crucial safety feature, you can significantly reduce the risk of accidents and protect your loved ones and property.
What are Garage Door Safety Sensors?
Safety sensors are a pair of sensors that are mounted on each side of the garage door near the floor. The receiver sensor with an Amber or Red LED sensor sends a beam of infrared light to the sending sensor with a green LED, creating an invisible barrier. If an object, person, or animal crosses this barrier while the door is closing, the sensors detect the obstruction and reverse the door's motion. This is an important safety feature that can help prevent accidents and injuries.
Do installing Garage Door Safety Sensors Need a P

rofessional?
For the sake of effectiveness, Yes, installing garage door safety sensors should be done by a professional garage door technician. Installing safety sensors yourself can lead to mistakes because it needs some knowledge of electrical wiring and mechanical system, which can compromise the effectiveness of the sensors. But if you have enough knowledge and follow your manual instructions, Installing the sensor will be an easy task to do.
What makes garage door safety sensors fail?
Several factors can contribute to the failure of garage door safety sensors. Here are some common reasons why garage door safety sensors may fail:
Wrong Installation: Garage Door Sensors are only installed in their manufacturer brand which means you can't get a garage door sensor from a brand and install it in another opener band.
Wiring issues: Faulty or damaged wiring can interfere with the proper functioning of the safety sensors. Loose connections, frayed wires, or wiring that have been chewed by rodents can disrupt the signal transmission between the sensors and the garage door opener. It's recommended to first inspect the wiring if you have an electrical problem with the sensors.
Dirty or obstructed sensors: Dust, dirt, spider webs, or other debris can accumulate on the sensor lenses over time, obstructing the infrared beam. This can lead to false readings or failure to detect obstacles. Regularly cleaning the sensor lenses with a soft cloth can help prevent this issue.
---
Remember, if you prefer the assistance of professionals to install your garage door sensors which is recommended, our skilled technicians at AAA Garage Door Inc. are just a phone call away. Simply click to call us at 305-702-0113 to schedule an appointment and experience the excellence that has made us a trusted name in the industry. Serving Miami-Dade & Broward Counties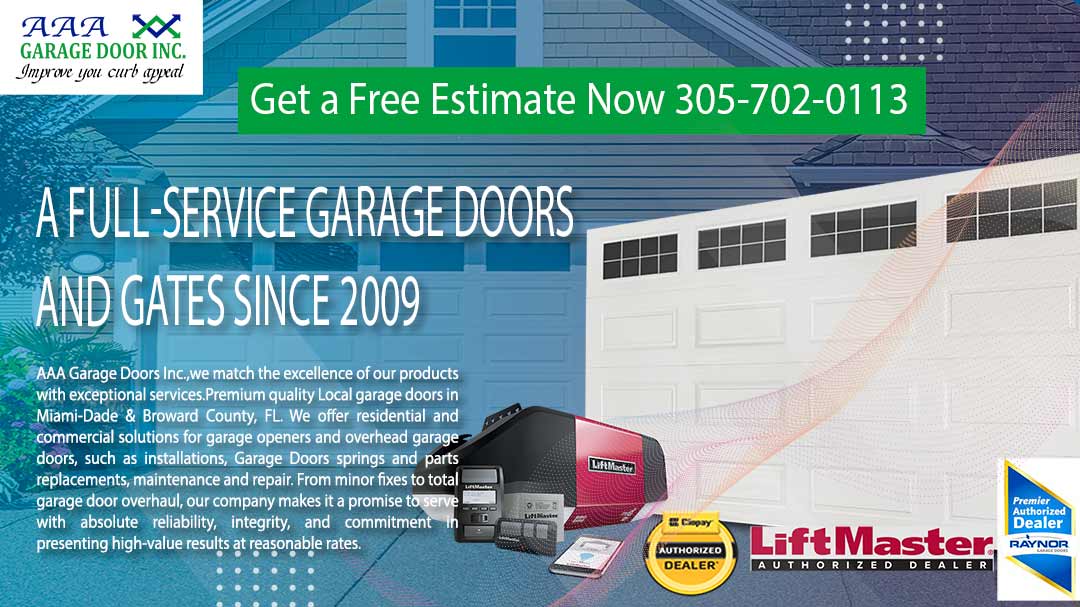 We are sorry that this post was not useful for you!
Let us improve this post!
Tell us how we can improve this post?