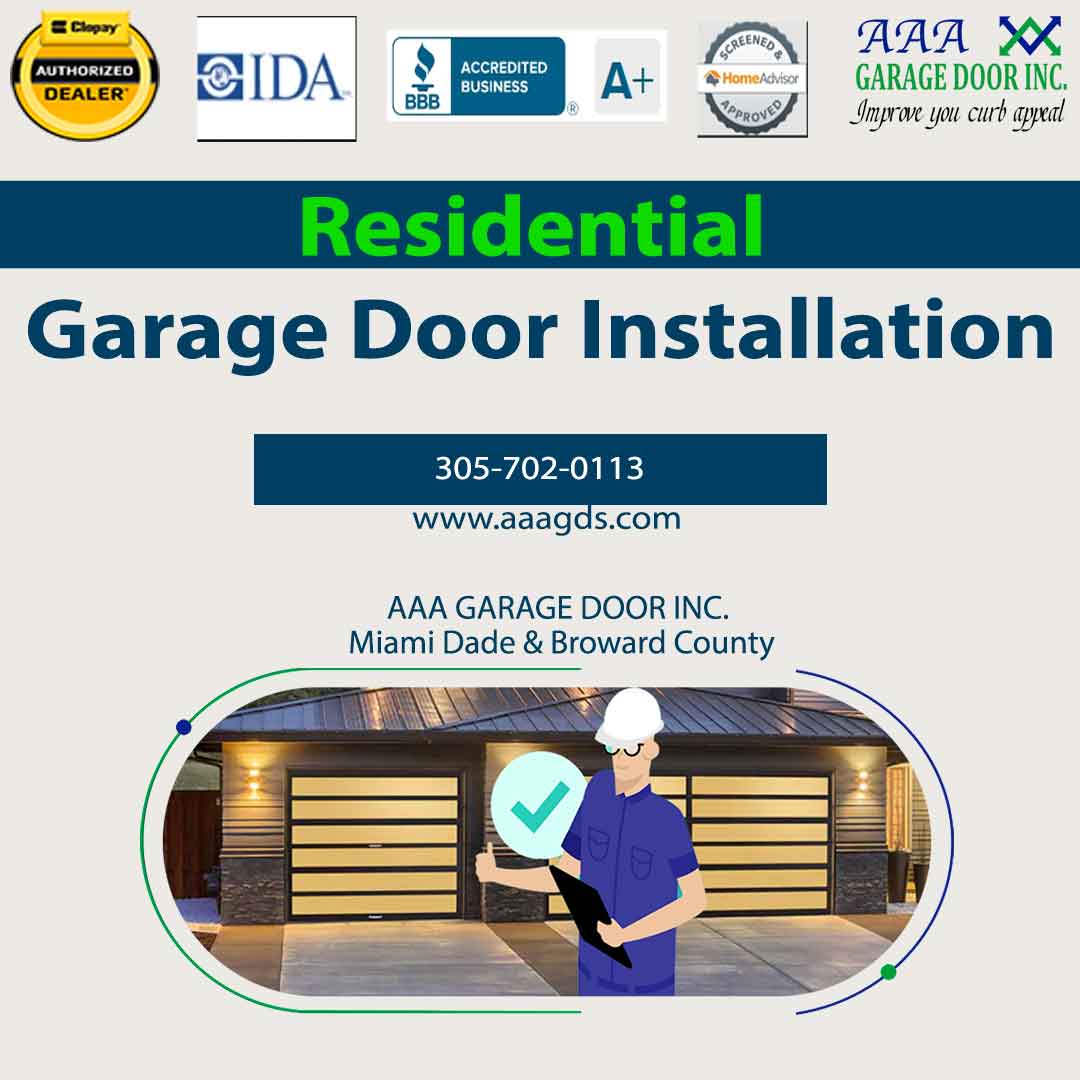 Garage Door Installation
AAA  Garage Door™  installs all types of residential and commercial garage doors and garage door openers devices including Gate operators from the leading garage door manufacturers.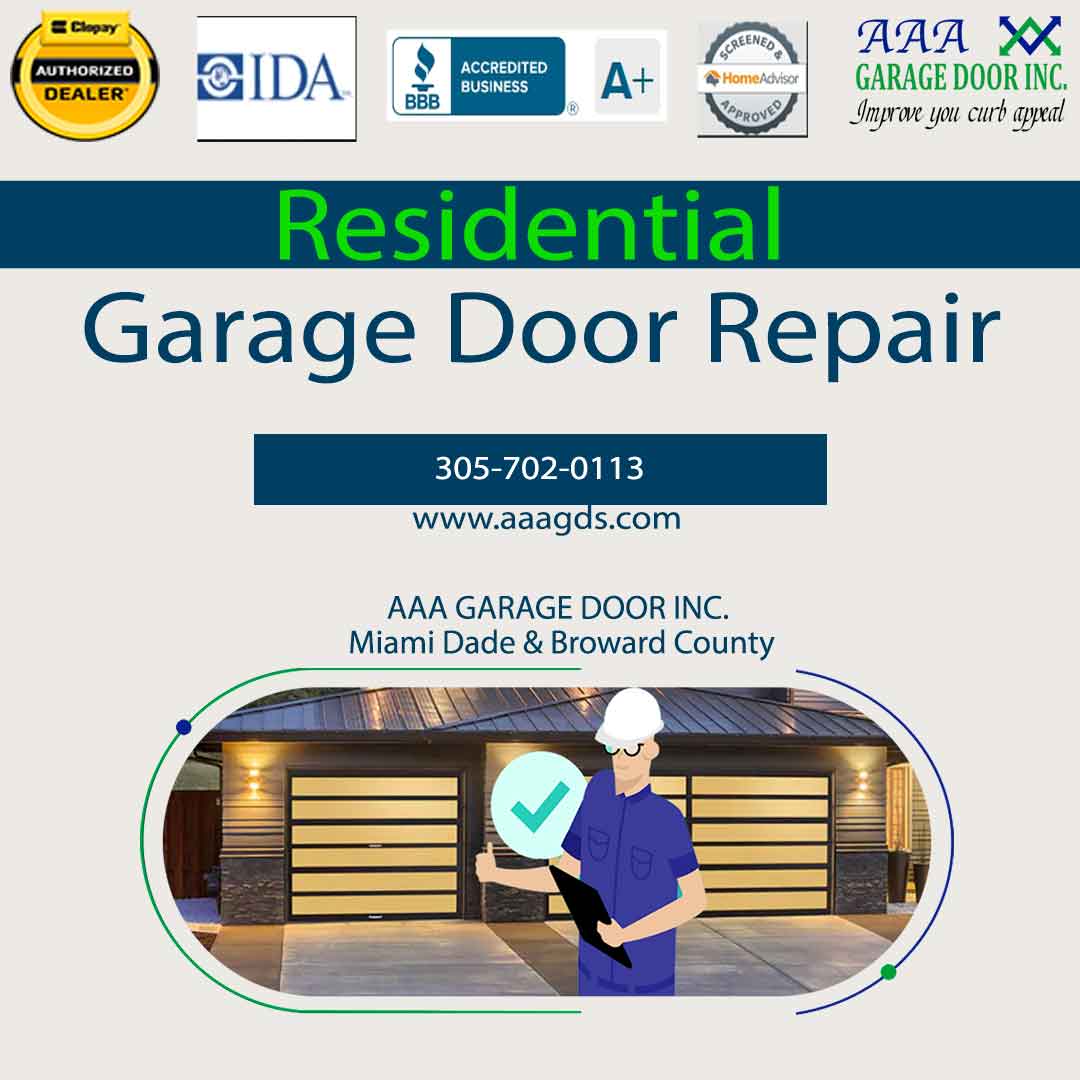 Garage Door Repair
There are a few things that could be causing your garage door to malfunction. It could be an issue with the opener, the springs, the tracks, or the sensors. Don't Worry our professionals garage door experts will be able to diagnose the problem and make the necessary repairs.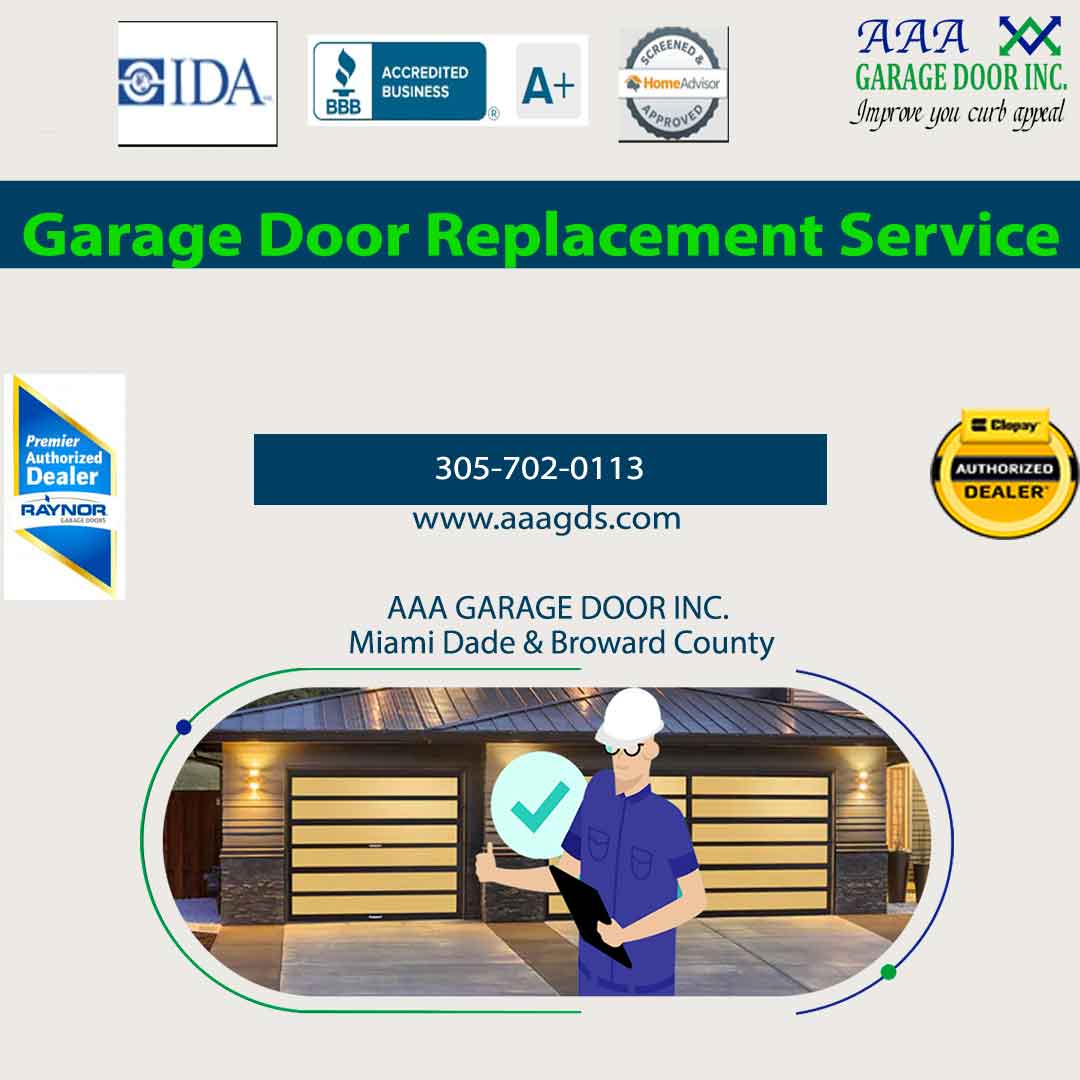 Garage Door Replacement
We Have wide range of garage door collections options that made for you needs ( Hurricane Impact Garage Door – Insulated Garage Door With the highest R-Value – Top & High End Carriage house & Modern Garage Doors)

Installed by AAA Garage Door Inc.
Get your free  FREE consultation
What to Expect
Design your garage door using our garage door configurator tool
After purchase, a licensed, local expert will come out to complete a site inspection and verify measurements
Once your door is built, an expert installer will deliver materials, install your garage door and properly clean up the job site

Garage Doors Trusted & Authorized Dealer In Miami Dade & Broward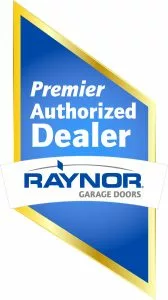 We are proud to be an authorized dealer of the world's top manufacturers Raynor. and we are committed to offering the best possible prices and top and safe service to our customers. We are confident that you will find the perfect garage door for your needs, and we look forward to serving you.
Classic Carriage House Style
RockCreeke gives you time-honored styling and wood appearance without the high maintenance associated with a wood garage door. Your Raynor RockCreeke carriage house style garage door starts with a high-quality insulated steel door and is overlayed with a highly engineered, long-lasting vinyl capstock material, duplicating the appearance of classic wood, without the hassles of wood. With Raynor's ColorWave™ post paint process available, choices are almost endless, giving your home a perfect match with unsurpassed curb appeal. RockCreeke is the perfect balance between unrivaled beauty and enduring quality.
Specifications and Options
Pick Your Garage Door Color
Start creating a beautiful, customized Raynor RockCreeke garage door design that fits your style by selecting from one of our many color options. Deep, distinct embossing creates a sharp and detailed looking garage door front. Classic, or contemporary, Raynor garage doors look high definition.
Standard Base Colors
Optional Base Colors
Standard Board Color
Optional Board Colors
Optional Post Paint Process*
Raynor's ColorWave™ features Sherwin-Williams® next-generation post paint system for your garage door. With 1,500 colors to choose from, home and business owners can couple this elite paint system with state-of-the-art Raynor manufacturing to craft the perfect look for their home or project.
* Not all colors are available in solar reflective paint, colors that are not available as solar reflective cannot be used on polyurethane doors.
Pick Your Garage Door Panel
Door Styles: Simulated Swing-Out, Bi-fold, and Accordion (12' only)
Sizes:
Heights: up to 10' in 6" increments
Widths: 8'0", 9'0", 10'0", 12'0", 16'0", 18'0"
(Accordion style doors only available in 12′ widths)
Swing-Out Single-Car and Double-Car Panel Configurations
Accordion Panel Configurations (Only Available in 12′ widths)
Bi-Fold
Pick Your Garage Door Hardware
Interior Hardware Options
For a clean, finished look and maximum protection against rust, RockCreeke garage doors are available with the EnduraCote™ Hardware System, featuring extended-life torsion springs and power coated hardware. Nylon rollers with steel ball-bearings also help to provide superior noise reduction.
Decorative Hardware Options
Add character to your Raynor RockCreeke residential garage door with these authentic-looking decorative hardware options.
Handles
Straps
Plastic Decorative Hardware Kit
Decorative Window Options
RockCreeke's window battens are made from an environmentally stable material that utilizes "reclaimed" wood fiber and vinyl from post-production processes and coated with a long-lasting vinyl capstock, while arches are made from industrial grade polyurethane. Battens and arches are fitted to the window and locked in place, resulting in unprecedented beauty.
Glass Type
Standard:
Clear 1/8″ DSB
Optional:
Clear 1/8″ Insulated
Rain Glass 3/16″
Rain Glass 3/16″ Insulated
Number of Lites Across
Single Car: 2
12′ Accordion: 3
Double Car: 4
Pane Pattern
1-pane, 1-pane arched,
2 over 2
3-pane, 3 over 3,
3 over 3 pane arched,
4-pane, 4 over 4,
4 over 4 pane arched
Our beautiful window designs put the perfect finishing touch on your new Raynor RockCreeke garage door.

1 pane

3 pane

4 pane

2-over-2 pane

3-over-3 pane

4-over-4 pane

1 pane arched

3-over-3 pane arched

4-over-4 pane arched
Product Details
| | | |
| --- | --- | --- |
| Door | | RockCreeke |
| Widths | | 8′-0″, 9′-0″, 10′-0″, 12′-0″, 16′-0″, 18′-0 (Accordion Style only available in 12′-0″) |
| Heights | | 4'9″ to 10′ in 6″ increments |
| Construction | | 4-Layer (Steel, Insulation, Steel, Overlay Trim) |
| Section Thickness | | 1 3/8″ |
| Material | | Hot-Dipped Galvanized Steel |
| Surface Texture | | Embossed Woodgrain |
| Insulation | | "Foamed-in-Place" NeuFoam™ |
| R-value | | 13 |
Satisfaction Guaranteed
Our intergrity, sturdy against any compromise of quality, or saftey regarding work preformed.
Most Affordable
Aaa Garage Door INC. Have very wide range of the most affordable options
Free Consultation
Free on-site estimates for the opportunity to earn your business on all new garage doors.
We are Available
Saturday – Friday: 7 AM – 7:00 PM
Home, Commercial, Gates, You Name It, We'll Be there.