You are looking for a garage door company, but you have no idea which one would be best for you. You have decided to ask around to find someone who can give you the best service. Before you ask for a quote or appointment, take a moment to think about the following questions. You should be asking these questions to any garage door company you are considering hiring:
1. Are you licensed or insured?
You have to know it's so important that a good garage door company must have both a license and insurance. It's one of your rights as a homeowner to ask for a Certificate of Insurance from any company that could do some work in your home, same as any garage door company one of their obligations is to ensure that they have licensed Professionals.
Expected Answer: Yes sir we are a legally licensed company and insured. Also, our technicians show their licenses. in addition, our integrity is sturdy against any compromise of quality, or safety regarding work performed.
2. How long have you been in business?
This question is flexible and not specific because the garage doors field is built on experience so the more experience from previously finished jobs the more the company is better but we believe from 5 years is good to 10 years is recommended. however, I think you should ask them better and more beneficial like "can I see some examples of the same jobs that I need". from a question like that you will address three important things first you will see their best jobs second you will know exactly what you will expect after they finish your work third you have a good example of what you imagine and maybe better ideas if we talking about new installation and not just repairs or maintenance.
Expected Answer: [companyname] has been in the garage door industry for over 10 years. we have seen it all, from the smallest residential garage door to the largest commercial warehouse door. We've installed thousands of garage doors and openers, and we can help you find the perfect one for your home or business. Whether you're looking for a new installation or a replacement for an existing door, I can help you find the perfect solution.
3. Do you offer free estimates?
Free estimates are essential for both of you as a company and customer because it gives both of you clarity about how much this job will cost and let you as customer compare prices so you should expect that the company gives you free estimates for your job if you didn't get one, I assume that probably that this company has much higher prices than others so they don't want let you realize that or maybe they are not this smart enough to make their company more appealing.
Expected Answer: Yes Sir, We provide free on-site Consultations for the opportunity to earn your business.
4. How long will it take you to get to me?
This question is one of the most important questions, as it shows the extent of the company's response, especially in important cases such as cases of emergency repair of your garage door. Therefore, if the company provides services such as Emergency repair or the Same Day repair this will be something you would really consider. Some companies provide GPS location tracking for the technician until he arrives at your location.
Expected answer: it takes us from 1 to 2 hours maximum to get to you.
If emergency repair services are requested.
Expected Answer: We get to you sir in about 30Mins maximum.
You have to know that time depends on the nearest location to you. so don't forget to see how long it takes in google maps or if they have a google my business location
5. How much will my new garage door cost?
Typically, the number one concern for installing any new system is the cost. Homeowners want to know whether it's going to be a good return on investment for them to install a new system in their homes before they make a final decision. however, we had a full article talking about the aspects that could control the cost of your new garage door project.

So these are our average costs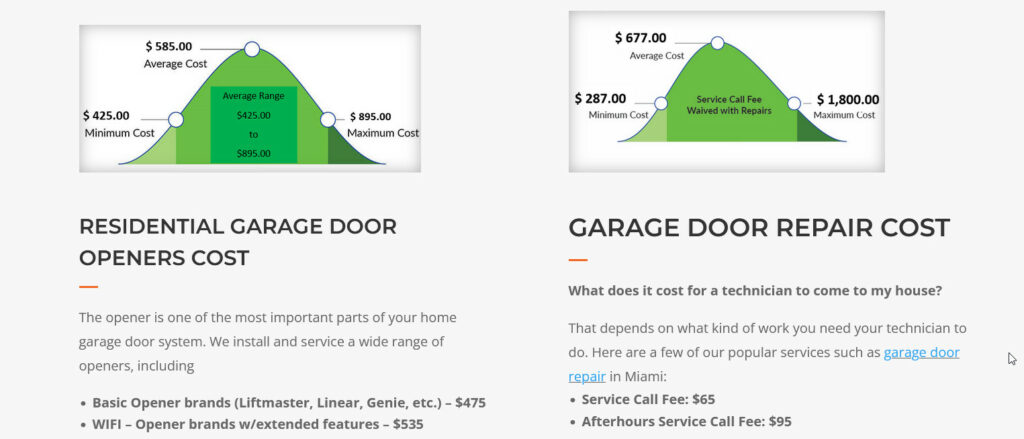 Please note that some of these prices are averages, especially for larger projects like garage doors and opener installations.
6. How long will the repairs take?
for example, to repair a broken garage door spring Our average time repair at AAA Garage door inc. takes from 30 minutes to 45 minutes so if you asked the garage door company about how long it will take them to repair your garage door you should know that it's maybe more or less depends on the size and the weight of the garage door, whether if the garage door has more then one spring and if there are any other pieces need to be replaced. so the most important aspect of this question is to know if this time could fit your schedule or not.
7. What manufacturers do you offer?
Each garage door company should fully explain the manufacturers that offer its products, and not only this but also explain the difference between these products and if it has a partnership with one of these manufacturers and provides evidence that explains this partnership in order to ensure the quality of these products and their authenticity.
For example, Our company is having a partnership with Liftmaster as an authorized dealer
8. Do you have a warranty?
Most garage door companies should have a warranty on their job or the products they are selling to you whether it's openers, keypads, wall controls, accessories, or remotes. so make sure to know this from them clearly in your first call.
9. Can I Accessorize?
This final question chould be not necessary but if you needed to replace anything in the future you have to know from the beginning which kind of accessories fit in your garage door system. so make sure to know everything about the compatible accessories for your garage door.
Conclusion
Now that you have read through this blog, you should have a better understanding of what is the most asked questions you have to consider when you want to hire a garage door company. We hope you will use this information to help you get the best possible services.
AAA Garage door inc. is always providing you with the most transparent information to make their customer feel safe to do business with us. If you have any questions regarding the garage doors please contact us at (305) 702 0113 We are Serving Miami-dade & Broward County, Florida.
We are sorry that this post was not useful for you!
Let us improve this post!
Tell us how we can improve this post?