Your garage door is more than just a gate to secure your vehicle; it's a fundamental element of security and easy access to your home. Because it's a sophisticated mechanical device, it requires careful attention and maintenance to ensure consistent and efficient performance.
Understanding the complexities of your garage door and learning basic repair techniques won't only save you money on repair costs, but will also give you the expertise you need to maintain an important aspect of your home.
In this comprehensive guide, we'll delve into the intricacies of garage door operation, discuss the most common problems, and provide expert advice on how you can skillfully address them.
Why You Shouldn't Fix Your Own Garage Door?
Let's face it, not all garage door problems can be repaired by you, and here's why:
Garage doors are heavy, weighing hundreds of pounds, and each compound depends on the other.
Garage doors are made up of more than 30 different parts, all are critical to the door's function, such as the garage door springs, which are crucial to lifting the door and are under tremendous pressure. This complexity makes it dangerous to perform repairs without proper training.
Our technicians use specialized tools and equipment to safely repair your garage door. will cost you more than the repair service if you needed to buy the needed tools to fix the problem.
When you first installed or purchased your garage door, you were most likely given a warranty that provides protection for a specific period of time. If problems arise with your garage door within that time period, the warranty will step in to reduce the financial burden of repairs and maintenance. It should be noted, however, that many warranties exclude coverage for modifications made by the consumer. If you make modifications yourself, the warranty may not recognize those repairs as eligible costs.
Understanding Your Garage Door Parts
A deeper understanding of the internal workings of your garage door is the first step toward becoming a competent custodian of this important household element.
Panels: The large, rectangular sections that make up the door.
Springs: Torsion springs and extension springs help balance the weight of the door.
Tracks: Guides that allow the door to move up and down smoothly.
Rollers: Wheels attached to the door that roll along the tracks.
Hinges: Connect the panels together, allowing them to bend as the door opens and closes.
Opener: The motorized device responsible for raising and lowering the door.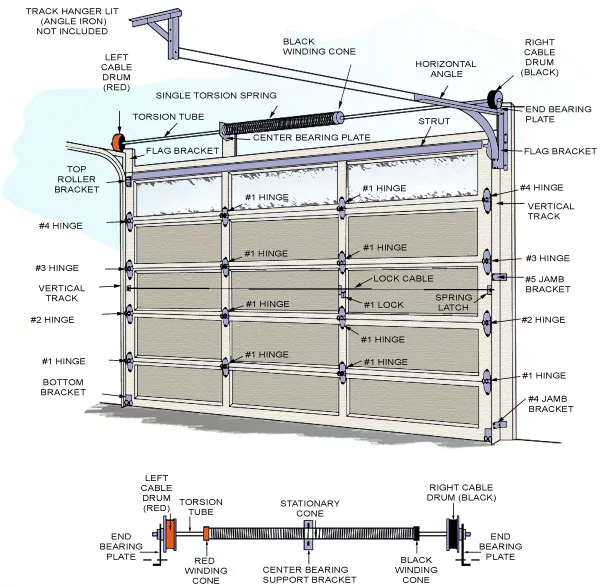 Understanding these components is critical to effectively identify and fix garage door problems.
Garage Door Repairs Require Professionals
In addition to what we've already said about why you shouldn't repair your garage door yourself, we want to remind you that while we cover various garage door problems and solutions in this blog post, but we still want to point out that repairs should be done by professionals. We're trying to increase homeowners' knowledge about garage door easy problems with safe soultions that could save some repair costs and suits average homeowner.
Attempting to replace or repair garage door cables, springs and panels can be dangerous and is best done by experienced technicians. Safety is always the top priority. When in doubt, call in a garage door repair professional.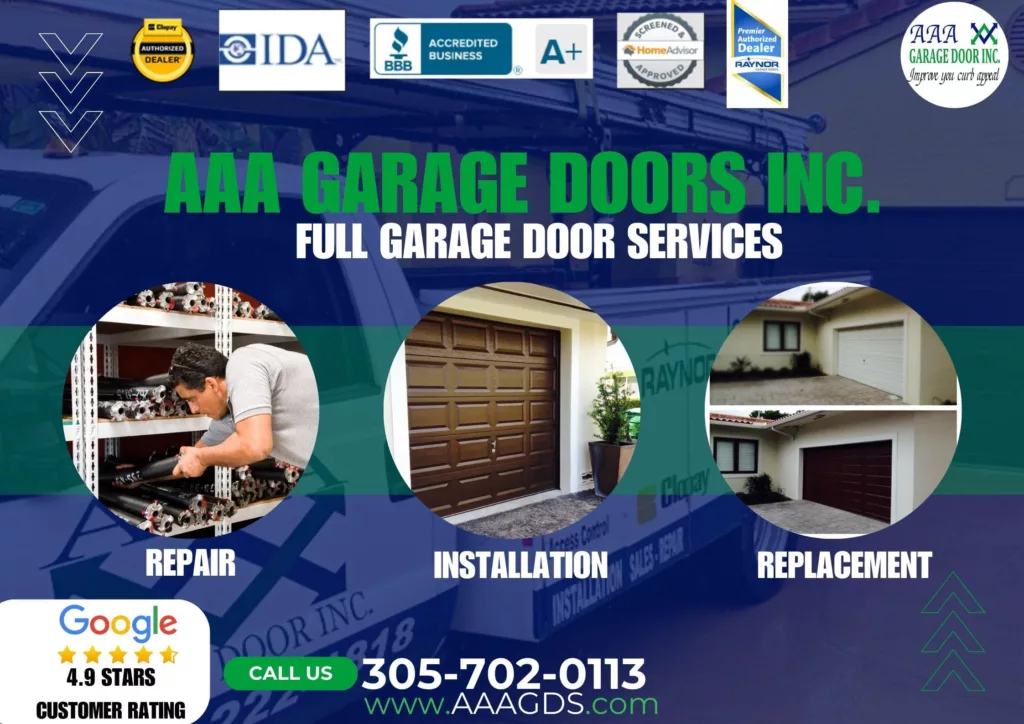 Signs That Require Repairs
Before problems escalate, it's important to recognize signs that your garage door needs repair. Look for the following warning signs, and we'll give you some simple advice that could be a solution.
Unusual noises: grinding, squeaking, or banging noises during operation can indicate an underlying problem, such as a broken roller, hinges or even springs.
If you suddenly hear these noises, you should take the following steps:
1- Visually check for broken parts. If you find broken parts, you just need to call your local garage door service company. Remember that this may not be the source of the noise, but the broken part is affecting the harmony of the garage door system, so it's putting pressure on the other part and eventually causing the noise.
2- Check the parts of your garage door if they're well lubricated. If you have already lubricated your garage door, go to step 3.
3- Check if your garage door opener is working as usual by listening to these noises coming from the garage door opener, which could be a sign that your opener has a worm gear.
– If none of these steps fix the problem, you'll probably need to call your local garage door company to diagnose and fix the problem.
Sound of opener moving but no response: If your garage door responds sluggishly to commands from the opener or remote control, it may be a signal problem or a broken or worm gear that needs a sprocket replacement. but first, check your opener remote control and replace the batteries if the problem persists call us to diagnose & fix the problem.

Uneven Movement:

A garage door that moves unevenly or appears crooked can be a sign of track or alignment issues caused by broken roller, bent tracks, or loosened hinges bolts. you can fix a loosened hinges bolts by simply checking all the hinges bolts and make sure that all bolts and nuts are tighten, if you found a broken hinges, roller, or bent tracks you need to call a your garage door servies company for repair.

Hanging Cables: Garage Door safety cables could be fraying after 5 or 6 years of use due to rust or wear & tear they may become more prone to breaking. If you notice cables hanging, loose or fraying, it's crucial to address this immediately as it can pose a safety risk.
Unbalanced Door: A balanced garage door should stay in place when partially open. If it doesn't, it may need rebalancing. rebalancing your garage door is not an easy job because you should adjust your garage door spring tension.
Remember that your springs weaken over time and need to be adjusted every 3 to 4 years.
Visible Damage: Cracks, dents, or warping in the door panels are not only unsightly but can also affect functionality.
This kind of damage could be an easy DIY project for you if it's just scratches or light dents in door panels.
Repairing scratches: can be easily removed by painting your garage door with a new coat of paint. here is an article we talked about how to paint your garage door.
Repairing minor dents: also requires you to paint your garage door panel but first fill the dent with any filler & resin product and add a little bit of a cream hardener. follow these steps to repair the minor dents of your garage door:
1- Buy a putty and resin product, hardener cream, Putty knife, tape, sandpaper, garage door paint
2- Take a small cup and put some of the putty in it, just enough for the size of the dent
3- Add the hardener cream to the putty and mix the two
4- Tape around the dent
5- fill the dent with the mixture using the putty knife.
6- Let the mixture dry completely for about 30 minutes to 1 hour.
7- Scrape the dent with the sandpaper to smooth it until you feel that the dent place completely flat, smooth, and matches the rest of the panel.
8- Clean your garage door and let it dry completely for a day
9- Paint your garage door. Read this article to learn how to paint your garage door.
Pro-Tip: You don't have to paint your whole garage door, just check the color code of your garage door paint and then buy the same color and paint only the dent to match the rest of the color of your garage door.
If you observe any dent or big cracks in your garage door that affect your garage door movement, it's advisable to not fix the issue by yourself but promptly seek professional assistance to prevent further damage and ensure the safety of your garage door system.
Garage Door Common Problems Fixes 
Fix the Noisy Garage Door
A noisy garage door can be annoying and may indicate underlying issues. To address this problem:
A noisy garage door can be annoying and indicate underlying problems. Here's how to fix this problem:
Tighten loose bolts and nuts.
Look for loose nuts and bolts in your garage door hinges and tighten them.
Inspect the tracks for dirt or damage.
Lubricate moving parts such as rollers, hinges and springs.one of the most common reasons for the noise that comes from a lack of lubrication. lubricating garage door parts is essential for the smooth operation and longevity of your garage door.Read our blog on how to lubricate your garage door.
Contact a professional garage door service company to replace damaged rollers or hinges if needed.
Out of Tracks
If your garage door has come off its tracks, it can be a safety hazard. the most common reason that your garage door comes off the track is if your garage door got hit by your car or impacted by any other heavy element or in the event of a hurricane, also where your garage door tracks are damaged because of dent or rust, loose tracks could happen if one of the track bolts that hold the track is not in place, and lastly, lack of lubrication and built-up grime and dirt. To repair a garage door track follow these steps:
1- Disconnect the opener to ensure safety.
Disconnect your opener power then pull the emergency rope hanging down from the opener for manual operation of the door.
2- Visually Inspect for any damaged tracks or rollers.
If you find a damaged roller or in the door tracks DO NOT, try to replace the rollers or put them back on track, as this may cause your garage door to fall and cause injury or property damage.
Stuck Garage Door
A stuck garage door can leave you stranded. To resolve this problem:
Inspect the springs and cables for damage.
The springs are what make it easy for the garage door to be lifted via the garage door opener or even manually, despite the weight. so if your garage door is stuck in the closed position visually inspect the springs for any signs of damage. DO NOT Change your springs especially if your springs are broken or heard a bang sound before it's stuck. Call your local garage door services company to replace your garage door springs.
Ensure the opener is functioning correctly.
The garage door opener is the brain of your garage door. That's why we check the opener first if there are any response issues.
Check the safety sensors of your garage door.
The safety sensors could be the cause, but only if you hear beeping noises or the door turns over on its own. So if you have any of these signs, check if there are any obstacles in the tracks or on the floor, then check if the sensors flickering and align the sensors so that the amber and green lights stay still. Learn More on how to check your safety sensors.
Call a professional if the problem persists.
Garage Door Opener Keypads Problems
A malfunctioning opener keypad can be frustrating. To troubleshoot opener issues: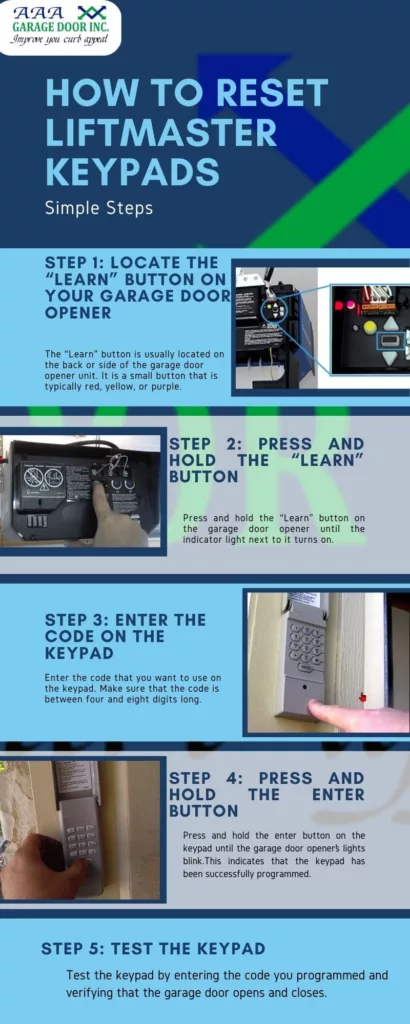 Conclusion
understanding your garage door, recognizing signs that require repairs, and addressing common problems can extend its lifespan and save you money on repairs. While some issues are DIY-friendly, never hesitate to seek professional help when necessary. Regular maintenance will keep your garage door working smoothly for years to come and provent you from costly repair.
AAA GARAGE DOORS INC. At Your Service
AAA Garage Door is your local garage door services company that always looking for satisfaction and healthy long-term business repetition. We served the people of Miami-Dade & Broward Counties for over 15 years and finished +6000 projects, and +100 Satisfied Customers with 4.9 Stars In Google Reviews. Here are some number of the thousands of satisfied customers who have entrusted us with their garage door repairs, installation, replacement, and maintenance.
Our commitment to excellence, combined with our extensive experience.
4.9 out of 5 stars (based on 299 reviews)
We are sorry that this post was not useful for you!
Let us improve this post!
Tell us how we can improve this post?