Planning to invest resources in garage doors in residential homes? If yes, wait and read on to conclude why the sizes of these gates are essential to be specific. Having the sort that will assist you operate your company effectively is crucial. Suppliers now give a size graph with various models.
So let's know Which Garage Door Best For Commercial Needs?
1- Aluminum doors
For visibility and enhanced light, they have aluminum panels and glass windows. They are best suited for serving as external gates and inner partitions. In restaurants, fire stations and office buildings you can see them.
2- Sectional doors
They are made of aluminum or steel and have several panels hinged together. They are accessible for improved safety in various steel gages with glazing and insulation characteristics. Sectional style is used primarily in warehouses and docks for loading.
3- ROLLING COMMERCIAL STEEL DOORS
These doors are made up of many corrugations or tiny boards allowing the door to roll up. There are three kinds of this style: counter, service, and safety grids. you can find out many doors for many proposes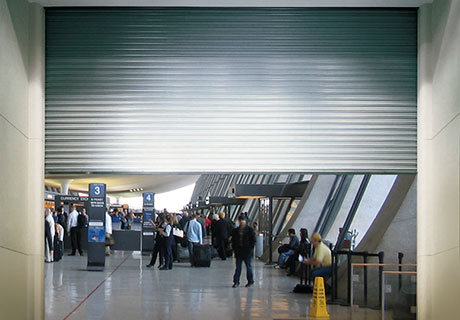 A-Service Doors
it's Standard Doors with Roll-Up Aluminum or Steel look used usually for shops with or without Insulation. Serving the industry with an array of curtain materials (prefinished galvanized steel in gauges from 24 to 18, stainless, or aluminum), slat profiles, and colors, Clopay's service doors can accommodate most openings and building requirements.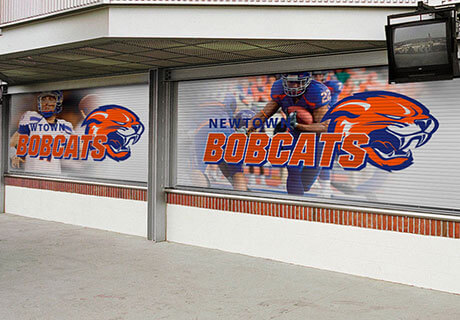 B- Counter Doors-Shutters
Known also as coiling steel doors , are ideal for mini warehouses and self-storage facilities with the goal of added security. Constructed from 26ga by 24 in wide sheets of steel roll formed with integral grooves that are hemmed together to form a continuous sheet guided vertically by roll formed guides.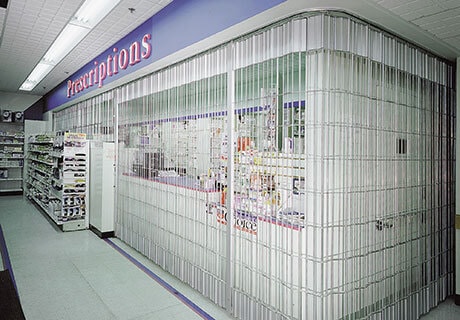 C- Security Grilles
Open air model grilles provide security while allowing full visual access and air circulation. Full closure models provide visual access in most cases and enhanced security by preventing pilferage through openings. Applications include shopping malls, convention centers, schools, garages and other institutional, commercial and retail projects. Side-folding grilles are available in open air and full closure models and feature multiple styles, patterns and colors.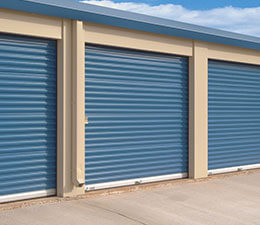 D- Roll-Up Sheet doors
Roll up garage doors are galvanized steel doors that are manufactured into rolled formed slats that interconnect with each other to form a door curtain that rolls up into a coil above interior or exterior building openings.
Check out our Rolling Steel Doors
There are many variables to consider when choosing the correct product type. You can readily discover the door that has the ability to serve your company requirements with the understanding of commercial garage door dimensions. These days, buying them is very simple, as our company offer them at affordable prices. Our solutions for commercial properties are customized to meet your needs. Commercial garage door and steel gate openers operate the largest and most diverse sized equipment with high frequency.
Our veteran technicians lead the field in experience, and efficiency and always choose the highest quality solutions for each location. Nothing is more important than the safety & reliability of the equipment we service.
We Service Sectional and Rolling storage doors, service doors, service fire doors, rolling grilles, light-duty and heavy-duty sheet doors, certified windload sheet doors, and insulated and non-insulated sectional doors. Clopay commercial Garage Door are constructed using the finest raw materials, produced by the hands of skilled craftsmen, customized with computer-aided precision, and delivered both on time and with care. Our entire line of Industrial overhead doors, such as our line of insulated garage doors, was specially engineered for extra durability to afford years of dependable operation — even in the toughest industrial environments.
Regardless of your application, AAA GGarage door's can recommend, supply and professionally install a door that meets your needs at a price that fits your budget.
We always provide free estimates and on-site consultation to make completing your garage door project as quick and simple as possible. Call Us (305) 702-0113 Or Request Quick Quote
We are sorry that this post was not useful for you!
Let us improve this post!
Tell us how we can improve this post?