Garage Door Repair In Coral Springs, Fl
Garage Door Services Company Serving Coral Springs & Surrounding Areas
Coral Springs Garage Door Services Experts
Coral Springs is one of the most popular cities to work in because of its family atmosphere and homeowners' love for thriving businesses like ours.
Coral Springs is a place of diversity in many styles for garage doors, which gives us the ability to fit the needs of homeowners, and that's why AAA Garage Door Inc. is one of the best garage door services companies in it.
Garage Door Repaired In Coral Springs
Garage Door Installed In Coral Springs
Garage Door Repair
Your garage door stopped working ? Whether your garage door cables have snapped or your springs need to be replaced, our skilled team will diagnose the issue and provide efficient solutions for safe and reliable operation. Contact us today for a free consultation.
Garage Door Installation
At AAA Garage Doors Inc., we provide top-notch garage door installation services with precision and care, guaranteeing its smooth and reliable operation. Whether you're looking to replace an old door or have a new construction project, our installation service is tailored to meet your specific needs.
Garage Door Maintenance
Our tailored maintenance service, we will inspect your garage door, lubricate moving parts, check for any signs of wear and tear, and make necessary adjustments to keep your garage door operating smoothly and securely. Don't wait until a major repair is needed – schedule your garage door maintenance service today and enjoy peace of mind.
If you living in Coral Springs You have to make sure that your garage door is ready for a Hurricane
Your home safety is our top priority at AAA Garage Doors Inc. That's why we highly recommend investing in a hurricane garage door. These doors are specifically designed to withstand the powerful forces of nature, providing you and your family with the ultimate protection during hurricane season. But that's not all – our hurricane garage doors also come with insulation layers that are essential for temperature control in your garage. This means that not only will you be safeguarded from hurricanes, but you'll also enjoy long-term benefits in terms of energy efficiency and reduced electricity bills. Don't compromise on your home's safety and comfort. Choose AAA Garage Doors Inc. for all your garage door needs. Learn more about hurricane garage doors and requirements for Hurricane Rated Garage Doors in Florida.
Openers Shop
We have opener models that will suit your needs Chain Drive, Belt Drive, and Wall Mount.
Garage Door Opener Repair
Repairing your opener is possible by changing the worn gear, sprocket, and logic board. We can repair all issues in your garage door openers.
Garage Door Opener Installation
Our experienced installation technicians will ensure that your opener is installed correctly and safely, ensuring that you and your family can enjoy your new garage door opener for years to come.
Get A Free Consultation & Estimate
Our Featured Jobs In Coral Springs
Our featured jobs showcase our expertise in garage door repair, installation, openers, and gate services. We pride ourselves on delivering high-quality workmanship, ensuring your garage doors and gates operate smoothly and securely.
We received a service call from a client needing garage door repair. Upon arrival at the client's location, our technician performed a thorough diagnostic assessment of the garage door. The inspection revealed that the garage door cables were snapped, and the springs required a tension adjustment.
The technician promptly communicated the findings to the client and provided a detailed explanation of the necessary repairs.
The client approved the proposed solution, and our skilled technician efficiently replaced the broken cables and adjusted the tension on the springs to ensure the safe and smooth operation of the garage door.
Client Review
Responded immediately to fix my door. Very Professional, Totally satisified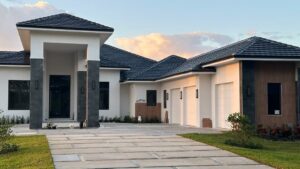 Client Review
I recently decided I needed a new garage door, so I looked in Miami-Dade County's "Best Picks" booklet for a recommendation. There I found the name of AAA Garage Door, which reportedly had been a "best pick" for several years. I called AAA Garage and several other companies to obtain estimates, and subsequently picked AAA Garage due to their excellent reputation and competitive pricing. Mike, the representative who came to give me an estimate, appeared very knowledgeable and honest. He did not take advantage of my lack of knowledge to oversell and quickly determined what I needed. I felt confident in accepting his recommendations because he obviously knew what he was talking about. Customer service at this company is very good; the appointment for the installation of my garage door was made in short order. On installation day, two technicians, Emmanuel and "Dominic" (a nickname) arrived to install my door. They were friendly, courteous and professional. They worked straight through without much of a break and had my door installed in about half a day. They, too, did an excellent job. I was very pleased with their work and they made sure I knew how to operate and lock the door. After the work was completed, I received a call from Tony, the owner of AAA Garage. He called to inquire how the job had gone and ask about any concerns I might have had. It was obvious from that conservation that he values good customer service and sets the high standard for his company. In summary, I don't do many reviews, but it is a pleasure to review this excellent, "five-star" company. I will call them again if need be, and I highly recommend them to anyone needing a new garage door or servicing/repairs of their existing garage door.
We could not be more pleased with the level of work and professionalism! AAA Garage Door Inc. was our go-to for repairs in the past, so it was only fitting to install our new garage door through them. The work was very efficient and we are more than happy with the final result. This is a quality company. They are very thorough. If you have issues with your garage door or new a new one altogether, look no further! They are it!
View Review In Google Reviews
Workmanship & Parts Warrantied





Very competitive pricing and experienced installers.
AAA was great!!. Very informative regarding the future care of the door as well. I will certainly be referring this company to anyone needing a garage door replacement!!

The installers and install was excellent
From the initial call for a proposal to the install , which was the next day was a positive experience. Excellent communication. Thank You

Super Responsive at all times
I highly recommend this company because the staff is excellent and the owner, Tony, is amazing. Super responsive at all times not only during the purchasing and installation process, but even afterward with any question or situation.
Frequently Asked Questions
Coral Springs People Ask
How do i open my garage door if the spring is broken ?
if both springs are broken which is a rare case the simple answer is you shouldn't open your garage door manually or automatically with the garage door opener because the springs store plenty of energy to assist your motor in lifting your garage door weight that falls in the 100- to 300-pound range and without this assistance, the motor has to pull all the garage door weight and that could lead to breaking a gear or fry the logic board, instead call us for emergency repair service, and we will arrive at once.
If only one of your springs is broken simply replace the assistance of the broken spring with the power of yourself by standing in the side of the broken spring. Then push the open/close button of the remote control and as the door goes up try to assist it by slowly pushing the door up.
Remember this is only an emergency solution to drive your car out of your garage door so don't count on it because, in the end, your assistance is not the same as the one required for the motor or as provided by the springs
Can you repair a garage door rust ?
Yes, we repair your garage door from rust and even paint your garage door with an anti-rust protective layer painting to protect your garage door not only from rust but all the outside environment like dust, and wild animal scratches.
Coral Springs City has a subtropical climate. The weather is warm and sunny all year and not humid which means rust in your garage door is mostly a fixable situation unless you let rust build up for long periods of time, it will corrode the metal and create large holes that are difficult to repair. In general, most abandoned homes garage doors without proper maintenance needs a professional garage door company to check the door and clean up the rust 
How do you repair a garage door rust?
Do You Provide An Emergency Repair Service
Yes, we provide emergency garage door repair service. When your garage door is in need of immediate attention, you can count on AAA Garage Door Inc. to be there for you. Our team of experts is available 24/7 to handle any emergency garage door repair needs you may have. With our prompt and reliable service, we will quickly assess the situation and provide effective solutions to get your garage door back in working order. Trust us to handle your emergency garage door repairs with professionalism and expertise. Contact us now for fast and efficient service.
Many Ask if they should repair their garage door themself. The shortest answer to this question is " No, You shouldn't repair your garage door yourself " because it could be dangerous, expensive, and complicated. In addition, such repairs will likely void your garage...