Garage door Common Questions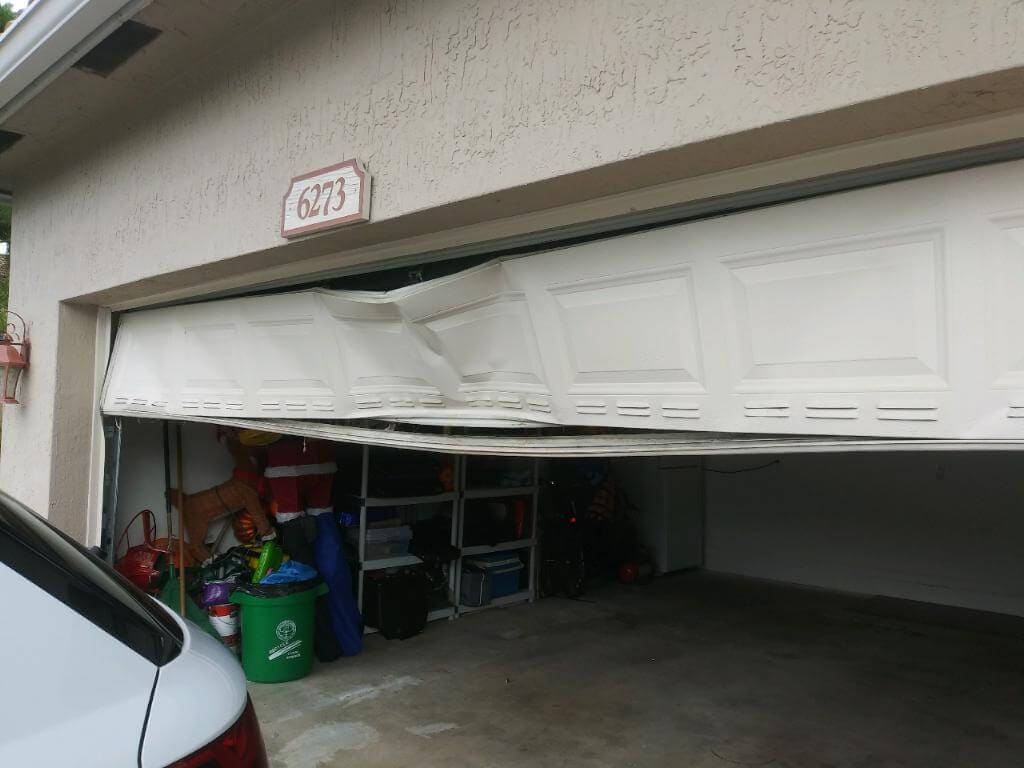 The repair process can be a tricky and dangerous operation if you don't know what you are doing. There are extremely powerful springs that counterbalance the weight of the garage door. The Garage Door springs are connected through a torsion bar to cables. If the cables become loose it can be very dangerous. Most garage door repairs should be performed by an expert.
Contact our service department to schedule an appointment.
We may be able to serve you on the same day!
We should be able to schedule the appointment same day if reported early.
Frequent questions about Common problems.
Garage Door Spring Repair
Never attempt garage door spring repair unless you are a good engineer. This is tricky, dangerous and requires special equipment. If you aren't convinced and want to do it yourself here is a link How to repair your garage door spring. A spring breaking is loud. If you hear a loud bang when opening or closing your garage door, its probably a broken spring. If the opener is straining to open the door, it may be a broken spring. If the door cocks to one side when you try to open it, it may be a broken spring.
Even if you garage door opens don't use the garage door opener, as it may burn it out.
Garage Door Cable Repair
Don't do it your self. This is dangerous and requires special equipment. The symptoms are similar to a broken spring without the loud bang.
Garage Door Off Track
The Garage doors we install don't just hop off their track. If you hit the door with your car, bashed it in some way or a high wind did it, the garage door should be inspected by a professional. There may be something bent or broken.
Trouble shooting Garage Doors, Please check list before calling so that you do not incur a service call fee.
I push the button to close my garage door.  The Garage door only goes down part of the way then stops and goes back up and the light starts blinking.
Ok Mr. Smith, it is probably the Garage door motor safety sensors.  The best way to check the sensors is to keep pushing the wall button and see if the doors will go down.  If it continues until you remove your finger the sensors are out of alignment.
Inspect the photo eyes sensor.  The sensor is the small black boxes the near the bottom of your garage door frame which is usually installed on the tracks with a small bracket.
1. Make sure that there is not something blocking the sensors from  communicating with each other. Bicycle etc.
2. You can look at where the sensors are pointed. They need to be pointed at each other.  If they are not just try to push the out of alignment sensor into alignment.
My Garage Door Motor runs but the door does not close.
This is an indication that the belt may be broken, your chain is off, your gearbox may be broken or the opener has been disengaged.
Look at the opener when it is operating.  Is the belt, chain or screw moving?
YES (if not please skip to "b" below)Can you move the door by pushing it up or down.YES Your garage door is not engaged. Please try to engage it. If this does not work the problem need to be addressed by one of our trained technicians.
NOi. We need to send one of our trained technicians
My Garage Door Remote is not working
1. Please replace the battery.
2. If the battery has been replaced the repair requires one of our trained service technicians.
We did an article for you could help you in fixing your garage door remote
To erase all Liftmaster codes.
1. Push and hold the learn code button for 15 seconds.  At that point all the existing codes are deleted
To reprogram your remote.
1. Press the learn code button on your motor head.
2. Within 15 seconds press the remote button 3 times.  The remote is programmed. Follow the following introductions in more details Here How to reprogram you remote
The Garage Door Opener light does not come on when I open the door.
1. Please make sure you have replaced the bulb.
2. If you have replaced the bulb then we need to send one of our trained technicians.
The garage door opener light does not go off after a period of time.
1. Passing the sensor beam will trigger the opener light.  Make sure you are not triggering the light by passing the sensor light.
2. Some wall buttons have a light switch.  Please make sure that your wall button does not have the light switch on.
Garage Door Remote not working from short range
1. Check your batteries to make sure that they are working. Change batteries if need be.
2. Make sure that your remote control is not too close to the roof of car.
3. If there was a power outage, re-program your remote.
To erase all existing Liftmaster remote codes:
1. Push  the "Smart Button" (square, green) on the back of your opener and hold it for about 15 seconds.
2. The light will flash and you can let go.
Reprogramming your Liftmaster garage door opener remote: (For other remote programming feel free to call us for instructions)
1. Push button on your remote clicker.
2. Push "Smart Learn Button" (square, green) on the back of your operator.
3. Opener light does not come on when door opens
4. Burned out bulb or bad light socket on the opener.
Garage door opener light does not go off after the delay period of time.
1. Is the main light switch on the wall mount is on?
2. Check photo eye sensor, is the photo eye beam being tripped by someone or something passing in front of it?
how to clean rust from your garage door
Most of the garage doors get rusted really fast and this back to many reasons, for example, the Air humidity and long time of abandonment. but there's an effective method to clean rust off the garage door.
Frequent Questions about installing new garage door
Can you put a pass door in a garage door?

It is possible to put a door in a garage door, but it is not recommended. This is because garage doors are designed to be much larger and heavier than regular doors, and they are not typically made to accommodate a door frame. Additionally, garage doors are usually made of materials that are not as strong as those used in a door frame, so they may not be able to support the weight of a door.


How much does it cost to install new garage door?

There is no definitive answer to this question as the cost of a new garage door will depend on several factors, including the size and style of the door, the materials used, the level of craftsmanship required, and the geographical location. However, as a general guide, a basic garage door can cost anywhere from $500 to $2000, while a more premium door can cost upwards of $5000. But in this article, we will cover all these factors in detail to give you an image of the estimated cost.we did discuss these factors in details in this article How much new garage door cost.


Can I put 2 garage doors together?

If you mean that u already have a one-car garage door and need to convert into two-car garage door so the answer is Yes if you have the space and the budget, you can certainly convert your one-car garage into a two-car garage. This will give you more space for your vehicles and for storage. It is a fairly simple process, but you will need to make sure that the new garage door is properly installed and that the new space meets all building code requirements. You may also need to get a permit from your local zoning board or building department.


What type of garage door is cheapest?

it depends on whatever you need an commercial garage door or residential garage door. In general commercial garage doors is controlled by your need for example if you need protection and more secure garage door so OVERHEAD SECTIONAL DOORS in particular the INDUSTRIAL Series is your cheapest option but if you need an normal ROLLING COMMERCIAL STEEL DOORS, roll-up sheets garage door will be your cheapest option. if u need a residential doors it's just simple the lowest price would be steel doors.


Confused.!! Which garage door you have to pick?? We are happy to help you just give us a call at 305-702-0113. Serving Miami-Dade and broward county.

Questions are the root of all answers.
Don't Be Shy!