Clopay Gallery Steel Garage Door
Miami Dade & Broward Garage Door Installers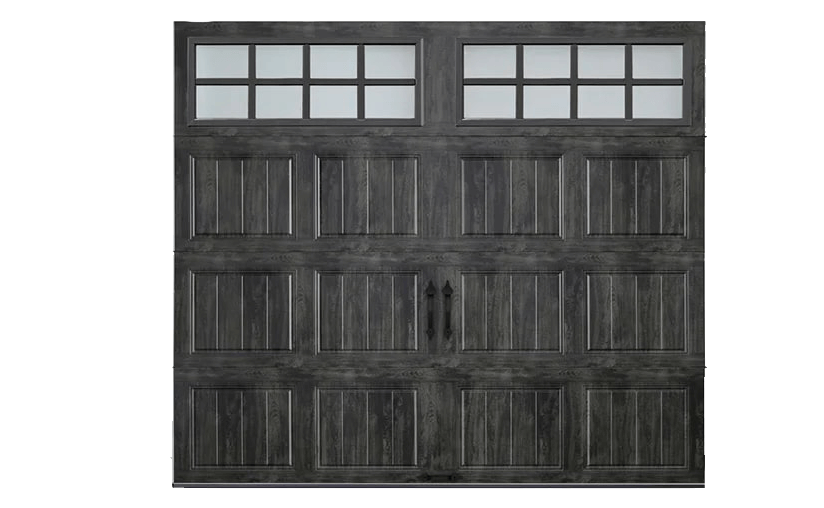 Clopay Gallery Steel Garage Door, Where Style Meets Durability!"
Constructed of durable steel, this vintage style line is available in long or short-grooved panel designs with various windows, colors, and hardware options to create that one-of-a-kind look.
Design Your Garage Door
Quick Quote
Gallery Garage Door Installed By AAA Garage Door
Your Local Garage Door Company
AAA Garage Door Inc is your reputable Clopay authorized dealer garage door company that has been serving Miami Dade & Broward County for 15 years.
We have installed the Elegant and Classic Gallery garage doors for around 30 homeowners in the area, providing them with a secure and visually appealing option for their homes.
With AAA Garage Door Inc's professional installation, homeowners can be assured that their garage door is not only aesthetically pleasing but also functioning at its best, providing both security and convenience for their homes.
Garage Door Installation
Installed Gallery Garage Door

Gallery Garage Door Installed by AAA Garage Door Inc.
Get your FREE consultation
What to Expect
Design your garage door using our garage door configurator tool
After purchase, a licensed, local expert will come out to complete a site inspection and verify measurements
Once your door is built, an expert installer will deliver materials, install your garage door and properly clean up the job site

Clopay Authorized Dealer In Miami Dade & Broward Counties
Most Affordable
Aaa Garage Door INC. Have very wide range of the most affordable options
Satisfaction Guaranteed
Our intergrity, sturdy against any compromise of quality, or saftey regarding work preformed.
Free Consultation
Free on-site estimates for the opportunity to earn your business on all new garage doors.




4.9 out of 5 stars (based on 300 reviews)
Customer In Miami, FL
The service was very quick (same day I called). The next day they came back with the needed parts and fixed both garage doors. I would always recommend AAA Garage door. They are the best!
Customer In Miami, FL
AAA was great!! Very competitive pricing and experienced installers. Very informative regarding the future care of the door as well. I will certainly be referring this company to anyone needing a garage door replacement!!
Customer In Miami, FL
Arrived on time, was professional got the job done exactly as promised. Highly recommend AAA Garage Door to anyone needing garage door repair or new installation.
Response from AAA Garage Doors Inc.
Review Link: https://g.co/kgs/HjktQo
Customer In Miami, FL
Amazing work. Jeremy and Dominic were great. Professional, courteous, transparent.
Also appreciate the speed by which they responded to my call. Same day, all fixed. Thanks!
Specifications and Options
OVERVIEW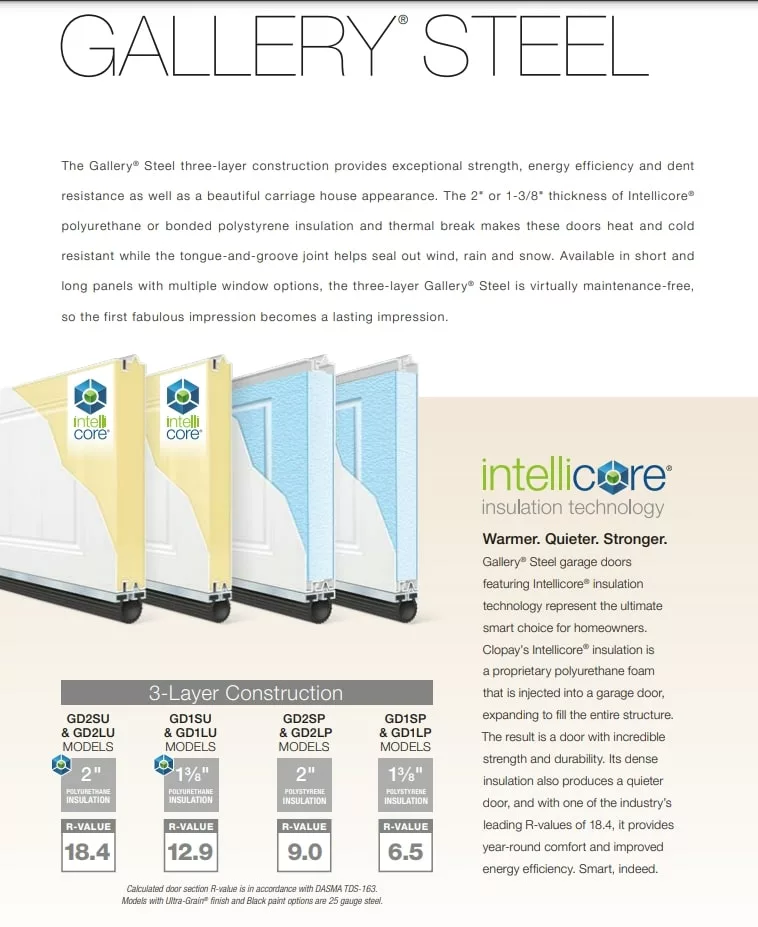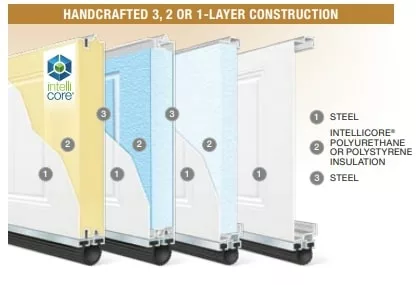 AAA Garage Door highly recommends Clopay Gallery Garage Door for Florida homeowners looking for an aesthetically pleasing and well-built 3 Layers steel garage door.
It offers a perfect balance between affordability and attractiveness, making it an ideal option for various architectural styles. The Ultra-Grain premium colors finish, with its realistic wood grain look, adds to the door's appeal and was one of our customer favorites picked
Gallery Collection Is Unique Construction
The construction of the Clopay Gallery Garage Door is a testament to its quality and longevity. It is available in both long and short-grooved panel options, catering to different preferences and architectural styles. The steel doors are constructed using high-quality, heavy-gauge steel, ensuring durability and resistance to harsh weather conditions. On the other hand, the wood-looking doors boast natural beauty and are crafted from carefully selected materials to guarantee strength and reliability.
The construction also includes reinforced panel sections, robust hardware, and optional Clopay effective Intellicore insulation technology for energy efficiency and noise reduction.
Highlighted Construction Features
Dade County Approved Hurricane Impact Garage Door
Hot-dipped galvanized steel skin with a baked-on primer and top coat helps ensure durability and long-lasting beauty.
Intellicore® polyurethane or bonded polystyrene insulation with R-values ranging from 18.4 to 6.3. The Calculated door section R-value is in accordance with DASMA TDS-163.
Windows are standard with double-strength clear glass and have optional snap-in grilles. Other glass options are available see the opposite page for available options.
Section joints and bottom weather seal in a corrosion-resistant retainer help seal out the elements.
DESIGN OVERVIEW
Clopay offers a diverse range of design options for the Gallery Garage Door, allowing homeowners to customize their doors to suit their personal style and complement their home's architecture.
The panel styles are available in Grooved-panel steel carriage house garage door short and long designs. These options provide flexibility in achieving different looks, from modern and minimalist to classic and traditional.
The door's design can be further enhanced with various window designs including acrylic, insulated, frosted, seeded, rain, and obscure options.
Additionally, homeowners can choose from a selection of decorative hardware, including handles, hinges, and decorative straps, to add a touch of elegance and individuality.
Clopay also provides a wide array of 15 factory-finish painting color choices to match or complement the exterior of any home. (almond, black, Ultra-Grain® Oak Walnut Finish and more.)
Window Designs
Its unique window options not only enhance the door's appearance and allow natural light to enter the garage but also keep the insulation property the same because of its insulated and impact-rated options.

Windows are standard with double-strength clear glass and have optional snap-in grilles. Other glass options are available see the opposite page for available options.
Click On The Design Options Tab To See All The Window Designs.
ENVIRONMENTAL ASSURANCE
Clopay is dedicated to sustainability and minimizing its environmental impact. The Gallery Garage Door reflects this commitment by utilizing recycled steel for its steel door options. By incorporating recycled materials, Clopay reduces waste and conserves natural resources. Moreover, the Gallery Garage Door can be enhanced with Intellicore insulation technology, which improves energy efficiency and contributes to a greener living environment by reducing heating and cooling costs.
All Clopay doors are compliant with:
California SB 1013
Washington HB 1112 -Hydrofluorocarbon Greenhouse Gas Emissions
Canadian regulations amending the ozone-depleting substances and halocarbon alternatives regulations
New Jersey A-5583/S-3919 – Greenhouse Gas Bill.
Clopay offers a wide range of design options to customize the Gallery Garage Door according to individual preferences. These options include: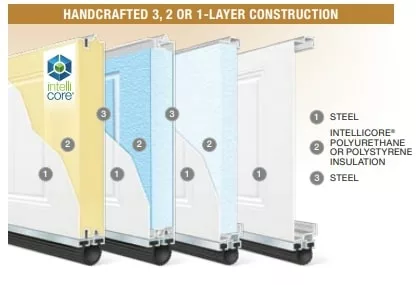 CONSTRUCTION: The construction of the Clopay Gallery Garage Door ensures durability, performance, and security. Key features of the construction include:
Hurricane Impact Rated: Clopay gallery garage doors are Impact-rated garage doors specially designed and constructed to withstand the powerful forces generated by hurricanes and severe storms. These doors are built to provide enhanced protection for your garage and are APPROVED By Florida & Miami-Dade County. Learn More On the Clopay WINDCODE® RATING
Panel Sections: Sturdy steel or wood-look panels designed to withstand everyday use and resist dents and dings.
Hardware: High-quality and durable hardware, including tracks, rollers, springs, and hinges, for smooth and reliable operation.
Insulation Options: Advanced insulation choices, such as Intellicore technology, for improved energy efficiency and noise reduction.
Safety Features: Built-in safety features, including pinch-resistant panels and tamper-resistant brackets, to protect users from accidents.

Great Quality and Love the Finish!
Our new construction build is a garage apartment, which means the garage doors are the focal point of the front fascade and they needed to look awesome (without breaking the budget). Gallery series doors turned out to be the perfect fit. We chose the Ultra Grain Dark Oak color because we loved the wood grain look, and the finish is incredibly realistic. You would really have to know what you're looking for to tell this isn't a wood door from 5ft away. We added SQ22 windows and they definitely complete the look of the door while letting natural light into the garage. We also went with a 3-layer insulated door (R-13) because the garage will be a conditioned space, and as a bonus the insulation makes the panels really stiff and solid. Overall, highly recommend these doors!

Best door in my neighborhood
The door is substantial, living in Florida this was the prime importance to me, it is such a solid door and it looks great.

Love my new door
Nice looking garage door my neighbors says it look great
Your Best Local Garage Door Services Company
Improve your curb appeal